Definition
cloud management platform
A cloud management platform is a suite of integrated software tools that an enterprise can use to monitor and control cloud computing resources. While an organization can use a cloud management platform exclusively for a private or public cloud deployment, these toolsets commonly target hybrid and multi-cloud models to help centralize control of various cloud-based infrastructures.
The exact feature set of a cloud management platform varies by vendor. Some offer a broad set of tools, while others target more niche industries or vertical markets. In addition, some vendors deliver cloud management platforms as on-premises applications, while others deliver them as software as a service. In general, cloud management refers to the exercise of administrative control over public, private, hybrid and multi-cloud deployments.
Capabilities of a cloud management platform
According to the Cloud Standards Customer Council (CSCC) -- a cloud end-user advocacy group -- a cloud management platform, in general, includes these main capabilities:
General services: Provides user self-service capabilities, as well as reporting and analytics features to gain insight into cloud service consumption patterns in the enterprise;
Service management: Enables an IT team to monitor cloud-based services to help with capacity planning, workload deployment and ensuring all availability and performance requirements are met;
Resource management: Provides tools to manage cloud computing resources, such as virtual machines, storage and networks, with capabilities such as resource discovery, tagging, provisioning, automation and orchestration. In addition, the cloud management platform might include capabilities to migrate resources between environments, such as private and public clouds.
Financial management: Offers capabilities to automatically track and allocate cloud computing spend to specific users or business departments. In general, these financial management features also include the ability to generate chargeback reports and forecast future cloud costs.
Governance and security: Enables an administrator to enforce policy-based control of cloud resources, and offers security features, such as encryption and identity and access management.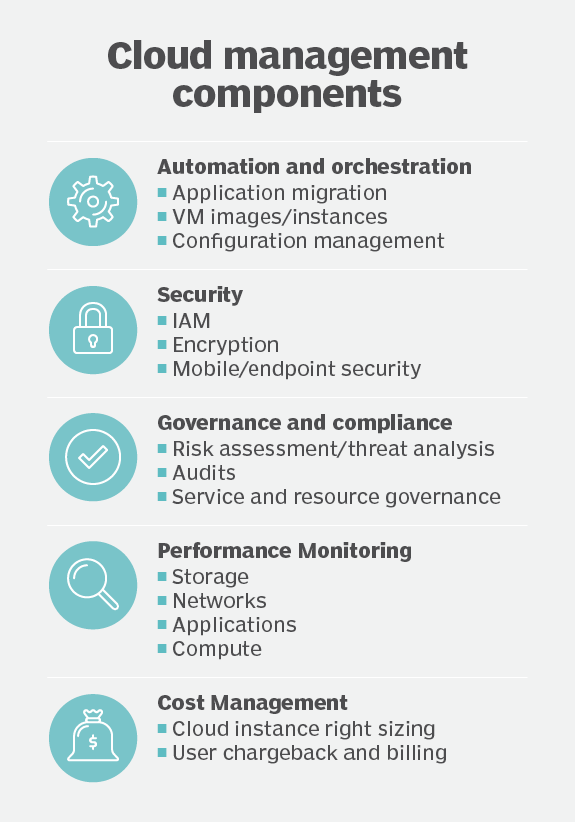 Integration is another critical feature to look for in cloud management platform, according to the CSCC. The platform, for example, needs to support access to IT systems that are both internal and external to the enterprise. This feature is what enables a cloud management platform to centralize the control of multiple and disparate cloud infrastructure types.
Examples of cloud management platforms
A cloud management platform can be native or specific to a certain cloud provider or platform, or available from a third-party vendor. In general, a management platform that supports multi-cloud deployments will be from a third party.
Some popular tools include:
IBM Cloud Orchestrator
Cisco CloudCenter
Red Hat CloudForms
HPE OneSphere
BMC Cloud Lifecycle Management
Embotics vCommander
CloudBolt
Morpheus
DivvyCloud
Turbonomic
This was last updated in
April 2018
Continue Reading About cloud management platform
Dig Deeper on Cloud infrastructure design and management