KazantsevAlexander - Fotolia
Clumio extends support to AWS EBS with $135M funding bump
Clumio plans to use its funds to expand its data protection to data sources including more public clouds, SaaS applications and containers. It's starting with Amazon EBS support.
Clumio plans to use its $135M Series C funding to expand its data protection scope.
The backup-as-a-service startup came out of stealth in August with protection for VMware on premises, VMware Cloud on AWS and native AWS services. Clumio this week disclosed its latest funding round. Clumio's Series A and B rounds raised $11M and $40M, respectively, so the latest $135M injection marks a substantial funding boost for the company. Sutter Hill Ventures and Altimeter Capital led the new funding round.
Clumio CEO Poojan Kumar said the data protection vendor will build out its services platform eventually to cover every data source, starting with Amazon Elastic Block Store (EBS). The Amazon EBS support was rolled out in beta this week, and Clumio is working on support for Microsoft Azure and Google Cloud Platform.
Clumio's Amazon EBS support is expected to become generally available before the end of 2019.
Clumio's mission statement is to do with backup what Salesforce has done with customer relationship management (CRM) by delivering backup as a service entirely through the cloud. All processes involved with backup such as deduplication, access management, encryption, backup scheduling and resource allotment would be handled through the service.
Kumar said as customers' infrastructures expand beyond their data centers, keeping their data protected has grown more complicated. Clumio is targeting customers who don't want to devote IT resources to keeping up with that complexity.

"Customers are saying, 'I want to stop the business of doing this myself,'" Kumar said.
Kumar said this is especially true with cloud-native data. He said customers have told him that data generated from a cloud application shouldn't then be replicated to a data center in order to back it up. He said most customers want to lower or remove their data center footprint.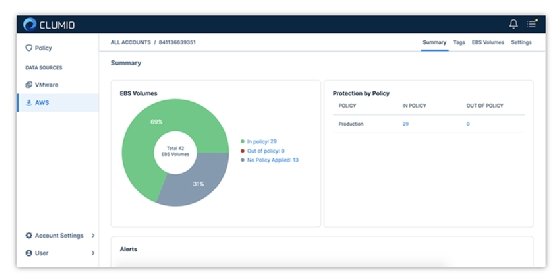 Investor interest in backup
This has been a banner year for funding for backup vendors, with four vendors alone pulling in more than $1 billion. Veeam received $500 million and Rubrik pulled in $261M in January, and Druva rose $130M in June.
Christophe Bertrand, senior analyst at IT analysis firm Enterprise Strategy Group, said Clumio nearly tripled its previous funding, although it competes in a crowded backup market, because of its "born-in-the-cloud-ness." Cloud-native service offerings, subscription pricing and the lack of on-premises investment are all seen as the direction of where backup is currently headed, so investors are buying in now.

"Investors are looking at this as where the market is going," Bertrand said. "Winning Best of Show at VMworld probably helped, too."

Bertrand was quick to note that Clumio faces a tough competitive field, however. Druva and Carbonite -- now part of OpenText -- have provided cloud-based backup for years, and long-time backup vendor Commvault added its Metallic SaaS backup service in October. Most of the other large backup vendors can also protect data in the cloud.
Bertrand expects Clumio to invest in extending its geographical reach and bolstering its partner ecosystem. As for product development, he expects Clumio to support more applications, hypervisors besides VMware vSphere and even use cases beyond backup.
Kumar said the Clumio roadmap calls for adding features such as security, container support, customer access keys and bandwidth throttling. He said Clumio will also develop support for new workloads, expand its channel strategy and add to its engineering team.

"They have to do these things quickly to gain traction," Bertrand said. "It's going to become a very contested space."