Fotolia
Clumio backup seeks to simplify with SaaS
Clumio has come out of stealth to try to make its mark in a crowded backup market. The cloud-based vendor claims to make it easier to install and manage backups.
As a new vendor's first customer, the IT leader of a city wouldn't be faulted for worrying about the product.
But Cory Smith, CIO and CTO of Davenport, Iowa, said he didn't have concerns with using Clumio for backup and recovery. Clumio, which is based in Santa Clara, Calif., came out of stealth Aug. 13 with its cloud-based backup as a service.
Smith said the city was looking for a new backup product earlier this year when Clumio contacted him about trying out a beta version. He said he felt more at ease with the product after using it in beta and performing backups and restores. The city purchased Clumio as soon as it became generally available April 30.
Though Davenport doesn't have a major cloud initiative, Smith said going cloud-only for backup is a goal.
"This is one of those situations where the cloud is really good for us," Smith said.
Striving for simplicity
Clumio CEO and co-founder Poojan Kumar aims for his company to do with backup what Salesforce has done with CRM and ServiceNow with service management. He wants to deliver a true service offering that's completely run and managed in the cloud by Clumio.
"SaaS is taking over," Kumar said. "Our founding vision was really around going and building a data management platform on top of the public cloud."
SaaS is taking over. Our founding vision was really around going and building a data management platform on top of the public cloud.

Poojan KumarCEO, Clumio
Kumar said he wants customers to get away from the complex nature of installing software and hardware for backup. In addition, as workloads are moving to the cloud, the practice of using multiple accounts, regions and clouds is increasing complexity.
"We saw all of this as an opportunity for simplification," Kumar said.
To start, Clumio protects on-premises and cloud-based VMware environments on top of AWS. It also provides native AWS backup for accounts that run Elastic Compute Cloud and Elastic Block Store.
The majority of backup vendors were "born in the world of on premises," delivering protection through software, hardware or both, which the customer has to manage, Kumar said. He said legacy backup players cannot take advantage of the public cloud "the right way" by building a cloud-native architecture and true SaaS platform.
"By SaaS, I mean a true service that is multi-tenant that frees the customer from the mundane of managing these solutions," Kumar said.
Andrew Smith, research manager at IDC, noted that Clumio customers don't need to use anything on premises. They can simply spin up the virtual appliance and start using Clumio. The vendor says it takes 15 minutes to get the product running.
"The way they're approaching backup as a service as an all-inclusive platform is unique," Smith said. "The idea is to 'SaaSify' the entire backup environment."
Davenport's Smith said even with his larger environment -- about 70 VMs and 40 TB worth -- getting to the cloud was not an issue.
The city, with a population of about 100,000, has to retain some data indefinitely. For example, police video -- a data set that's often large -- could be critical in court 10 years from now.
"The city's not going to go out of business," he said. "I've got to keep it."
Smith said its price is an advantage. Because Clumio charges per virtual machine rather than by the size of the VM, the cost does not rise as a VM grows larger.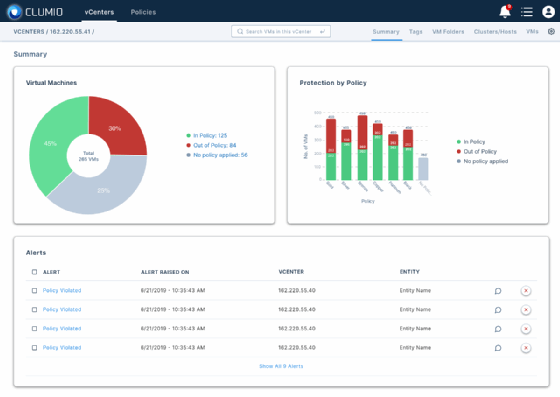 A look at current and future features
Smith said Davenport was looking for a new backup system because its Rubrik platform wasn't performing well enough, especially with getting data sets to the cloud. The city wanted to get away from running hardware on premises and using traditional disaster recovery, and sought a cheap cloud service.
"Clumio has kind of hit that niche," Smith said.
He acknowledged that the product is not yet mature and Clumio is still adding functionality. He said he's looking for the vendor to add Microsoft Exchange and SQL support. Davenport still uses old Veeam licensing for Exchange and SQL Server, but Smith said he thinks eventually the city will only use Clumio for backup. He said he finds the interface and search easy to use.
Security wise, Clumio's backups are encrypted in transit and at rest. Kumar said its immutability is especially important in the face of data protection threats like ransomware.
"You know that you can go back to the copy [and] it's going to be kosher," Kumar said. "We do a whole bunch of things automatically in the platform to make sure that it is restorable to the previous copy. It's not just about backing it up -- it's about making sure it is restorable."
Kumar said he expects Clumio will delve into machine learning to help look at potential issues with customer data.
Funding, founders, fighting status quo
Clumio has $51 million in funding over two rounds. Sutter Hill Ventures led the Series A round. Index Ventures drove the Series B round, which also had significant participation from Sutter Hill Ventures.
The company was founded in 2017. Kaustubh Patil, vice president of engineering, and CTO Woon Ho Jung were the other founders with Kumar. All three founders previously worked at VMware, Nutanix and PernixData. Kumar was a founder of PernixData, which was acquired by Nutanix.
Clumio has about 75 employees, Kumar said.
The product is sold exclusively through the channel.
IDC's Smith said competition will include Veeam, Zerto, Rubrik and Cohesity, as well as the more traditional backup vendors such as Veritas, Dell EMC and Commvault. Druva and Carbonite are also leaders in cloud-based backup.
"They're going to have to compete with everybody," Smith said. "It's going to be pretty difficult."
It will be important for Clumio to attract customers moving all data to the cloud, Smith said, as well as users tackling multi-cloud and that increased complexity of environment.
Kumar said his biggest competition is the status quo.
"It's going to be about educating the market that something like this is possible," Kumar said. "And we can give you freedom from the mundane."