stock.adobe.com
Clumio backup adds Microsoft 365 protection
Clumio takes aim at the 'vulnerable' area of software as a service. Its backup for Microsoft 365 includes security features and assorted restore options.
Clumio backup is adding software-as-a-service application support, starting with protection for Microsoft 365.
The Clumio backup-as-a-service product's first level of 365 support is Microsoft Exchange Online emails, with more to follow.
Microsoft's 365 service protection responsibility is limited to the infrastructure level. In fact, Microsoft even lays out what's needed for protection, said Chadd Kenney, vice president and chief technologist at Clumio.
"At the end of the day, it's the customers' responsibility for backing up that data," Kenney said.
Cloud-based data such as Microsoft 365 emails face risks including data loss -- for example, accidental and malicious deletions -- and ransomware attacks. Security features in the Clumio backup include immutability and an "air gap," Kenney said.
"SaaS is one of the most vulnerable areas," he said, because users often don't pay attention to what is protected.
For many organizations, 365 backup is still an afterthought, according to Archana Venkatraman, associate research director at IDC.
"Many consider Microsoft's infrastructure-level security and retention capabilities are enough," Venkatraman wrote in an email. "But backing up 365 is important for granular recovery, and meeting retention obligations for specific industries such as financial services, healthcare and the public sector."
In addition, more enterprises are considering data protection to enable remote working in the current market conditions, as there are many extra endpoints vulnerable to malware and ransomware attacks, Venkatraman said.
"Customers are looking for faster restores in case of ransomware attacks," she wrote.
Clumio backup for Microsoft 365 -- formerly Office 365 -- offers recovery options from a single email to a full mailbox. Users can easily browse through particular folders and go back to a specific point in time, Kenney said.
The product has been in early access for about three weeks and officially launches May 6.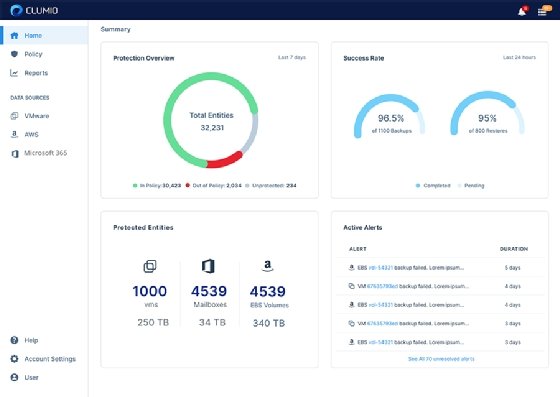 Law firm chooses Clumio for VMware, 365 backup
Clumio, founded in 2017 and based in Santa Clara, Calif., launched its first services last year. It also offers backup for VMware Cloud on AWS, VMware vSphere and AWS native services. Customer demand led Clumio to choose Microsoft 365 for its next platform support.
"Email in particular was the biggest focus," Kenney said.
CSK Legal, a law firm based in Miami with about a dozen locations in Florida, has used Clumio backup for VMware for about a year and just started using Clumio for 365.
SaaS is one of the most vulnerable areas.

Chadd KenneyVice president and chief technologist, Clumio
The firm is in the middle of a migration to fully using 365 for email. CIO Jason Thomas said he expects Clumio to ultimately protect 20 TB of email.
Thomas said the Clumio backup for 365 is straightforward, fast and similar to the product he's been using for VMware protection. It even uses the same interface.
CSK Legal backs up about 100 VMware VMs with Clumio, and also has Rubrik for on-premises backups.
Thomas said he didn't have any hang-ups with using a product so new to the market. He was familiar with Clumio CEO and co-founder Poojan Kumar, and said he was confident in Kumar's knowledge and ability to launch companies. Kumar was also CEO and co-founder of PernixData, which Nutanix acquired in 2016.
Thomas also knew Clumio salespeople because they previously sold him other products, which have worked well. In addition, Thomas said he likes Clumio's pricing model, the lack of ingress and egress charges, how much he can back up, the indexing and search capabilities, and the ability to restore.
"We're a full VMware shop, so they support everything we need," he said. "I have yet to see a solution that's as slick as theirs."
CSK Legal has a second data center for its disaster recovery site, but Thomas said in the future the firm could use the cloud and Clumio for DR.
Clumio's competition and plans
Clumio enters a crowded market of backup for 365. Backup vendors that offer 365 support include Acronis, Arcserve, Carbonite, CloudAlly, Commvault, Druva and Veeam.
Kenney said Clumio backup stands out because it's one platform that was born in the cloud, rather than some traditional vendors that started with an on-premises platform and later built another for cloud-based backup.
Enterprises need to evaluate ease of use, flexibility, scalability and integration features when investing in Microsoft 365 backup, according to IDC's Venkatraman.
"A backup-as-a-service offering that is cloud-native and API-driven is complementary to an organization's cloud migration and transformation journey," Venkatraman wrote.
With so many companies working remotely because of the coronavirus pandemic, Clumio is especially helpful now because there's no need to go into a data center to install it, Kenney said. Customers can sign up with an email and password. The vendor claims it takes minutes to set up.
"It's about as simple as setting up a LinkedIn account," Kenney said.
Clumio backup for Microsoft 365 is priced per user, per month. The vendor said it will provide details when the product becomes generally available.
Clumio will add Microsoft 365 calendar backups in the next couple of months through a regular product update. It plans to add support for OneDrive in the third quarter and for SharePoint in the fourth quarter. Kenney said Clumio also plans backup for Microsoft Teams.
Salesforce, ServiceNow and Slack are among the other SaaS platforms on Clumio's radar.
Clumio has 134 employees and closed a $135 million Series C funding round in November.