Fotolia
What are some public cloud backup options for better data protection?
Organizations that need to protect resources in the public cloud have a number of backup possibilities, some with more hazardous negatives than others.
Backing up resources in infrastructure as a service public clouds has long been a challenge for IT pros. Backup products that are designed for use on premises do not always work well in public cloud environments. Organizations must also consider bandwidth issues regarding public cloud backup. As such, organizations that maintain resources in the public cloud have developed a number of creative approaches for protecting those resources.
1. Install backup agents on public cloud-based virtual machines (VMs) and back up those servers as though they reside on premises.
2. Set up backup servers in the public cloud. The problem with this public cloud backup strategy is that, if a cloud-level failure were to occur -- such as the organization's subscription being invalidated -- then the backup could be lost, along with the resources that it is protecting.
3. Perform cloud-to-cloud backups. For example, an organization that maintains Amazon Elastic Compute Cloud instances on Amazon Web Services (AWS) might back them up to a backup server residing on Microsoft Azure. This public cloud backup strategy tends to work out relatively well, but can be expensive, since multiple cloud subscriptions are required.
4. Use backup software that has been specifically designed for the cloud. This approach is often overlooked, simply because the public cloud providers and backup vendors have not heavily marketed the availability of such products.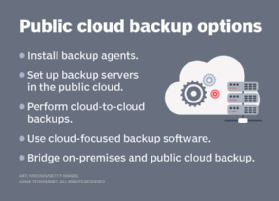 The Microsoft Azure and AWS clouds both have a Marketplace feature. The Marketplace contains a collection of software that has been designed for, and is typically certified to work with, the public cloud. Many backup vendors offer cloud-based versions of their wares within the marketplace. The scope and capability of marketplace backup products varies heavily from one vendor to the next. Some are little more than backup agents, while others are complete backup platforms.
5. Bridge the gap between on-premises and public cloud backup. Cohesity, for example, launched its DataPlatform Cloud Edition, which is essentially a Cohesity cluster that exists within the public cloud. The software enables customers to replicate data from an on-premises cluster to a cloud-based cluster. This approach makes it possible to use the software not just for backups, but also for VM migrations to the cloud, the creation of cloud-based dev/test environments, and disaster recovery and business continuity.
Dig Deeper on Cloud backup
While Google Cloud Storage has several limitations, these three are among the most prevalent -- but users have straightforward ways to get around ... Continue Reading
Unpredictable user behavior and boot storms can cause VDI resource usage fluctuations throughout the day. IT can take steps to identify and curtail ... Continue Reading
Determining how to host and manage desktops for an entire organization is a major task, so business leaders need to understand the modern VDI market ... Continue Reading