Luiz - Fotolia
14 leading data backup software tools of 2020
The enterprise backup software market consists of traditional vendors and newer technology companies that offer appliances and other cloud-native data protection products.
The market for data backup tools is in transition, as vendors try to capitalize on both the strengths of the public cloud as a backup target and as a platform that needs protection. The diversification of applications across SaaS, IaaS and on-premises infrastructure means data protection offerings must broaden their capabilities.
The current trend in cloud data protection has moved to provide greater support for a wider range of public clouds and their offerings. Vendors are starting to implement closely integrated marketplace platforms that deploy and look like SaaS offerings.
Across the cloud backup vendor landscape, the traditional vendors still dominate the market with products that have a heritage stretching back almost 30 years. These data backup tools are in a process of modernization and adapting to the needs of a multi-cloud world. Some of these vendors are bringing completely new products to the market, which will eventually replace their legacy systems.
Following closely on the heels of traditional vendors is a group of new entrants that offer appliance-based, platform-focused and cloud-native data protection products. Although these cloud backup vendors don't have the same range of support for heritage and legacy platforms as their counterparts, they're quickly adding these items. Here, we examine in alphabetical order 14 leading traditional and new data backup tools and how they're meeting the needs of the IT market. Note that most vendors provide pricing only upon request, but a few did offer information on how they charge.
Acronis
Acronis develops backup and data management products for consumers and small businesses. The company offers Standard and Advanced versions of Acronis Backup. Backup administrators can use Acronis to back up data to one of more than 14 global Acronis-managed data centers.
Acronis Backup Cloud support lets users move workloads between public clouds, virtual servers or physical servers in multiple configurations. AI models within Acronis Backup Cloud detect and identify ransomware and other suspicious behavior. Service providers use Acronis Backup Cloud to offer branded data protection. Acronis Backup supports a range of hardware and software platforms that includes SaaS cloud protection, virtual infrastructure running in AWS Elastic Compute Cloud (EC2) and Microsoft Azure VMs.
Backup integrates with major hypervisor platforms to provide multiple physical and virtual recovery options. The Advanced release protects Oracle databases and client or Type 2 hypervisors. Acronis Backup offers data protection for endpoint devices, including desktops, tablets and mobile devices. Acronis recently announced SCS Cyber Protect Cloud, an extension to its existing data protection capabilities that protects remote work environments that use video conferencing and telecommuting tools, including Zoom, Webex and Microsoft Teams.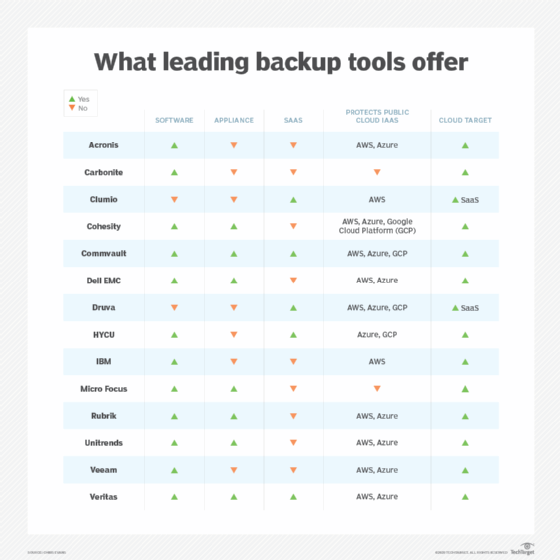 Carbonite
Carbonite mainly targets small businesses. Carbonite Endpoint 360 protects endpoint devices and data stored in common SaaS applications. Users can store backup data in their organization's data center, in a Microsoft Azure Enterprise account or in Carbonite's own Azure-hosted vault.
Carbonite Backup creates backup images that can also provide DR capabilities with Carbonite Availability. Carbonite replicates data in near real time to provide recovery point objectives (RPOs) of a few minutes or even seconds. In a disaster scenario, applications fail over to Carbonite Cloud Backup through predefined runbook automation.
Organizations can deploy Carbonite Backup on a local backup server and provide protection for common OSes and Microsoft applications, including Microsoft SQL, Exchange and SharePoint, and Oracle databases. The service replicates a backup copy to Carbonite Cloud, a proprietary public cloud storage target.
Clumio
Clumio is a data protection startup that focuses on protecting data in the public cloud and on premises. The Clumio platform runs entirely as a service in the public cloud, protecting native AWS services, Office 365 and VMware either in AWS or on premises.
Like similar SaaS-based offerings, Clumio scales on demand, storing encrypted backup data in its AWS accounts. This architecture provides a virtual "airgap" between primary data and backup copies, protecting organizations if their on-premises or cloud accounts are compromised by ransomware.
Clumio charges per resource protected, including virtual instance, VM and Office 365 seat.
Cohesity Inc.
Cohesity offers a range of data backup tools that were originally based on the physical appliance model. The core of the Cohesity offerings is DataPlatform, a scale-out architecture that consolidates secondary data, file shares and object store data. DataPlatform is now available on premises as an appliance, at the edge for remote offices with the Virtual Edition and in the public cloud as a virtual instance with the Cloud Edition. Cohesity recently added a single platform that provides a wide range of capabilities -- including data protection, object storage and cloud archival -- for remote office branch office (ROBO) locations.
DataProtect provides backup for traditional applications, virtual servers, databases and storage. This product suite supports virtual workloads, including VMware vSphere, Microsoft Hyper-V, Nutanix AHV and Red Hat Virtualization. Both admins and end users can execute DataPlatform definitions through APIs and integrations with Microsoft PowerShell, Python, Ansible and VMware automation. In 2019, Cohesity acquired Imanis Data, which enables organizations to take backups of NoSQL workloads like MongoDB.
These data backup tools are in a process of modernization and adapting to the needs of a multi-cloud world.
For large-scale deployments of DataPlatform, Cohesity offers Helios, a SaaS-based application that centralizes the management and reporting of DataPlatform instances. Helios enables organizations to globally manage data protection policies through its SmartAssist feature. This can include proactive and automated rescheduling of backup jobs in the event of power loss or device failure.
Cohesity enables partners to sell data management services to their customers. This offering was recently enhanced to move to a more flexible consumption model. This includes offering disaster recovery as a service (DRaaS), which has improved multi-tenancy capabilities.
In 2019, Cohesity introduced MarketPlace, a collection of curated applications that enable IT organizations to analyze and mine data stored on DataPlatform. Applications run on the Cohesity platform and currently implement functionality such as virus scanning and file analytics. MarketPlace is expected to expand to select third-party development partners.
Commvault
Commvault's suite of products provide data protection across on-premises and cloud environments. The core offering, Commvault Complete, is a single data backup and recovery product with wide support for public cloud, OSes, virtualization, application databases and endpoint devices.
The Commvault platform is also available as an appliance called HyperScale. As a multinode hardware offering on Commvault white box or partner appliances, HyperScale enables organizations to exploit the benefits of a scale-out architecture to manage secondary data growth. HyperScale runs the same software as Complete, giving businesses the choice of which deployment model best meets their requirements.
In October 2019, Commvault announced Metallic, a SaaS data protection offering for on-premises, IaaS and SaaS-based workloads. Organizations pay for data protection based on usage and consumption, either per seat for SaaS, per VM or virtual instance, or per terabyte of data protected.
Two additional products in the Commvault family extend data protection capabilities beyond backup. Commvault Activate delivers insights into protected data that organizations can use for data governance, e-discovery or simply managing the volume of data in the enterprise. Commvault Orchestrate provides copy data management capabilities and data migration for features, including test/dev application seeding and automated DR testing.
Commvault recently acquired Hedvig, a scale-out software-defined data storage platform. This technology is designed to extend the capabilities of HyperScale, while providing a single uniform data plane for secondary data across on premises and public clouds.
Dell EMC
Dell EMC data protection spans both hardware and software products. Data Domain is a deduplication appliance that acts as a target for backup data. A single system can scale up to 3 PB of usable capacity, with backup ingest throughput around 68 TB per hour. Data Domain is also available as a virtual appliance called Data Domain Virtual Edition. IT organizations can use this to implement data protection in ROBO locations.
The Dell EMC Data Protection Suite encompasses two products: Dell EMC Avamar and Dell EMC NetWorker. Dell EMC Avamar backup software has integrated deduplication capabilities that work with Data Domain. Avamar supports public cloud as a storage tier and is also available in a virtual edition for deployment as a virtual instance. Dell EMC NetWorker is an enterprise-class data protection product with almost 30 years of history. It supports traditional workloads and platforms, integrating with Data Domain and public cloud as a storage target. Organizations can also deploy NetWorker as a virtual instance.
Dell EMC recently announced PowerProtect, a data protection product that's available as either a hardware appliance or software. The software supports Oracle, Microsoft SQL, VMware vSphere and both Windows and Linux filesystem workloads. It's expected that over time, PowerProtect will replace the legacy products in the Dell EMC portfolio.
Editor's note: Using extensive research into the data backup and recovery market, TechTarget editors focused this article on data backup tools from both traditional and new entrants into the market that address the many data sources of today's IT. Our research included data from TechTarget surveys and reports from other well-respected research firms, including Gartner.
Druva
Druva is a data protection company based fully in the public cloud and delivered as SaaS. Organizations don't install any hardware on premises but replicate all backup data directly into the public cloud. The Druva product is best suited to businesses that have some degree of diversification, either with multiple data centers, branch offices or a mobile workforce.
The Druva Cloud Platform protects cloud-native workloads running in hyperscale environments such as AWS, Azure and Google Cloud Platform. This feature is delivered by CloudRanger, a startup acquired by Druva in June 2018. Druva Phoenix protects traditional data center applications, including virtual infrastructure, databases and physical servers. Druva InSync protects endpoint devices such as desktops, laptops, tablets and smartphones. InSync also protects SaaS-based applications, including Office 365, G Suite and Salesforce. Druva now supports Outposts, on-premises AWS infrastructure.
The Druva platform is entirely cloud-native and built on AWS, using intrinsic cloud services such as EC2 virtual instances, Amazon Relational Database Service and S3 storage. With this approach, an organization doesn't need to deploy or manage any infrastructure. The backup service is effectively limitless, with pricing charged based on data stored.
Druva recently introduced the ability for organizations to use public cloud for DR by converting protected VMs into AWS virtual instances. Admins can implement this process prior to a disaster, with periodic prebuilds of protected VMs. Druva also offers the capability to fail back once a disaster event is over.
HYCU
HYCU Inc. is a relative newcomer to the data protection market, although its parent company, Comtrade, has been protecting data for more than 25 years. The HYCU software-only platform was originally built to protect data on Nutanix hyper-converged infrastructure. This capability has been extended to support Google Cloud Platform, Microsoft Azure and VMware infrastructure.
HYCU supports the Nutanix Acropolis OS, VMware vSphere and typical enterprise applications, including SQL Server, Active Directory (AD), Exchange, Oracle and SAP HANA. What makes HYCU different from most other data backup tools is its native support for Nutanix Files and Nutanix Mine. Nutanix introduced the Mine API in May 2019 and provides a standard interface to manage secondary storage on the Nutanix platform.
Organizations can deploy HYCU from either on-premises application marketplaces, including Nutanix Calm, or public cloud application marketplaces. Businesses can build data protection on demand, as HYCU is fully API-driven. This gives organizations the option to use multiple HYCU instances to deliver strong multi-tenancy.
In June 2019, HYCU announced Protégé, a capability to support multi-cloud environments. Businesses can use Protégé to perform application migration between clouds, cross-cloud application recovery and cross-cloud DR. HYCU provides cloud implementations as a service with the data protection software running in the HYCU account and protected data retained in customer unstructured data stores.
IBM
IBM has two products with similar names but entirely different backgrounds. IBM Spectrum Protect is the evolution of IBM Tivoli Storage Manager and was one of several storage software offerings rebranded with the Spectrum prefix. IBM Spectrum Protect Plus is a relatively new product that's designed to support virtual server environments.
Spectrum Protect is a mature backup product IBM originally developed for traditional physical server data protection. The software integrates with a wide range of platforms with support for virtual server environments through VMware and Hyper-V integration tools. Spectrum Protect add-on features can implement multisite replication, detect ransomware and use the public cloud as a storage target.
The IBM Spectrum Protect Plus software platform was developed to plug the gaps in Spectrum Protect. Storage admins can deploy the product as a virtual appliance on either VMware vSphere or Microsoft Hyper-V platforms, scaling backup throughput using proxy servers and data movers.
Spectrum Protect Plus supports physical machines or VMs and common database applications, including Microsoft SQL Server, Oracle, Db2, MongoDB and Microsoft Exchange. It can use public cloud offerings, including IBM Cloud Storage, AWS and Microsoft Azure, as a storage target. Spectrum Protect Plus now supports backup of cloud-based virtual instances on EC2 to on-premises backup infrastructure through Elastic Block Store snapshots. Protection for containers includes persistent volumes and replication of data to secondary locations or object storage.
Micro Focus
Data Protector from Micro Focus was part of the acquisition of a range of Hewlett Packard Enterprise (HPE) software assets in 2017. Data Protector has been in the market for almost 30 years, providing support for a range of both legacy and modern workloads.
Data Protector supports traditional application platforms such as Microsoft Exchange, SQL, SharePoint, Oracle and other common databases. Native integration with VMware vSphere and Microsoft Hyper-V provides support for virtual server environments.
With a lineage that encompasses HPE Storage, Data Protector provides integration and support with HPE StoreOnce as a data deduplication target. The product also supports EMC Data Domain. Data Protector integrates into object stores, both on premises -- including Ceph and Scality -- and in the public cloud through S3 API compatibility and natively with Microsoft Azure.
Data Protector is available in two versions. Data Protector Express is a virtual instance that provides most features except for application-consistent recovery and advanced monitoring and reporting. Data Protector Premium supports all features and can be deployed on physical servers or as a virtual instance.
Rubrik
Rubrik first came to market with appliances that provided data protection for virtual server environments. Rubrik appliances scale out using a single uniform data plane across clusters of systems deployed on premises. Organizations can choose white box products or appliances based on hardware from leading server vendors, including HPE, Cisco and Dell. The software used on Rubrik appliances is also available for deployment on virtual infrastructure such as a VM, on remote office or edge sites and in the public cloud.
Rubrik's data protection product offers significant simplification over what had previously existed in the market. Backups are based on policies that meet RPO and recovery time objectives. APIs and command-line interfaces automate the entire backup process. As Rubrik has moved toward a software model for deployment, the entire suite of tools offered has been renamed Andes, which incorporates all the individual products.
Two additional products in the Andes family extend data protection on the original platforms. Rubrik Mosaic provides protection for NoSQL databases such as MongoDB, which typically are distributed and eventually consistent. As a result, creating a single point-in-time backup image requires special processing.
The second product, Polaris, is a SaaS-based offering for managing all the Rubrik data protection systems on premises and the public cloud. With a single point of truth, Polaris enables organizations to query data in multiple locations as part of a global data catalog. In addition, Polaris can offer businesses a single location from which they can apply consistent policies and data protection definitions.
Release 5.2 of Andes increases performance and resiliency of data protection in VMware vSphere environments and for Oracle databases. Compliance and role-based access have been extended to offer more granular controls on permissions over archived data.
Unitrends
Unitrends offers data protection tools that include traditional software, appliances and the public cloud. Each of its five editions enables sites to add features with a corresponding increase in per-resource license fee. A free edition offers up to 1 TB of data. Enterprise Plus offers support for virtual environments, applications -- including databases and typical Microsoft platforms -- and file server backup.
Recovery Series appliances run Unitrends backup software and offer 15 models, ranging from 2 TB to 120 TB in capacity. Gen 8 models provide traditional recovery capabilities, while the Max models can recover applications onto the appliance itself.
Unitrends Cloud Backup supports endpoint devices with backup to public cloud. Cloud capabilities deliver DRaaS with a range of different offerings to match service-level agreements. Organizations can also use a feature called Boomerang that backs up on-premises VMs to object storage such as AWS S3 or Azure Blob storage. In the event of a failure, for testing or other purposes, Boomerang can reinstance VM images as public cloud VMs.
In April 2020, Unitrends introduced Helix, a SaaS offering that automatically identifies and corrects common backup failures and issues, including Microsoft Volume Shadow Copy Service snapshot failures and disk space and network connectivity issues. Helix adapts RPOs and will automate some data recoveries.
Veeam Software
The Veeam portfolio of products evolved from the initial capability to back up VMware vSphere platforms. Today, the company offers a range of products that support SMBs, enterprises and public cloud.
Veeam Availability Suite is the flagship platform and incorporates Veeam Backup & Replication and Veeam One. Veeam Backup & Replication on-premises data protection software offers three levels of paid subscription: Standard, Enterprise and Enterprise Plus. The subscription choices determine which features are available to the organization across backup, data recovery, advanced features and management. Businesses can choose either perpetual licensing or an annual subscription with a minimum of 10 licenses.
Veeam Backup & Replication integrates with the most common applications found in the data center, as well as with many common storage platforms, including those from HPE and Pure Storage. This improves backup performance compared to using native hypervisor APIs.
Veeam One is a comprehensive monitoring and analytics tool for dispersed Veeam deployments. It provides a single interface that organizations can use to monitor data protection, collate alerts and ensure data protection compliance is being met. Organizations also can use Veeam One for capacity planning and chargeback of IT resources.
As part of its focus on cloud data management, Veeam released a series of new products for public cloud providers. Veeam Backup for Microsoft Azure protects IaaS applications running in Azure. It's deployable through the Azure Marketplace and complements the existing protection capability for AWS.
Veeam Backup Essentials is a separate product that offers data protection for small businesses. This software is targeted at the most common small-to-medium enterprise applications such as Microsoft SQL, SharePoint and AD. Veeam Availability Orchestrator enables businesses to implement automated DR and backup validity testing.
Veritas Technologies
Veritas has a long history of delivering data backup tools for the enterprise. The company's flagship product, NetBackup, is highly scalable software for on-premises deployments. NetBackup client support covers all major enterprise database applications, hypervisors and OSes. One advantage of NetBackup over newer competitors is the product's support for legacy applications such as IBM Lotus Domino and Informix.
NetBackup is also available as an appliance, with multiple configurations designed to suit small, medium and high-performance workloads. Organizations can choose long-term retention and virtual appliance instances for remote offices. The Access and CloudCatalyst appliances provide support for efficient data transfer or deduplication to and from public cloud platforms as storage targets and to replace long-term retention and archiving on tape.
For smaller environments, Veritas offers Backup Exec. This software has typically been used in more dispersed businesses with many small offices or branch locations. Recent product enhancements include support for public cloud as a storage target and ransomware detection.
To address the needs of public cloud infrastructure, Veritas offers CloudPoint. This software is deployed in the public cloud to protect native cloud workloads and was designed with modern data protection features such as policy-based automation and automated workload discovery. Veritas provides SaaS application data protection through another separate product that supports Office 365, G Suite and Salesforce. NetBackup charges per user, per month for data and applications protected.