everythingpossible - Fotolia
Cohesity backup expands with Imanis Data acquisition
Cohesity bought Imanis Data to integrate its NoSQL database protection into Cohesity's products. Cohesity plans to tackle other modern workloads like containers and SaaS apps next.
Secondary storage vendor Cohesity has made its first acquisition, picking up Imanis Data, a backup vendor known for protecting NoSQL databases and using machine learning-powered ransomware detection.
Today's move is the first step in what Raj Dutt, Cohesity's director of product marketing, described as expanding Cohesity's capabilities to protect "modern workloads." He used that term for NoSQL distributed databases, containerized applications and user-generated SaaS data in applications such as Office 365 and Salesforce.
"Even these modern applications are seeing data loss," Dutt said, describing how customers have in the past mistakenly believed these workloads did not need data protection. He said the goal is for Cohesity to eventually offer a single platform for backing up these environments.
Imanis Data, formerly called Talena and based in San Jose, Calif., has one product: the Imanis Data Management Platform, currently in version 4.0. Aside from supporting NoSQL databases and Hadoop, it features agentless architecture, automated policy optimization, point-in-time recovery, advanced ransomware detection and a Recovery Sandbox capability for spinning up a backup testing environment without disrupting the primary environment's performance.
A 'no-brainer' for NoSQL backup
Hadoop and NoSQL databases such as Cassandra are underserved when it comes to backup offerings, said Christophe Bertrand, senior analyst at Enterprise Strategy Group. Imanis Data was one of the most well-known vendors in the space. The other, Datos IO, was bought by Cohesity competitor Rubrik in February 2018. Bertrand was hard-pressed to think of other vendors that have launched data protection products specially tailored for NoSQL.
You always have to consider building yourself, but we found Imanis built a pretty comprehensive platform. It covers a lot of ground.

Michael PoratVice president of strategy and business development, Cohesity
"NoSQL has not had a lot of solutions prepackaged as part of mainstream backup and recovery," Bertrand said. "This has forced organizations to either be exposed or use complex, scripting-based solutions that they probably had to work on themselves."
Bertrand said the acquisition of Imanis Data was a logical move because of how closely the two companies were already working together. Imanis Data was one of the first applications available in the Cohesity MarketPlace when it launched this year.
Michael Porat, vice president of strategy and business development at Cohesity, said although NoSQL databases weren't a large presence in the overall market, feedback from customers told him there was growing intention to develop new types of workloads in these modern databases. Given its partnership with Imanis Data and citing its capabilities beyond NoSQL protection, Porat said this was a case where it made more sense for Cohesity to buy rather than build.

"You always have to consider building yourself, but we found Imanis built a pretty comprehensive platform. It covers a lot of ground," Porat said. "As these customer requests grew in volume, we thought it would just make sense for the two companies to join forces. It was kind of a no-brainer."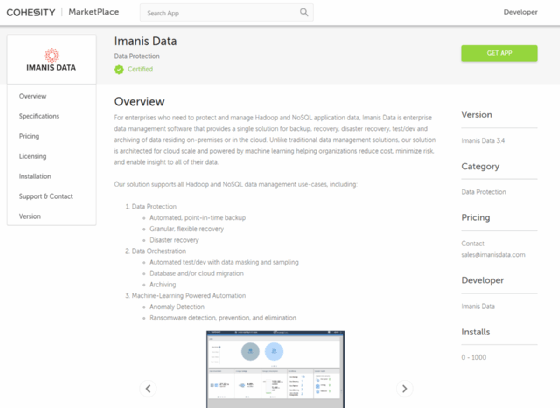 A look at Cohesity's future with Imanis
Cohesity received $250 million of funding in June 2018. Porat said the Imanis Data acquisition is an opportunity that arose that made strategic sense, and won't necessarily lead to Cohesity making more acquisitions.
"We don't have an acquisition strategy at this point," Porat said. "This was just a straightforward opportunity where what they do extends our platform in a very natural way."
Cohesity will continue to support Imanis Data customers, and there were no staff changes at Imanis resulting from the acquisition.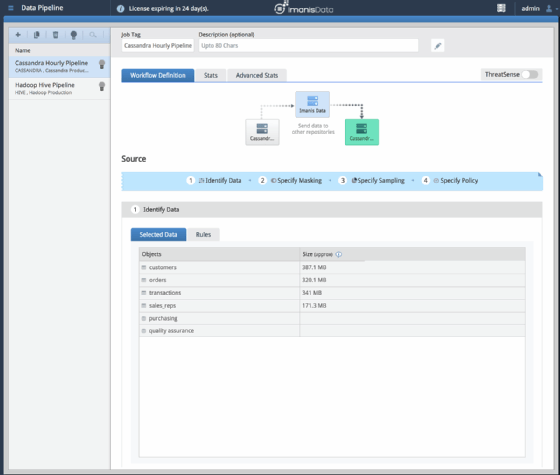 Porat said there is already integration between the two companies' products -- Imanis Data points its data to Cohesity DataPlatform instead of forming another data silo. However, he said further integration of Imanis Data capabilities with Cohesity are in development.
Bertrand said Cohesity's plan to cover persistent data in containerized environments and back up SaaS applications makes sense. Not only are these emerging markets, but it extends Cohesity's breadth of coverage to nontraditional, modern workloads that its customers are asking for. Bertrand said Cohesity's greatest strength is unifying a wide range of environments onto its single platform.

"The name of the game is reducing complexity these days," Bertrand said.