Imanis Data 4.0 introduces autonomous backups, NoSQL support
Imanis enables the protection of NoSQL databases with no human intervention through new SmartPolicies, along with automated RPO-based backup and improved ransomware detection.
Distributed database backup specialist Imanis Data is incorporating machine learning and point-in-time recovery for NoSQL databases into its Data Management Platform.
Imanis Data Management Platform 4.0, launched this month, includes SmartPolicies, a feature that uses machine learning to automatically set optimal backup policies.
Jay Desai, vice president of products at Imanis Data, based in San Jose, Calif., said SmartPolicies will automatically generate the best schedule of backups based on the desired recovery point objective (RPO). That alleviates the need for a backup administrator to set a fixed schedule of backups and guess the optimal frequency of those backups based on service-level agreements.
"Essentially, we're taking the guesswork out of the human being and using machine learning intelligence to provide that capability," Desai said in a webinar launching version 4.0.
SmartPolicies factors in the criticality, seasonality and volume of data to determine the best way to meet the selected RPO. It dynamically adjusts the frequency of backups and makes recommendations if the RPO cannot be met.
"They are creating what I would call a smart RPO dial that also has the benefit of taking human intervention and error out of the equation," said Christophe Bertrand, senior analyst at Enterprise Strategy Group (ESG) in Milford, Mass. "This is the future of data protection and something that our research indicates is going to be one of the biggest disruptions in the data protection market in the next three years."
NoSQL? No problem
Machine learning also plays a part in the new any-point-in-time recovery for NoSQL databases.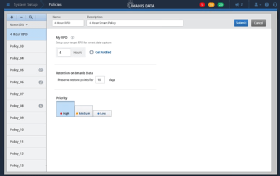 "Most relational databases have the ability to restore a database to any point in time. But in the case of NoSQL databases, that capability is lacking, nonexistent or very rudimentary," Desai said.
Imanis Data, formerly Talena, is among a few vendors focused solely on protecting distributed databases -- an emerging area for data protection. Rubrik acquired Imanis Data's main competition, Datos IO, in early 2018 and has incorporated that technology into its data management suite.
Essentially, we're taking the guesswork out of the human being and using machine learning intelligence to provide that capability.

Jay Desaivice president of products, Imanis Data
An ESG study found 96% of enterprise customers are already using or planning to use NoSQL. Yet, NoSQL databases remain an underserved market when it comes to data protection.
Bertrand pointed out there are only a handful of vendors that offer data protection for NoSQL deployments, with varying levels of capability. However, he said he believes Imanis Data has an edge because of its focus on machine learning.
"I think that Imanis is at the forefront of the market with [artificial intelligence and machine learning] and its focus on the flexible protection and migration of NoSQL and Hadoop," he said.
Imanis Data Management Platform 4.0 also allows users to flag false positives to improve the platform's ThreatSense ransomware detection capability. The new feature essentially teaches the machine-learning-based tool what types of anomalies aren't suspicious.
Imanis Data Management Platform is available as an annual license, based on total data under management. It can run on Amazon Web Services, Google Cloud, Microsoft Azure and Oracle Cloud.