Fotolia
Rubrik backup suite bolstered by new Datos IO release
Seven months after acquiring Datos IO, Rubrik adds NoSQL data protection with the release of Rubrik Datos IO 3.0, addresses distributed database protection for the first time.
Rubrik rechristened Datos IO's data protection platform and extended its cloud support in the product's first major upgrade since Rubrik acquired the startup in early 2018.
Rubrik Datos IO 3.0 launched today, dropping the RecoverX name that Datos used for its software that supports next-generation distributed databases such as NoSQL. The Datos IO upgrade added support for Microsoft Azure and Oracle Cloud, and brings NoSQL protection to the Rubrik backup suite.
Now a part of Rubrik, Datos IO's ability to protect applications built on NoSQL databases fills what was once a gap in the Rubrik backup portfolio. Rubrik Datos IO 3.0 is a result of that February 2018 acquisition.
Tarun Thakur, general manager of Rubrik Datos IO and former Datos IO CEO, said Rubrik recognized his company was going after a rapidly growing market.
"These next-generation applications are truly being built on distributed architectures, a lot of them being NoSQL," Thakur said.
Thakur said there were many changes under the covers in this Rubrik backup release, calling the latest version "a new incarnation of the product."
Rubrik Datos IO already supported AWS and Google Cloud, but not Azure and Oracle Cloud. The platform is available as an Amazon Machine Image and a Docker container.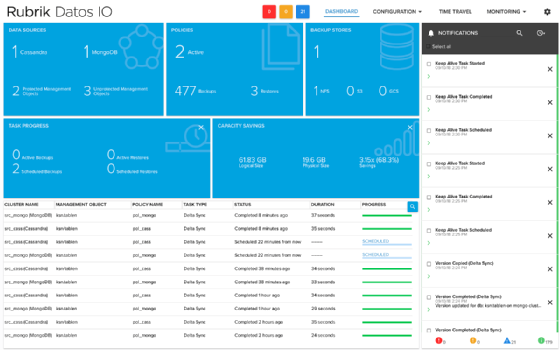 Phil Goodwin, research director at IDC, said Rubrik Datos IO container backup works differently than other vendors' container backup. He said other vendors actually back up the databases within the containers.
"To truly serve the container market, you have to containerize your product and make it available by subscription as a container. And that's what Datos IO is doing here," he said. "They're ahead of the curve of most other organizations with respect to their support for a true container environment."
These next-generation applications are truly being built on distributed architectures, a lot of them being NoSQL.

Tarun Thakurgeneral manager, Rubrik Datos IO
Goodwin said IDC estimates between 70% and 75% of organizations have development projects that involve NoSQL systems. "It's an area that we see growing rapidly and yet has not received a lot of market attention from either data protection vendors or developers," he said.
Rubrik Datos IO 3.0 enters early access today and will become generally available by the end of 2018.
Rubrik bills its software-driven platform as one that protects and manages all secondary data wherever it is stored. However, Rubrik backup did not have any support for applications such as MongoDB, Cassandra, Couchbase and Amazon DynamoDB before acquiring Datos IO.
Datos IO first launched RecoverX in 2015. Its previous release was version 2.5 in November 2017.