alphaspirit - Fotolia
Imanis Data improves ransomware detection
Imanis improves its machine learning-powered ransomware detection, introduces disaster recovery for Hadoop and unveils its new Recovery Sandbox feature.
Imanis Data's latest upgrade to its data management platform for big data applications includes improved ransomware protection, disaster recovery for Hadoop and DR testing.
Imanis manages and protects distributed databases such as Cassandra, Cloudera, Couchbase, Hortonworks and MongoDB, and cloud-native data for IoT and software-as-a-service applications. The startup, which changed its name from Talena in 2017, leaves backup and recovery of relationship databases to the data protection stalwarts such as Veritas, Dell EMC, IBM, Veeam and Commvault. It directly competes with smaller companies, mainly Datos IO, which Rubrik acquired in February 2018.
Imanis Data 3.3 -- launched in June -- strengthened the anomaly detection of the company's ThreatSense anti-ransomware software, according to chief marketing officer Peter Smails. Smails said ThreatSense builds a baseline of normal data and periodically checks against it in order to find instances of ransomware encryption or mass deletion, whether malicious or accidental. In 3.3, the software has double the metrics from its previous build, allowing for higher granularity in the anomaly detection and lower false positive rates.
Also new in 3.3 is automated data recovery support for Hadoop users.
"We're basically replicating data from one Hadoop cluster to another Hadoop cluster, at a different data center, and we can do it as aggressively as every 15 minutes," said Jay Desai, Imanis' vice president of products.
Smails said Imanis customers often treat data recovery testing as an afterthought. Imanis Data 3.3's Recovery Sandbox feature can help fix that by allowing administrators to quickly and easily test if a backup is restorable, without disrupting the primary work environment.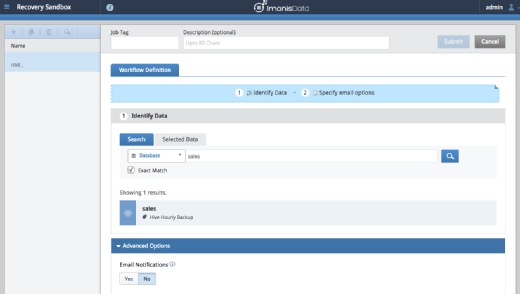 Imanis Data 3.3 also brings a user interface refresh to the platform's existing point-in-time recovery. Whimsically dubbed the "time-travel widget," this tool allows users to simply search and navigate to system restore points.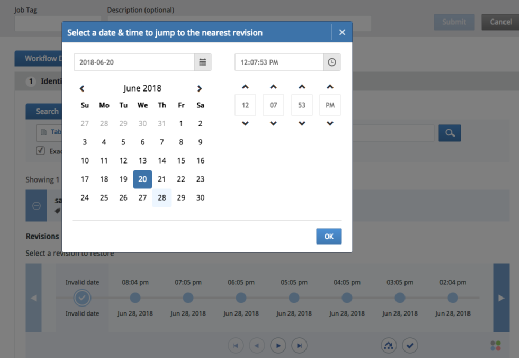 Imanis Data received a $13.5 million Series B funding round earlier this year. Although founder and COO Nitin Donde at the time said there would only be a "modest investment" in research and development, the company released 3.3 just four months later.
Since the funding, there's been a concerted effort to brand Imanis Data as a company focused on machine learning-based data management. Smails describes Imanis Data's platform as data-aware, uniquely structured around machine learning and built for scale.
That data awareness is a key factor in what makes Imanis Data's ransomware detection so powerful. George Crump, founder and president of IT analyst firm Storage Switzerland, describes how ransomware has become more insidious.
"In many cases, it lays dormant, so it's actually backed up a few times," Crump said. "Then, it encrypts slowly, like only 500 or 1,000 files a day. And that becomes very hard for a human to detect if that's out of the ordinary. If you can, through machine learning, detect a much more 'finer grain' attack, you can pick it up the first time it happens."
Dig Deeper on Data backup and recovery software