olly - Fotolia
Cohesity tries to fill 'SLA gap' with backup-DR combo
Cohesity's new SiteContinuity product is an automated disaster recovery product that uses the company's backup and continuous data protection capabilities based on the data's SLA.
Cohesity's SiteContinuity allows customers to set the SLA for their data and let automation determine the best recovery workload for it.
This new product, separate from Cohesity's backup offerings, focuses on automated disaster recovery (DR). SiteContinuity consolidates storage repositories and tiers onto a single platform for recovery. It combines Cohesity's backup snapshots and continuous data protection capabilities to restore tiers of data using the appropriate backup and recovery method depending on the criticality of the data, as determined by the administrator. This removes the need to use different backup and recovery products for different tiers of data.
System and backup admins set SLAs depending on the importance of data, and SiteContinuity applies the appropriate backup approach. For example, for business critical data and applications with zero or near-zero recovery point objectives (RPOs), SiteContinuity would use continuous data protection and replicate to a chosen DR site to ensure no data is lost and that applications can be brought up quickly. SiteContinuity also lets admins define the sequence of what needs to be restored. This orchestration capability is new to Cohesity's data protection portfolio.
Cohesity SiteContinuity is currently in beta with an expected general availability date in November 2020.
Aside from its recovery capabilities, SiteContinuity also has automated, nondisruptive DR testing. The software fails over to a sandbox environment and generates a report, helping organizations meet compliance and check that they are meeting SLAs. Raj Dutt, Cohesity's senior director of product marketing, said this addresses an important pain point surrounding DR testing. Many organizations don't test their DR regularly because the process is too disruptive to daily IT operations. Citing a study conducted by Enterprise Strategy Group (ESG), Dutt said only 25% of organizations test their ability to recover on a weekly basis. That same survey found 30% test monthly, and the rest test quarterly or less, don't know or not at all.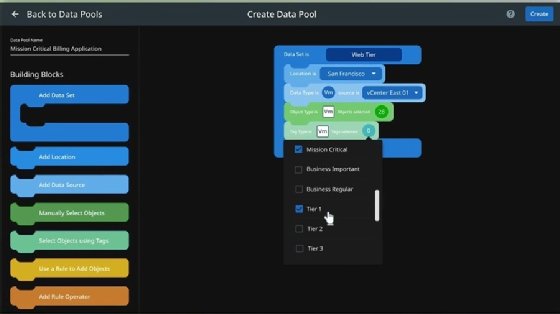 The ESG survey, titled "Real-world SLAs and Availability Requirements," had other DR-related findings as well. Conducted in March 2020 from a pool of 378 IT professionals with data protection technology decision-making power, the survey found that on average, only 63% of organizations "pass" their DR tests. Furthermore, 15% of respondents said they couldn't tolerate any downtime for mission-critical applications, part of a total group of 57% saying they need mission-critical applications running again within an hour after an outage.
Christophe Bertrand, senior analyst at ESG, said recovery time objectives (RTOs) and recovery point objectives (RPOs) have become more stringent. Data created between an outage and the next backup window is lost and needs to be recreated. ESG's SLA study found that on average, organizations can tolerate 22 minutes of this data loss before it significantly impacts the business, and 15% said they can't lose any data at all. Only 22% of respondents said their actual recovery times meet their organizations' established SLAs, and 45% said they meet SLAs most of the time. Bertrand said there is an SLA gap, and this is driving demand for better backup and DR tools in the market.
Bertrand compared Cohesity SiteContinuity to Zerto, as both combine backup and DR and use continuous data protection to deliver low RPOs. He said SiteContinuity's "RPO slider" is a differentiator because users set the SLA and Cohesity takes care of the rest.
Bertrand added that the DR market is seeing greater demand and wasn't surprised that Cohesity was getting into it. DR plays a key role in recovering after a ransomware attack, which have become more frequent in the COVID-19 era. The ESG study showed how little tolerance there was for downtime and data loss, but Bertrand added that backup still played a role in remediation because not all data is mission-critical. Having that combination of DR and backup through a single vendor is compelling, he said.
"DR demand was already brewing, but COVID put heat on it," Bertrand said. "It's very fertile ground here."