kentoh - Fotolia
Backup trends of 2019: Acquisitions, funding and CEO changes
The acquisitions, funding rounds and CEO changes among backup vendors so far this year hint that even more changes are coming. Experts weigh in on the trends in backup we've already seen in 2019.
So far, 2019 has been a year of big change in data protection. The year has seen its share of big investment rounds, small acquistions and CEO changes. The message from these backup trends: Backup alone is not enough, because customers also need to manage data and protect themselves against ransomware and other attacks.
The data protection business has seen some massive changes so far this year: data consolidation advocate Cohesity bought NoSQL backup vendor Imanis Data, cloud and virtual machine backup vendor Veeam received a staggering $500 million funding round, and consumer- and small business-friendly Carbonite's CEO left the company and joined tech media company International Data Group.
In each case, the vendors spoke of expansion, but not just of their core backup business. Some companies such as Rubrik and Veritas pushed into analytics and data management, while Carbonite and Kaseya invested in security.
Experts agreed that one of the emerging backup trends of this year is the notion that backup vendors can't only offer backup. Digital transformation, the growth of dark data, the evolving threat of ransomware attacks and other factors are calling for more holistic packages in addressing data protection.
"The traditional roles of data protection are over," said Naveen Chhabra, Forrester Research senior analyst. "The threats are more complex, and vendors need to address that complexity."
Here's a quick recap of what's happened in the data protection business so far in 2019.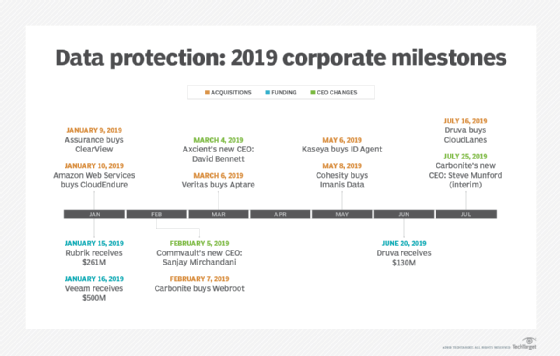 Acquisitions
Assurance buys ClearView -- Jan. 9, 2019:
U.S.-based business continuity (BC) management provider Assurance Software bought U.K.-based ClearView Continuity to expand its global reach.
Amazon Web Services buys CloudEndure -- Jan. 10, 2019:
At the start of the year, AWS bought CloudEndure, a data migration, backup and disaster recovery (DR) services provider. The move, combined with the release of Amazon's Outposts service, showed an active interest in hybrid infrastructure and extending Amazon workloads to on-premises environments.
Carbonite buys Webroot -- Feb. 7, 2019:
Backup vendor Carbonite acquired cybersecurity firm Webroot. Carbonite said it would slowly integrate the products between the two companies and that the acquisition would give its customers better defenses against ransomware.
Veritas buys Aptare -- March 6, 2019:
Veritas acquired storage analytics software vendor Aptare. Aptare's analytics capabilities were much more advanced than those provided by Veritas NetBackup OpsCenter and Veritas mentioned plans of integrating the newly acquired technology into its products.
Kaseya buys ID Agent -- May 6, 2019:
IT management software company Kaseya added dark web monitoring and identity management provider ID Agent to its sizeable list of acquisitions. Kaseya owns Spanning Cloud Apps and Unitrends, and sought to integrate ID Agent's security capabilities with the two backup vendors' products.
Cohesity buys Imanis Data -- May 8, 2019:
Secondary storage vendor Cohesity bought Imanis Data, expanding its data protection capabilities into NoSQL databases. It's the step into protecting what Cohesity considers "modern workloads," which include containerized applications and SaaS data from cloud-based applications such as Office 365 and Salesforce.
Druva buys CloudLanes -- July 16, 2019:
Cloud data protection vendor Druva acquired CloudLanes for its file system and cloud storage gateway, extending Druva Cloud Platform's reach to on-premises environments.
Funding rounds
Three data protection vendors scored big funding rounds in the half of 2019. Rubrik received $261 million Jan. 15 and Veeam picked up $500 million the following day. Druva pocketed $130 million in June to fuel its cloud data platform.
CEO changes
Three data protection vendors switched CEOs in 2019 so far. Commvault named Sanjay Mirchandani to replace Bob Hammer, who retired in February after 20 years on the job. Former Webroot exec David Bennett became Axcient CEO in March, and Carbonite CEO Mohamad Ali unexpectedly left in July. Steve Munford took over as Carbonite interim CEO until a replacement is found for Ali, who became CEO of media and analyst firm IDG.
Natural evolution of backup
Why are IT vendors and VCs investing in boring old backup? It makes no sense! That's because they're not really putting money into backup -- they're putting it into that next stage.

Christophe Bertrandsenior analyst, Enterprise Strategy Group
None of these backup trends are particularly surprising, according to Steven Hill, senior analyst at 451 Research, based out of York City. He said hybrid infrastructure has the number of locations where mission-critical applications and data are kept, yet all of them must still be readily available and accessible. Traditional backup is not enough to handle that, so backup vendors are changing their capabilities and dipping into other IT disciplines to build a more holistic, inclusive model.
"We're seeing a logical progression of the data protection/DR/BC market. The adoption of hybrid IT is encouraging vendors to fill out their portfolio with an increasingly broad range of services and capabilities," Hill said.
He added that not every vendor natively has the ability to support every public cloud, every distributed database or every platform in existence. To cover the growing number of use cases, it's easier to buy than to build.
"It's often the case where it just makes sense to acquire existing technologies rather than develop them," Hill said.
In Chhabra's view, the shift to security is more important than the focus on data management. He said that organizations do not set aside a budget for data management, so it's a tough sell for vendors. They would have to put forth clear examples where secondary data reuse would lead to a return on investment.
Security doesn't have this problem, as every organization understands its value. Chhabra said some backup vendors shifting focus to security is a natural response to the growing threat of ransomware.
"Ransomware is a tipping point. It's pushing customers to adopt newer backup technology," Chhabra said.
Recovering from backup is the last line of defense against ransomware, but good security software and protocols can stop an attack from reaching that point. Chhabra said many businesses, especially smaller ones, want both the front door and the vault protected by a single offering. To them, data protection and security are the same, as a failure in either could lead to data loss.
"I don't see all the backup vendors moving to this new perspective," Chhabra said.
Is anyone actually investing in backup?
The large funding rounds might suggest a backup trend of venture capitalist (VC) firms and larger players in the industry growing confident in the technology, but Christophe Bertrand, senior analyst at Enterprise Strategy Group, said backup is not the endgame. Backup and recovery is a starting point, and the bigger play is data management, and, specifically, in reusing secondary data.
"Why are IT vendors and VCs investing in boring old backup? It makes no sense," Bertrand said. "That's because they're not really putting money into backup –--they're putting it into that next stage."
Bertrand describes that next stage as autonomous data intelligence, in which copies of data are used to drive business outcomes. This would entail using secondary data for analytics, test/dev, compliance management and other uses in an automated, AI- and machine learning-driven way. Although Chhabra said this is currently a tough sell to customers, Bertrand believes this is where VCs and IT vendors are actively investing in.
Bertrand said he expects consolidation of services in the next six or eight months. Once-backup-only vendors will be offering packages that include backup and recovery alongside security, identity management, vulnerability management, data analytics, compliance and many others. Many companies may even shift their branding and call themselves something other than backup vendors.
Backup vendors may be seeing big investments, but it's all so they can grow beyond backup and into something bigger -- with a bigger ROI. Bertrand said to keep in mind that VCs are looking for exits for all the unicorns they've invested in. The interest doesn't lie in improving the core backup technology, but in growing the backup business to encompass more.
"At the end of the day, there has to be some economic rationale," Bertrand said.
He said backup vendors that aren't building or acquiring these other capabilities will have to focus on partnering up with vendors that do. He predicted that companies that don't offer anything beyond their core backup product will fall farther and farther behind as the year plays out.