Getty Images/iStockphoto
SaaS backup vendors diversify approach as adoption grows
Backup vendors are expanding coverage and introducing new methods to back up SaaS data as IT departments contend with ever-growing adoption and user demands.
Supervisors, peers, experts, romantic partners, the clergy and your mother encourage backing up SaaS data, but it appears enterprises are still missing the message. The proliferation and variety of SaaS apps, and their associated data, have backup vendors considering new protection and sales models to contain the boom.
Data protection vendors, both large and boutique, are ramping up offerings to protect SaaS data, often focusing on popular SaaS applications or industry-specific apps. Although more SaaS backup options are emerging, they aren't keeping up with the rate of SaaS development and adoption.
More recently, a handful of SaaS backup services launching this year are taking a broader approach by providing universal APIs or low-code frameworks for SaaS developers or customers to hook into. These new offerings aim to cover both markets, but the popularity and rate of adoption remain to be seen.
Regardless, what should be a pressing concern for enterprises is the increasing effect that SaaS data loss could have on an enterprise's productivity and bottom line, said Christophe Bertrand, practice director at TechTarget's Enterprise Strategy Group (ESG). Many SaaS licensing agreements include "hold harmless" language that protects and frees the vendor from liability.
"The [SaaS] services protect themselves," Bertrand said. "They're not telling you they're going to do your backup. Your data, your responsibility."
Nothing to back up all that SaaS
SaaS applications remain a persistent challenge for enterprises. In an ESG survey published last month, 53% of the 398 respondents indicated they've experienced lost or corrupted data in the past year.
And yet, more than half, 59%, of those respondents whose organizations suffered data loss said they "don't do anything to protect [their] SaaS-resident application data."
The ubiquity of SaaS applications both within and outside IT environments has created new prioritization and budgeting challenges for data management specialists, such as controlling overall cloud spending. The "shared responsibility" model of SaaS offerings places the burden of data backup and maintenance on the user, while vendors are responsible for functionality metrics such as continued uptime. But how to best protect and automate those backups differs from environment to environment.
The assumption of data availability and, by proxy, data protection from years of cloud adoption and sales pitches has led to a lax stance in data backup, said Marc Staimer, president and founder of Dragon Slayer Consulting.
"Most people don't realize their data isn't backed up," Staimer said. "People think that if it's in the cloud, it's protected. It's not."
It's just not the job [of departments outside IT] to be experts in backup and recovery.

Krista MacomberAnalyst, Evaluator Group
The blame for such assumptions isn't entirely on IT, said Krista Macomber, analyst at Evaluator Group. SaaS adoption can take place without IT's direct involvement, leading to a shadow IT of business-critical applications without full vetting or knowledge of the shared responsibility model popular with cloud products.
"Typically, we see these [SaaS] applications being brought into the enterprise outside of IT," Macomber said. "It's just not the job [of those outside departments] to be experts in backup and recovery."
One SaaS to rule them all
A handful of data protection vendors believe the best way to combat the shared responsibility model is to develop more universal and simplified code connections to protect data in common SaaS touchpoints such as object storage.
Others, meanwhile, feel specific and deliberate development of backup apps remains the viable path to ensure backup legitimacy and quality.
HYCU and Asigra are taking the former approach and launching backup platforms for SaaS, enabling developers to connect directly to their respective services through APIs or SDKs, whereas vendors such as Rewind and BackupLabs plan to continue cultivating backup technologies designed for specific SaaS products.
In the ESG survey, more than half of respondents indicated they consider Microsoft 365, Salesforce, Zendesk and Google Workspace to be mission-critical applications, and they already have several options for backup services.
But what about more specialized SaaS clouds, such as Duck Creek Technologies' Duck Creek OnDemand? Duck Creek OnDemand provides property and casualty insurance providers with the titular company's software, but the market potential for backing up Duck Creek OnDemand data is far less than backing up major offerings such as Microsoft 365. The model HYCU and Asigra are using would extend a ready-made opportunity to back up data from these smaller SaaS applications.
HYCU's new R-Cloud, a data backup platform that enters general availability in April, enables SaaS vendors to sell HYCU's backup and services directly through their own applications.
Asigra, meanwhile, plans to launch a similar product with its SaaSBackup in the third quarter this year, targeting developers and a new audience: managed service providers (MSPs). Asigra will provide an SDK to SaaS makers or MSPs to develop data backup and protection tools, as well as an associated marketplace to later sell user creations.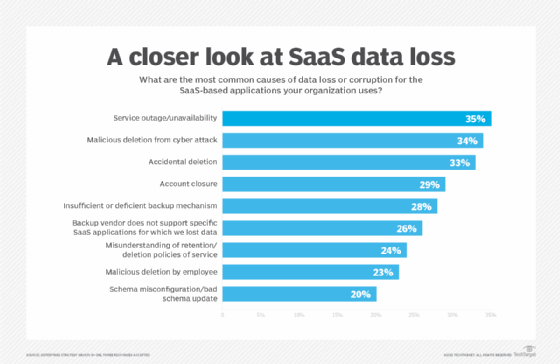 Leadership SaaS
Despite the approach Asigra and HYCU are taking, rival vendors feel they might miss some of the specificity and demands SaaS customers require for backup.
IT managers supervising SaaS applications want better delineation between the backup provider and the SaaS provider to avoid potential incidents and outages, according to Mike Potter, CEO and co-founder of Rewind, a SaaS and cloud backup vendor. Similar to the 3-2-1 approach, having backups in another location with a trusted provider avoids potential liabilities if the SaaS application goes down or is compromised. Doing so can also provide some flexibility to shift data around in the case of mergers and buyouts.
Rewind provides backup services for SaaS products from Shopify, QuickBooks Online and BigCommerce, among others. The company unveiled its Rewind Protection Suite for Shopify last month, providing additional services beyond automated backups that include monitoring, alerts and change testing.
"What we've heard from customers is they want a separation between what the platform is and who has the backup," Potter said. "We've seen this in our QuickBooks backups, for example, where Intuit acquired one of our competitors. Our installs after that acquisition went through the roof for [QuickBooks] because customers didn't want Intuit managing both the main source of data and the backup."
Ron Stevenson, CEO and founder of BackupLabs, has a blunter explanation: SaaS developers won't bother with backups; instead, their primary concern will be maintaining and updating the software itself.
"[HYCU] might be onto something in that they will make it easier for the SaaS application to bolt in and send customers in that direction," Stevenson said. "But I honestly don't think [developers] will spend the time to connect to the HYCU API -- it's just not really their specialty."
BackupLabs, which emerged from stealth last month, similarly provides backups for more specialized applications including GitHub, GitLab and Trello. Future expansion will include services for Notion, Jira and Asana, among others.
All SaaS, no brakes
Regardless of implementation, the fact remains that not enough SaaS buyers are protecting their data, Bertrand said, despite ESG's survey indicating that 45% of respondents see SaaS backup as one of their organizations' top five priorities in the coming year.
"People are not catching that they don't have the adequate levels of protection in place," Bertrand said. "People are conflating data protection levels with uptime of the service."
And buyers of both SaaS applications and backup should remain aware that data backups are a far cry from fully featured disaster recovery and high-availability features, said Naveen Chhabra, an analyst at Forrester Research.
Even fastidious backups will not protect an enterprise from a SaaS outage, he said. Cutting through vendor hyperbole and marketing speak will remain an important skill when considering what services to adopt.
"There's no DR for SaaS from the backup vendors," Chhabra said. "A backup vendor cannot come and claim, 'I will enable DR for you.' What you can do, at most, is save the configuration and backup data. ... They're not in the business of enabling backup for the SaaS application."
Tim McCarthy is a journalist living on the North Shore of Massachusetts. He covers cloud and data storage news.