20 cloud backup services for businesses to consider in 2023
Before selecting a service from a cloud backup provider, identify your organization's specific needs, including which features are important for security and data management.
As data becomes more valuable to enterprises, backup and data protection become increasingly critical in delivering IT services to internal business customers. Over the last 15 years, IT has gradually adopted public cloud services and moved toward a hybrid IT model. In many cases, this is simply using public cloud tactically to deliver some IaaS or SaaS offering. However, over time, we can expect the complexity and integration of services to become more dynamic. As a result, we'll see a complementary evolution in cloud backup services for business and data protection.
How organizations are using the public cloud
The public cloud remains widespread. There are three main ways it's being adopted to improve data protection:
Using cloud storage as a backup target.
Protecting cloud-native workloads -- SaaS, IaaS and PaaS -- using a cloud backup platform.
Using a cloud-native backup service to protect both cloud and on premises workloads.
The cloud backup services market
There's widespread support for public cloud storage as a repository for data. This is typically through native support for the Amazon S3 API interface and Azure Blob storage API. In many cases, this data is simply written in the vendor's proprietary format and isn't easily available for search and analytics. But organizations can use the images for DR. Some cloud backup vendors are integrating data and metadata in the cloud, making it easier to use the data for archive purposes. Often, this is done through a proprietary dashboard.
Many vendors offer products that span on-premises and public cloud, with cloud support enabled through virtual appliances. This offers some degree of hybrid capability and data mobility for moving applications to and from the cloud.
The choice of public cloud as a target also includes the use of proprietary clouds from some vendors. Here, the cloud backup provider runs and manages a private cloud exclusively for customers and separate from any public cloud hyperscaler. This helps the vendor provide better service levels and make costs more predictable. But it also locks the data into that vendor's product with no clear way to migrate historical backups to another provider in the future.
Finally, there are several cloud backup providers that are entirely cloud native. Rather than simply running a virtual instance with backup software, these services take advantage of cloud-native features, such as modern databases, key-value stores, search and storage. They can scale up and down on demand, making their services highly efficient and simple to deploy in any public cloud region.
As the COVID-19 pandemic continues to wane, organizations across the world are permanently transitioning to hybrid workplaces. As such, data protection vendors are adapting their offerings to meet a changing set of requirements. Whereas endpoint protection was once considered unnecessary, employees working from home need endpoint protection for their devices. Similarly, self-service functionality has become a must-have.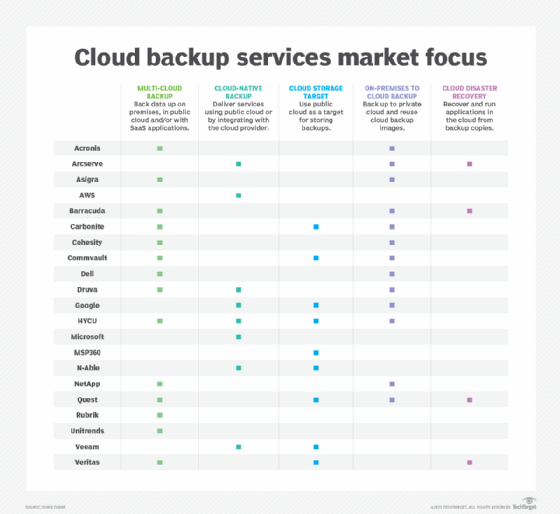 Top 20 cloud backup services for businesses in 2023
It's important to thoroughly review the services available to you to determine what will best meet current and future business needs. Below is an in-depth breakdown of the products, market focus, notable features, integrations and pricing of 21 different cloud backup providers.
1. Acronis
Product: Acronis Cyber Protect
Market focus: Multi-cloud backup
Acronis Cyber Protect -- formerly Acronis Backup or Acronis Cyber Backup -- offers data protection across more than 20 platforms. Acronis Cyber Protect integrates cybersecurity and management capabilities and helps to streamline data protection.
Notable features. IT departments can use Acronis to back up data to one of more than 40 global Acronis managed data centers. Acronis lets users move workloads between public clouds, virtual servers or physical servers in multiple configurations. AI and machine learning models within Acronis Cyber Backup detect and identify ransomware and other suspicious behavior. Service providers use Acronis Backup Cloud to offer branded data protection.
Integrations. Acronis Cyber Backup supports a range of hardware and software platforms. This includes SaaS cloud protection for Microsoft 365 mailboxes, Google Workspace, virtual infrastructure running in AWS Elastic Compute Cloud (EC2) and Microsoft Azure Virtual Machines. Acronis Cyber Backup integrates with major hypervisor platforms, including VMware vSphere and Microsoft Hyper-V, to provide physical-to-virtual, virtual-to-physical, virtual-to-virtual and physical-to-physical recovery options. The Advanced release protects Oracle databases and client or Type 2 hypervisors.
Acronis Cyber Backup offers data protection for endpoint devices, including Windows desktops, Windows Surface tablets, Linux devices and Apple Macs. Endpoint protection also extends to iPhone and Android devices. Acronis continues to increase its focus on cybersecurity as well as both prevention and recovery from ransomware. This includes training programs and best practices for its more than 50,000 partners.
Pricing. Acronis Cyber Protect products are licensed by the number of workloads per server, workstation or virtual host. Pricing starts at $85 for Acronis Cyber Protect Standard.
2. Arcserve
Products: Arcserve Unified Data Protection Cloud Hybrid, Arcserve UDP Cloud Direct
Market focus: On-premises cloud backup and cloud DR
Arcserve UDP Cloud Hybrid, an extension to the on-premises UDP product, uses a UDP Recovery Point Server in the public cloud as the replication point for data stored in an on-premises appliance. Arcserve UDP Cloud Direct backup and disaster recovery as a service (DRaaS) eliminate the need for on-premises backup infrastructure.
Notable features. Arcserve runs a private cloud for backup and DR that's based in global data centers in the U.S., Canada and the Netherlands. Organizations that don't want to run on-premises data protection can use Cloud Direct, a web-based SaaS offering that's delivered from the public cloud. In addition, Arcserve's UDP products are kept secure by Sophos.
Integrations. Arcserve products support more than 300 different platforms. Arcserve UDP natively protects Microsoft 365 as well as on-premises Microsoft Office servers -- Exchange, SharePoint, etc. In addition, Arcserve protects a wide variety of hypervisors, including VMware, Hyper-V and Nutanix. Backups can be made to the Arcserve cloud or to any number of other public clouds, including AWS, Microsoft Azure, Google Cloud, Wasabi Technologies, Cloudian and more.
Pricing. Cloud Direct is priced per terabyte of cloud storage used, independent of the number of host machines protected or agents deployed. DRaaS users can also purchase reserved RAM to recover virtual instances in a disaster scenario.
3. Asigra
Product: Asigra Tigris Backup
Market focus: Multi-cloud backup
Asigra provides a wide range of backup data protection products, from cloud backup services to backup appliances. The company has delivered products to the market through partners and MSPs for more than 30 years.
Notable features. Asigra Tigris Backup places a heavy emphasis on ransomware protection and security. It offers features such as bidirectional scan and quarantine, FIPS-140 encryption, and content disarm and reconstruction -- the ability to remove the malicious portion of a file while preserving the content.
Integrations. Asigra protects both on-premises and cloud-based workloads. It can back up VMs, containers and physical hosts without using agents. Asigra also protects popular SaaS platforms such as Microsoft 365, Salesforce and Google Workspace.
Pricing. Pricing is based on data capacity consumed, virtual and physical instances protected, individual SaaS licenses -- such as mailboxes -- or as a per-socket license.
4. AWS
Product: AWS Backup
Market focus: Cloud-native backup
The AWS public cloud service platform includes the following:
EC2 for running VMs.
Elastic Block Store (EBS) local block storage.
Elastic File System (EFS) local file storage.
FSx file storage.
A range of database as a service (DBaaS) platforms.
These DBaaS platforms include Amazon Relational Database Service (RDS), which runs common relational database systems, and Amazon DynamoDB, a key-value and document database. Other supported databases include Amazon Redshift, SAP HANA on EC2 and Amazon DocumentDB.
Notable features. AWS Backup is a natively integrated managed service that lets users schedule backups and set policies for the most common Amazon services. Backups of EC2 instances can cover the data and configuration components, making it easier for organizations to restore an entire EC2 instance.
Integrations. AWS Backup provides native support for EFS and Amazon DynamoDB from within the application. RDS and EBS backups use block-level snapshots that they offload to the S3 object store. AWS Storage Gateway supports hybrid and on-premises environments. The gateway software exposes local block devices to on-premises compute resources, shipping snapshots back to S3. Users can access Backup through a web console, CLIs and APIs. EFS data protection provides the capability to perform individual file restores rather than an entire file system.
Pricing. Backup is priced per gigabyte, per month, based on the volume of data protected and the volume of data restored.
5. Barracuda Networks
Products: Barracuda Backup, Barracuda Cloud-to-Cloud Backup
Market focus: On-premises cloud backup and cloud DR
Barracuda physical and virtual appliances can use cloud as a backup target. Barracuda once focused its offerings on on-premises data protection and recovery, but it now provides cloud-to-cloud backup capabilities in addition to its other backup offerings.
Barracuda physical and virtual backup products provide an on-premises copy of data for fast, local restore and a cloud-based copy that can satisfy the 3-2-1 backup strategy, which calls for at least three copies of data, at least two copies on different media and at least one copy off site. The cloud represents the off-site copy and one of the two media types.
Barracuda runs a private data center branded as Barracuda Cloud as a storage target for backup data.
Notable features. MSPs use Barracuda to resell backup services. Barracuda can also protect Microsoft 365 SaaS applications using web-based access and data stored in Barracuda Cloud. The Instant Replacement subscription option ships an appliance back to the business's IT department, preloaded with recovery data from Barracuda Cloud, in the event of an on-site disaster. Instant Replacement also includes Barracuda's Hardware Refresh Program, which provides a free hardware refresh after four years.
Integrations. Barracuda Backup supports Windows, Linux and macOS as well as VMware vSphere, Microsoft Hyper-V and Nutanix.
Pricing. Barracuda Cloud pricing is based on a monthly, quarterly or annual subscription model. Virtual appliances are licensed per socket and per server for physical servers, where the virtual server runs on the organization's own hardware.
6. Carbonite
Products: Carbonite Endpoint, Carbonite Server, Carbonite Backup for Microsoft 365
Market focus: Multi-cloud backup and cloud storage target
Carbonite mostly targets small businesses. Carbonite Endpoint protects endpoint devices running Windows or macOS. Backups are stored in Carbonite's own Azure-hosted vault.
Carbonite was acquired by OpenText in December 2019.
Notable features. Carbonite Endpoint offers several security and compliance features. These include legal hold, data wipe, global device tracking, audit trails and data encryption. Some of the more noteworthy backup features include an incremental restore feature that enables a system to be migrated to new hardware while the user continues to work, and policy-controlled backups that can back up data on a nearly continuous basis, with backups occurring each minute.
Integrations. Organizations can deploy Carbonite Endpoint Client on computers running Windows 7 or later or on macOS 10.12 or later.
Pricing. Carbonite pricing is based on protected capacity per computer, per month. Some business plans are billed at a flat rate.
7. Cohesity
Products: DataPlatform, DataProtect, CloudArchive, CloudArchive Direct, CloudReplicate
Market focus: Multi-cloud backup
Cohesity Data Cloud is Cohesity's platform for backing up and securing data. It consists of five individual components. DataProtect is Cohesity's core data protection platform. FortKnox is designed to make backups resilient to ransomware. DataHawk provides an added layer of ransomware protection through advanced threat hunting, classification and vaulting. SmartFiles is a service for managing and scaling data. SiteContinuity is an automated DR platform.
Notable features. DataProtect natively supports on-premises storage arrays, including those from Cisco, Dell, HPE, Fujitsu, Intel, Lenovo and Supermicro. The Cohesity platform is also available on public clouds or as a SaaS offering.
Integrations. DataProtect supports virtual workloads running on VMware vSphere, Microsoft Hyper-V, Nutanix AHV and physical servers running all common OSes. This includes Linux, AIX, Windows and Solaris. DataProtect also supports traditional databases and on-premises applications, such as SQL Server, Exchange, Oracle and SharePoint. The platform can also protect SaaS applications, including Microsoft 365.
Pricing. Appliances are priced based on the model size and capacity. Virtual appliance licenses for DataPlatform Cloud Edition are priced per terabyte of capacity managed.
8. Commvault Systems
Products: Complete Backup & Recovery, HyperScale Appliance
Market focus: Multi-cloud backup
Commvault's software platform protects applications and data on premises, in the public cloud and in SaaS applications. The Commvault Complete architecture enables management control to run on premises, while data movement is performed in the public cloud, on premises or in both locations to support true hybrid environments.
Commvault HyperScale Appliance packages Commvault Complete with scale-out hardware. Appliances support the archive of backup data to public cloud targets.
Notable features. Commvault Command Center can migrate applications between public clouds with in-place conversion of virtual instances to work with the target platform. Commvault offers backup as a service (BaaS) within AWS. This is a managed instance running the Commvault Complete software. Complete BaaS protects workloads running as virtual instances and common cloud-native relational databases.
Integrations. Commvault Complete supports a wide range of client OSes, databases, NAS platforms and SaaS applications. Metallic also supports secondary storage in Microsoft Azure. This offering is implemented as SaaS, with no customer configurations necessary.
Pricing. Commvault Complete as a service is charged by front-end gigabyte protected per month, depending on the type of data protected. Commvault Complete platforms are charged under a traditional features license, a capacity license for data protected, or the number of client devices and platforms being protected.
9. Dell
Products: PowerProtect Data Manager, PowerProtect Cloud Snapshot Manager, Avamar, RecoverPoint for Virtual Machines, Data Protection Advisor, Cloud Disaster Recovery
Market focus: Multi-cloud backup
The Dell suite of cloud backup services integrates with and protects resources in the public cloud. Avamar runs data protection in the public cloud and on AWS, Microsoft Azure and Google Cloud.
PowerProtect Cloud Snapshot Manager helps users orchestrate and manage the native snapshot features of public cloud to protect virtual instances and applications. PowerProtect Cloud Snapshot Manager is integrated with Data Domain Virtual Edition and gives users the ability to store and deduplicate backup data in the public cloud.
Notable features. Dell Cloud Disaster Recovery lets users copy protected VMs into public clouds, including AWS and Microsoft Azure. In addition, the product's orchestration capabilities enable automated DR testing, failover and failback.
Integrations. Dell's Data Protection Suite is designed to work with cloud-based VMs and on-premises VMs running on VMware.
Pricing. Dell provides custom pricing for each of its data protection products that's typically negotiated individually for enterprise accounts.
10. Druva
Products: Phoenix, Insync, CloudRanger
Market focus: Cloud-native backup
Druva has built a data protection product wholly implemented in the public cloud. The Druva platform uses public cloud services, such as object storage, elastic search and NoSQL databases.
By centralizing backup data in one place, Druva can deliver value-added services, such as search, governance, e-discovery and compliance checks across all data, regardless of the source platform.
Notable features. Because Druva is cloud-based, users don't need to deploy infrastructure on their own premises. They can simply deploy a virtual agent that acts as the on-premises-to-cloud data mover. The use of public cloud enables Druva to scale up resources to meet demand rather than having infrastructure idle for large parts of the business day. Equally, this helps solve the capacity planning issue many enterprises experience, where growth in storage isn't always matched by an increase in the capacity of the backup platform.
Integrations. Druva offers data protection for the following four main workload types:
Data center applications such as SQL Server and Oracle, along with VMware and Nutanix VMs.
Public cloud workloads running on AWS, Microsoft Azure and Google Cloud.
Edge devices running Android, macOS and Linux.
SaaS applications, including Microsoft 365, Google Workspace and Salesforce.
Druva also offers backup for NAS platforms to complement data center protection offerings.
Pricing. Druva protection for servers and applications is priced per terabyte. SaaS applications are priced per user, per month. Endpoint devices are charged per user, per month, and native cloud protection is charged by the number of virtual servers and accounts.
11. Google
Product: Google Cloud Backup
Market focus: Cloud-native backup
Google Cloud (GC) has acquired Actifio. Previously, GC provided no native backup capabilities on its platform to protect virtual instances, other than the ability to take snapshots from persistent disks. IT departments needed to manage the snapshot process manually through scripting and coordinating file system quiescing.
Notable features. Google Cloud Backup supports application and crash consistent backups for a variety of workloads, both in the cloud and on premises. Google also provides a centralized console to help admins manage their backups and can create incremental forever backups that can be instantly mounted and recovered.
Integrations. Google offers native backup capability for VMs on its compute engine or VMware Engine. It also supports backups for on-premises VMware environments. In addition, Google supports backups of a variety of database types, including SAP, MySQL and SQL Server, as well as file system backups.
Pricing. Cloud storage is priced based on capacity, with decreased costs for less frequently used data. Additional charges are also incurred for API read/write operations and data egress. Database backup charges are based on the quantity of backup data stored.
12. HYCU
Products: HYCU and Protégé
Market focus: Multi-cloud backup
HYCU was initially data protection for Nutanix on-premises workloads. The company now supports VMware vSphere, Google Cloud, Microsoft Azure, Google Kubernetes Engine and AWS. The HYCU product implements backup and restore capabilities. Protégé delivers DR and centralized management.
Notable features. HYCU supports hybrid data protection between on-premises and the major cloud providers with a SaaS-based model for backup and restore. Organizations can also use the public cloud as a storage target and migrate workloads dynamically to the public cloud and for DR purposes.
Integrations. HYCU supports Nutanix AHV and VMware environments as well as major public clouds including Google Cloud, AWS and Microsoft Azure. It offers support for various databases, including IBM DB2, SAP HANA, Google Cloud Database, PostgreSQL, MySQL, Oracle and Microsoft SQL Server. HYCU is also designed to work with Microsoft 365.
Pricing. HYCU is priced per socket, per VM, and is based on capacity in the public cloud.
13. Microsoft
Products: Azure Backup, Azure Blob Storage, Azure Recovery Services
Market focus: Cloud-native backup
Azure Blob Storage is Microsoft's object storage repository and is often used as a backup target by third-party backup products. Azure Backup provides protection for Azure public cloud resources. It can create application-consistent backups of Windows and Linux VMs as well as various databases including SQL, SAP HANA and PostgreSQL. Azure Recovery Services protects on-premises resources using the public cloud.
Azure Backup also protects Azure Files and Azure Blob Storage. In additionally, it can create crash-consistent backups of Azure disks.
Notable features. Microsoft Azure can protect on-premises infrastructure. Azure Backup supports on-premises VMware vSphere infrastructure through either Data Protection Manager or Microsoft Azure Backup Server. Microsoft Azure Recovery Services provides direct backup of on-premises Windows servers. Microsoft doesn't support backup of physical Linux servers.
Integrations. Microsoft uses a proprietary interface and doesn't support its rival Amazon's S3 API. This means backup vendors must provide native support or use a gateway to convert from S3 to the Blob API.
Pricing. Blob Storage pricing is based on data redundancy requirements, performance and usage metrics that include read/write operations, and network egress traffic. Backup pricing is based on a per-instance charge and varies by the storage capacity of the instance.
14. MSP360
Products: MSP360 Backup, MSP360 Managed Backup
Market focus: Cloud storage target
MSP360 -- formerly CloudBerry Lab -- targets its software at small businesses and stores backups on cloud storage. The MSP360 Backup software is available in seven editions:
Desktop.
Server.
MS SQL Server.
MS Exchange.
Ultimate.
Virtual Server.
M365/Google.
The Ultimate edition provides data protection for all supported platforms. Organizations install and manage MSP360 Backup as local software on the server being protected.
Notable features. MSP360 Backup can restore Windows backup images as AWS or Microsoft Azure virtual instances. MSP360's managed backup service enables MSPs and IT departments to deliver cloud backup services to their internal and external customers through a SaaS web portal.
Integrations. MSP360 Backup supports Microsoft 365 and Google Workspace SaaS platforms. Public cloud storage target support is available for many popular vendors, including AWS, Microsoft Azure, Backblaze B2, Wasabi and Google Cloud Storage.
Pricing. Licensing varies from one edition to the next. Desktop, Server, MS SQL Server, MS Exchange and Ultimate editions are licensed on a per-endpoint basis. Protection for Microsoft 365 and Google is licensed on a per-user basis. Virtual server licensing is based on the number of hosts and the number of sockets within a host.
15. N-able
Product: Cove Data Protection
Market focus: Cloud-native backup
N-able Cove Data Protection is an appliance-free, direct-to-cloud backup platform. It's designed to protect workstations, servers and Microsoft 365 data.
Notable features. N-able Cove Data Protection includes cloud storage at no extra cost and doesn't require any local backup storage. The company also provides a unified, multi-tenant dashboard and automated recovery testing that does not require any scripting.
Integrations. N-able Cove Data Protection supports backing up physical and virtual servers, documents, and Microsoft 365 data. Supported data sources include Hyper-V, VMware, Microsoft Exchange, Microsoft SQL Server, Microsoft SharePoint, network shares and Microsoft 365.
Pricing. Licensing is based on the data protection plan's fair use limits. Specifically, each physical machine or VM adds 2 TB to the selected size. Each workstation license adds 500 GB to the selected size. The included usage is pooled across server and workstation data sources.
16. NetApp
Product: NetApp BlueXP
Market focus: Multi-cloud backup
NetApp BlueXP is a SaaS offering that is designed to back up on-premises and cloud-based OnTap data. It also allows for backing up databases and VMs.
Notable features. NetApp BlueXP stores backup data to cloud-based object storage using 256-bit AES encryption. Backups are performed at the block level because doing so reduces costs. If a file were modified, only the storage blocks that had been changed would need to be backed up. Once backed up, data can be recovered from a specific point in time.
Integrations. NetApp BlueXP can create on-premises backups with StorageGrid. It can also write backups to AWS, Microsoft Azure or Google Cloud.
Pricing. NetApp charges BlueXP customers on a per-gigabyte, per-month basis. Several BlueXP plans are available, including Optimized, Essentials, Professional and Edge Cache. These plans are available on a one, two or three-year contract, and a pay-as-you-go plan is also available. As an alternative, customers can pay on a per-terabyte-hour basis.
17. Rubrik
Products: Cloud Data Management platform, Polaris, Datos IO
Market focus: Multi-cloud backup
Rubrik protects data on appliances, typically installed in the organization's data center. Users can choose from white-box physical appliances, appliances deployed on hardware from leading server vendors, virtual appliances designed for remote or branch offices, or virtual appliances in the public cloud. Appliances can scale out for additional capacity and throughput.
Notable features. Rubrik Polaris is a SaaS management portal that aggregates the information across all appliance deployments. This provides search and other data management features across the entire protected workspace. Users can also extend the capabilities with Polaris through open APIs. Rubrik's Datos IO application provides NoSQL data protection.
Integrations. Rubrik supports on-premises virtual environments, including VMware, Hyper-V, Nutanix and AHV, as well as NAS appliances and Pure Storage FlashArray. OS support includes the major Linux distributions, AIX, Solaris and Windows. Appliance support includes common database platforms such as SQL Server, Oracle, SAP HANA and MongoDB. In public clouds, Rubrik runs as an appliance that protects virtual instances in GC, AWS and Azure. Rubrik has also added support for Microsoft 365 appliances.
Rubrik users can offload archive data to public cloud providers -- such as AWS, Azure and GC -- with additional support for private cloud object stores that support the S3 protocol. Rubrik also supports NFS and tape.
Pricing. Physical appliances are charged per node, depending on the size and capacity. Organizations can also opt for a SaaS-based three-year subscription model called Rubrik Go.
18. Unitrends
Products: Recovery Series Backup appliances, Ion Series appliances, Forever Cloud, Spanning Backup
Market focus: Multi-cloud backup
Users can deploy Unitrends physical backup appliances and software as a virtual appliance on premises or in the public cloud. The company has also added SaaS application support for Microsoft 365, Google Workspace and Salesforce.
Notable features. Users can back up Recovery Series appliances to a private Unitrends cloud and restore protected data using the Unlimited DRaaS feature. The Forever Cloud feature of Unitrends Cloud offers low-cost, long-term retention of data.
Unitrends offers its Rapid Return service for DR. It copies the most recent backup data to a physical Recovery Series appliance or NAS device and ships it overnight back to the customer.
Integrations. Public cloud support for virtual appliances is available on Microsoft Azure and AWS. On-premises virtual appliances can be hosted on VMware, Hyper-V or XenServer.
Pricing. Forever Cloud and DRaaS are priced on protected capacity in units of 500 GB over a one-, three- or five-year subscription term. Spanning Backup is licensed at a fixed cost per user, per month.
19. Veeam
Products: Backup & Replication, Availability Suite, Veeam Backup for Microsoft 365, Veeam Backup for AWS
Market focus: Cloud storage target
The Veeam Backup & Replication software-based data protection product was originally developed to protect virtual server infrastructure. Availability Suite incorporates Backup & Replication with Veeam One, adding monitoring and analytics. The company also offers the Veeam Backup for AWS appliance for protecting EC2 instances.
Backup & Replication is available as a standalone product or as part of the Veeam Availability Suite.
Notable features. Cloud Tier enables public cloud storage as an archive tier. This supports AWS S3, Azure Blob Storage and Google Cloud.
Integrations. Veeam supports VMs running on VMware, Hyper-V, Nutanix and Red Hat Virtualization. It can also protect physical hosts running Windows, Linux, macOS, Unix and NAS. Supported applications include Microsoft, Oracle, SAP HANA, PostgreSQL and MySQL.
Pricing. Backup & Replication and Availability Suite are licensed based on server socket count and edition or the number of virtual instances being protected. Standalone modules are available for protecting AWS, Azure, Google Cloud, Microsoft 365, Kubernetes and Salesforce.
20. Veritas Technologies
Products: Backup Exec, CloudPoint, NetBackup, SaaS Backup
Market focus: Multi-cloud backup
Backup Exec supports SMBs, and NetBackup provides enterprise-class data protection. NetBackup SaaS Protection is a hosted service that protects Microsoft 365, Google Workspace, Slack and Box.
Notable features. NetBackup is designed to be a multi-cloud platform capable of moving, copying and restoring data between clouds. An orchestration engine automates snapshot management and enables lift and shift recovery.
Integrations. NetBackup supports all common OSes and virtualization platforms as well as native databases and snapshot-based physical storage platforms.
Pricing. NetBackup is available as a subscription, but perpetual licenses are also available.
Considerations for selecting a cloud backup service
Which features should organizations consider before selecting a cloud backup service? The following are some initial considerations:
Performance. This can be difficult to gauge, as most backups are dependent on the size of network available, the performance of cloud storage targets and the number of streams being backed up in parallel. Ideally, services need to meet recovery time objective (RTO) and recovery point objective (RPO) service-level requirements. Some vendors show RTO and RPO targets within their services' dashboards.
Security. This includes credentials management and encryption. Where possible, cloud backup vendors should enable organizations to use private keys to prevent access by the service provider. Another consideration is the ability to use multiple cloud accounts and object-locking capabilities. This creates a logical "air gap" between primary and backup data, reducing the risk or effect from challenges such as ransomware.
Efficiency. How efficiently is data being written to and from the public cloud? With restricted bandwidth and service-level objectives to meet, cloud backup services must implement WAN optimization and efficient block-level deduplication of data across the network.
Content management. A public cloud provides the perfect place to implement value-added services, including ransomware detection, search and e-discovery, and archiving. Products using a public cloud as a simple target typically don't offer additional content features. Backup software should also take advantage of cloud tiering functionality and pass these savings back to the customer.
Data mobility. How easily can data be moved between on-premises and public cloud? On-premises virtual instances must be manipulated, or seeded with the appropriate drivers, before they can be booted in a public cloud, for example. This kind of bare-metal support will become increasingly important for implementing cloud-based DR.
Feature depth. What features does the cloud backup platform support? How mature are these features compared with traditional data protection products? Cloud backup services should deliver managed backup features that enable users to automatically schedule backups and implement retention policies.
Cost. Determining the cost of data protection can be complex. Vendors charge license fees, either per gigabyte of capacity stored or per virtual or physical instance. Moving data out of a public cloud generally incurs an additional charge unless the vendor has absorbed the cost within the service itself. In this case, the customer doesn't have to be anxious about the effect and cost of offering features such as self-service recovery to internal customers.
Editor's note: This article was updated to reflect changes in the cloud backup market. Some vendors were added and removed from the list due to acquisitions and market shifts.