pixel - Fotolia
HYCU backup and recovery tackles Azure data
HYCU seeks to simplify backup, recovery and migration of Azure data. The data protection and management vendor sees an opportunity in an evolving market.
HYCU backup and recovery has found its next target: Microsoft Azure.
Like the data protection products the vendor built specifically for Nutanix, VMware and Google Cloud Platform, HYCU for Azure provides backup and recovery, migration and disaster recovery for Azure cloud users. HYCU is offering the backup and recovery piece -- generally available today on "World Backup Day" -- for free for three months as a result of the coronavirus pandemic.
HYCU CEO Simon Taylor said that while the AWS data protection market is mature, the Azure marketplace is "more nascent than people think." In addition, 72% of HYCU's customer base wanted Azure support.
"We felt there was a lot of room for us to differentiate ourselves," Taylor said.
Targeting Azure workloads is a logical next step for HYCU backup, said Christophe Bertrand, senior analyst at Enterprise Strategy Group.
"Everything is built for the Azure environment, leveraging their APIs," Bertrand said.
What's included in HYCU for Azure
HYCU for Azure offers data protection, data mobility and disaster recovery.
The data protection functionality features backup and recovery, which is application-consistent and agentless. It provides file, disk and VM-level recovery.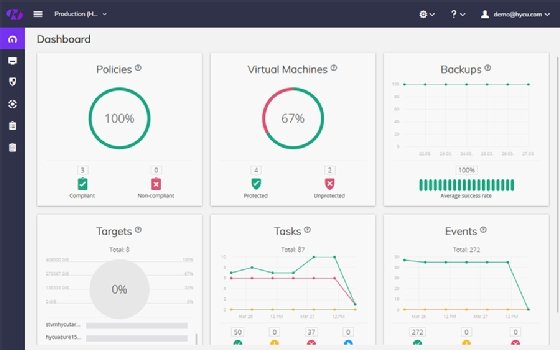 The product also integrates with HYCU Protégé, a multi-cloud migration and disaster recovery product that launched last year. While users don't need Protégé for the backup and recovery piece of HYCU for Azure, they do need it for the data mobility and DR features.
We felt there was a lot of room for us to differentiate ourselves.

Simon TaylorCEO, HYCU
The mobility element provides cross-cloud migration. Users can also migrate data from on premises to Azure and back.
The complexity of data migration is a problem for customers, said Subbiah Sundaram, vice president of products at Boston-based HYCU. However, HYCU claims its migration requires one click.
The disaster recovery enables customers to use Azure as a DR target, which could be another region for Azure-native data.
HYCU for Azure is a fully-managed SaaS offering on the Azure Marketplace, Sundaram said. Users can deploy it without the need for professional services, according to Taylor.
Azure backup is an evolving market. Microsoft provides its own Azure Backup, and major data protection players including Commvault, Veeam, Cohesity and Rubrik offer Azure backup services.
Bertrand said he thinks there will be more data protection products targeting Azure -- every backup vendor is a potential competitor.
The native nature of HYCU backup for Azure gives the vendor an advantage, Bertrand said.
Taylor said he doesn't see a lot of native backup and recovery products built like HYCU's.
"Execution will be key for them," Bertrand said.
Bertrand suggested HYCU delve deeper into what he calls "intelligent data management," going beyond traditional data protection and providing capabilities in such areas as compliance, analytics and DevOps support.
Taylor said support of SaaS applications such as Microsoft Office 365 is a roadmap item for HYCU backup.
The data migration and disaster recovery functionality of HYCU for Azure will be generally available at the end of April.
HYCU for Azure runs as a native service, available through a subscription from the Azure Marketplace and part of users' Azure bill. Pricing is based on the amount of data protected and the frequency of backup. It starts at 12 cents per gigabyte, Sundaram said.
Protecting workloads during a crisis
To receive the three months of free HYCU backup and recovery for Azure, customers can subscribe through the Azure Marketplace. HYCU is hoping to help companies with the rise in remote working as a result of the coronavirus pandemic.
"We want to make sure that cloud data is protected," Taylor said.
Taylor was not worried about releasing a product at a time of economic uncertainty. He said data resiliency becomes even more important when there is instability in the marketplace.
"Business has to go on," Bertrand said, commending HYCU for moving forward with a product that could help IT administrators at a perilous time.