ra2 studio - Fotolia
HYCU Protégé offers multi-cloud disaster recovery, migration
HYCU is seeking to make the process of multi-cloud data protection and migration more seamless. While many organizations use multiple clouds, they can lead to complexity issues.
"It's really become a multi-cloud world out there," said Simon Taylor, CEO of backup and recovery vendor HYCU.
To that end, HYCU is launching Protégé, a product that provides multi-cloud disaster recovery, application recovery and data migration.
Large enterprises use an average of five clouds, Taylor said. Organizations want the ability to move data between clouds, and that data needs protection.
HYCU Protégé, which is in beta, provides a single platform for multi-cloud data protection and migration.
The HYCU product enables users to move workloads from on premises to the cloud or from one cloud to another. HYCU says that most of its customers are migrating data to the public cloud or are consolidating the number of public clouds they use. Protégé helps to simplify that process into a one-click migration.
In addition to the multi-cloud disaster recovery, users can also recover specific applications onto a different cloud for test and development. Application development and test teams often want new infrastructure for testing purposes, and the cloud is a good target, according to HYCU. Protégé can make that process a single spin-up. Users can also perform partial application disaster recovery if they have to do maintenance on hardware.
Protégé to provide mentor for MSP's multiple clouds
HYCU, which is based in Boston, started out providing protection specifically for Nutanix. It then expanded to purpose-built backup and recovery for Google Cloud Platform. Since launching its first product in June 2017, HYCU claims 1,000 customers in 50 countries.
It's really become a multi-cloud world out there.

Simon TaylorCEO, HYCU
HYCU Protégé will support private and public clouds. For private clouds, it will support virtualized workloads running on Nutanix, VMware and Windows physical servers. For public clouds, it will support Google Cloud Platform and Microsoft Azure.
Ben Sharp, cloud and infrastructure team leader at Intuit Technologies, a managed services provider in Australia, said his company has been collaborating with HYCU on the development of Protégé. Intuit has used HYCU since it launched the Nutanix data protection product.
"As our footprint grows larger, we needed multi-site management and we have been working with HYCU on it," Sharp wrote in an email. "In addition, customers have multi-cloud deployments and need a solution that can span across these clouds without losing the benefits of the individual clouds."
Intuit is still in the early stages of using Protégé, but Sharp said the company expects it to support on-premises cloud deployments including VMware and Nutanix Enterprise Clouds.
"For us, it's important that the experience that we have within each specific cloud does not change across clouds," he wrote.
Sharp said ensuring one-click migration will be key for HYCU. Intuit plans to use Protégé for multi-cloud disaster recovery as well.
"It's important that this be both a predictable process but one in which we can keep clear track of costs -- especially as we roll this out across customers," Sharp wrote.
HYCU expects to add more clouds for support and is aiming for general availability of Protégé in September.
Seeking to reduce complexity of multi-cloud
The cloud is an excellent place for protection because of its geographical separation, availability and scalability, said Steven Hill, senior analyst at 451 Research.
"Multi-cloud adoption is growing rapidly, both unintentionally and by design, which creates challenges on how to mitigate the differences between multiple application and storage environments, and to automate business continuity and disaster recovery between on-premises and remote systems," Hill wrote in an email.
"Complexity is the inevitable byproduct of hybrid infrastructure choices and HYCU Protégé is designed to be the thread that ties HYCU's platform-native data protection offerings together through automation and single-pane-of-glass management."
Protégé helps HYCU expand its cloud-native model to a broader range of customers, Hill said.
The product is geared toward enterprises, according to HYCU's Taylor. With large enterprises using multiple clouds, it has become critical to be able to move between them seamlessly.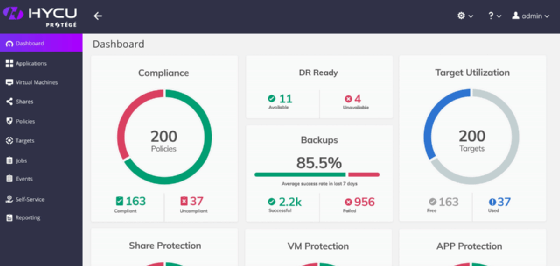 While HYCU's purpose-built approach helps it stand out, Taylor said, he sees competition in multi-cloud disaster recovery and disaster recovery as a service from newer companies such as CloudEndure, which Amazon Web Services recently acquired.
"Protégé serves as the automation and management platform across their data protection offerings, so it's more about adding new platforms to HYCU's portfolio that should simply snap into the HYCU Protégé management platform," Hill wrote about possible enhancements to the product.
"This type of modularity allows HYCU to optimize business continuity and disaster recovery at application level, leaving Protégé to serve as the connecting platform that pulls everything together."
Customers are looking for cloud-native products, said Subbiah Sundaram, vice president of products at HYCU. A lot of IT administrators are not focused on backup and recovery alone, so Protégé is built for the cloud administrator and seeks to automate as much as possible.
It can be up and running in three minutes, Sundaram said.
In today's hybrid IT environment, backup and recovery are just the starting point for an organization's broader business continuity and disaster recovery plan, Hill said.
"Today's challenge is about continued availability as well as data protection, and it's intelligent automation that makes it possible for workloads and data to seamlessly migrate, on demand, between multiple hybrid platforms, both on-premises and off," Hill wrote. "I think it's about time that our systems take a more active role in protecting themselves."