HYCU moves beyond Nutanix backup with Google Cloud support
HYCU's first non-Nutanix-based product is backup for Google Cloud Platform, ahead of Nutanix's Xi Cloud Services partnership with Google due later this year.
HYCU is now well-versed in the Google cloud.
HYCU, which began with a backup application built specifically for hyper-converged vendor Nutanix, today launched a service to back up data stored on Google Cloud Platform (GCP).
HYCU sprung up in June 2017 as an application sold by Comtrade that offered native support for Nutanix AHV and Nutanix customers using VMware ESX hypervisors. The Comtrade Group spun off HYCU into a separate company in March 2018, with both the new company and the product under the HYCU brand.
Today, HYCU for Google became available through the GCP Marketplace. It is an independent product from HYCU for Nutanix, but there is a Nutanix angle to the Google backup: GCP is Nutanix's partner for the hyper-converged vendor's Xi public cloud services. HYCU CEO Simon Taylor said his team began working on Google backup around the time Nutanix revealed plans for Xi in mid-2017. HYCU beat Nutanix out of the gate, launching its Google service before any Nutanix Xi Cloud Services have become generally available.
"We believe Nutanix is the future of the data center, and we place our bets on them," Taylor said. "Everyone's been asking us, 'Beyond Nutanix, where do you go from here?' We started thinking of the concept of multi-cloud. We see people running fixed workloads on-prem, and if it's dynamic, they'll probably put it on a public cloud. And Google is the public cloud that's near and dear to Nutanix's heart."
HYCU backup for GCP is integrated into Google Cloud Identity and Access Management, installs without agents and backs up data to Google Buckets. The HYCU service uses native GCP snapshots for backup and recovery.
Subbiah Sundaram, vice president of products at HYCU, based in Boston, said HYCU provides application- and clone-consistent backups, and it allows single-file recovery. Sundaram said because HYCU takes control of the snapshot, data transfers do not affect product systems.
Sundaram said HYCU for GCP was built for Google admins, rather than typical backup admins.
"When customers use the cloud, they think of it as buying a service, not running software. And that's the experience we want them to have," Sundaram said. "It's completely managed by us. We create and provision the backup targets on Google and manage it for you."
HYCU for GCP uses only GCP to stage backups, backing up data in different Google Cloud zones. Sundaram said HYCU may back up to clouds or on-premises targets in future releases, but the most common request from customers so far is to back up to other GCP zones.
HYCU charges for data protected, rather than total storage allocated for backup. For example, a customer allocating 100 GB to a virtual machine with 20 GB of data protected is charged for the 20 GB. List price for 100 GB of consumed virtual machine capacity starts at $12 per month, or 12 cents per gigabyte, for data backed up every 24 hours. The cost increases for more frequent backups. Customers are billed through the GCP Marketplace.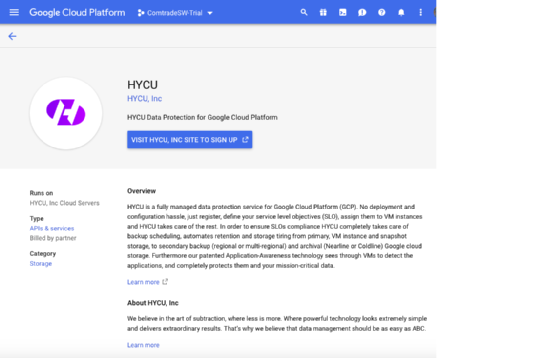 Industry analysts pointed out HYCU is a brand-new company in name only. Its Comtrade legacy gives HYCU 20-plus years of experience in data protection and monitoring, over 1,000 customers and hundreds of engineers. That can allow it to move faster than typical startups.
"They're a startup that already has a ton of experience," said Christophe Bertrand, senior data protection analyst for Enterprise Strategy Group in Milford, Mass. "When you're a small organization, you have to make strategic calls on what to do next. So, now, they're getting into Google Cloud, which is evolving to be more enterprise-friendly. Clearly, backup and recovery is one of the functions you need to get right for the enterprise. Combined with the way Nutanix supports Google, it's a smart move for HYCU."
Steven Hill, senior storage analyst for 451 Research, agreed that GCP support was a logical step for Nutanix-friendly HYCU.
We believe Nutanix is the future of the data center, and we place our bets on them.

Simon TaylorCEO, HYCU
"Nutanix partnering with Google is a good hybrid cloud play. So, theoretically, what you're running on-prem runs exactly the same once it's on Google Cloud," he said. "HYCU comes in and says, 'We can do data protection and backup and workload protection that just fits seamlessly in with all of this. Whether you're on Google Cloud or whether you're on Nutanix via AHV or Nutanix via ESX, it's all the same to us.'"
Taylor said HYCU is positioned well for when Nutanix makes Xi available. Nutanix has said its first Xi Cloud Service will be disaster recovery. "We will be delivering for Xi," Taylor said. "You can imagine that will require a much closer bridge between these two different products. Once Xi is available, we'll be fast on their heels with a product that will support both purpose-built backup for Nutanix and purpose-built recovery for Xi in a highly integrated fashion."
Although HYCU for GCP can protect data for non-Nutanix users, Taylor said HYCU remains as dedicated to building a business around Nutanix as ever. He emphasized that HYCU develops its software independently from Nutanix and Google, although he is determined to have a good working relationship with both.
"We believe data protection should be an extension of the platform it serves, not a stand-alone platform," he said.
Still, Taylor flatly denied his goal is for HYCU to become part of Nutanix.
"Right now, we want to build a brand," he said. "This is about building a business that matters, not about a quick exit."