Veritas data management tool uses AI to tackle downtime
Veritas' new Predictive Insights data management tool uses AI, machine learning and telemetry data to assign reliability scores to systems, guiding administrators' priorities.
Veritas Technologies today rolled out Predictive Insights analytics on all of its NetBackup appliances.
Customers using the Veritas data management products will have access to the Predictive Insights tool that uses artificial intelligence (AI) and machine learning (ML) to help prevent outages.
Predictive Insights' cloud-based AI/ML Engine provides analytics-driven recommendations to support IT administrators, such as performance and capacity forecasting or patch install notifications. The goal is to use predictive modeling and historical data to identify possible problems and then list suggested actions to prevent them.
Veritas NetBackup appliances run the vendor's market-leading NetBackup software.
Veritas also planned availability for Predictive Insights on Access and Flex appliances in the coming quarters. The Flex Appliance is a scale-out appliance running NetBackup with support for containers, and the Veritas Access Appliance is a file archiving system.
Turning alerts into actions
Eric Seidman, director of product and solutions marketing at Veritas, said Predictive Insights will give Veritas data management customers a central tool for alerts.
"They won't have to worry about looking at thousands of alerts on a daily basis," Seidman said. "They can focus on a more prescriptive approach to providing uptime and availability and performance."
I don't think that there is another vendor with this amount of data sets to build from to deliver the level of predictive analytics that Veritas can derive.

Christophe Bertrandsenior analyst, Enterprise Strategy Group
He explained that the software takes years of historical data gathered from the vendor's massive install base to generate a health bar for each of a customer's appliances. This reduces what Seidman calls "alert fatigue" by boiling alerts down to actionable items, such as installing patches or dispatching service personnel.
"We have this large universe of our install base of appliances. We take telemetry data from them, support data, data from our service personnel, and apply that into our [AI/ML Engine]," Seidman said. "This creates a 'System Reliability Score' that gives you a very quick snapshot as to the health of a particular appliance, and then you get recommended actions you may need to take on that."
Predictive Insights does not require a separate license or fee. After a user enables the auto-support feature on a Veritas data management appliance, data is fed to the cloud-based AI/ML Engine, and a System Reliability Score is generated.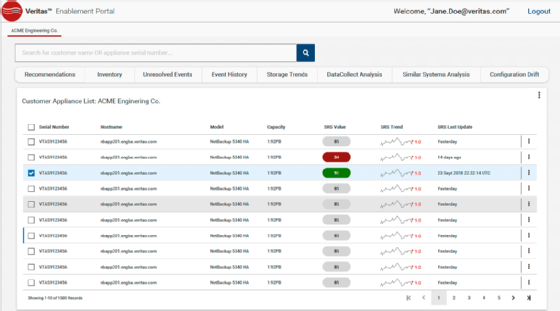 How Veritas data management stands out
Using artificial intelligence and machine learning for storage optimization and capacity forecasting is nothing new -- similar features exist in Rubrik Polaris and Cohesity Helios. Most primary storage arrays also do it. Christophe Bertrand, senior analyst at Enterprise Strategy Group, said what the new Veritas data management tool brings to the table is its sheer abundance of telemetry data, which leads to better predictions.
"Veritas has a vast installed base of more than 15,000 appliances, three years of telemetry data and years of support experience," Bertrand said. "I don't think that there is another vendor with this amount of data sets to build from to deliver the level of predictive analytics that Veritas can derive. This, of course, can change over time."
Other data storage and management vendors have used AI and machine learning algorithms outside of storage optimization, such as data discovery and compliance assessment. Bertrand believes Veritas is positioning Predictive Insights to expand into those uses as well.
"Veritas already has a data classification engine and significant experience with archiving and compliance," Bertrand said. "I think that we will see an evolution from the technical/storage focus to a broader data focus."