Sergey Nivens - Fotolia
New Cohesity backup adds Helios SaaS management
The new Cohesity SaaS app lets users view, manage and make changes to secondary data and applications across multiple clusters through a single dashboard.
Cohesity Inc. today released Helios, a SaaS application that works in conjunction with Cohesity DataPlatform to give IT administrators greater control over their consolidated secondary data.
Helios allows Cohesity backup customers to manage data under control of DataPlatform software, whether it is on premises or in public clouds. Helios enables customers to view and search secondary data, make global policy changes and perform upgrades through a single dashboard.
Helios requires an extra license separate from DataPlatform, based on the amount of data under management. Positioned as an add-on for DataPlatform users, it's designed to enhance secondary data management with a slew of features, including some that utilize predictive analytics and machine learning.
With Helios, Cohesity is following the lead of rival Rubrik Inc., which launched its Polaris SaaS-based management last April. Cohesity and Rubrik sell scale-out, node-based secondary storage platforms that manage data on premises and in the cloud.
Raj Dutt, product marketing director at Cohesity, said one of Helios' core goals is to simplify multicluster administration. The Cohesity backup SmartAssist feature suggests resource allocations across the environment based on service-level agreements set by the administrator. Using machine learning, Helios examines how an infrastructure is being used and suggests when to add resources or make adjustments. Helios will also allow its users to make peer comparisons by sharing anonymized metadata from other Cohesity customers.
Other features include global hardware health monitoring, pattern and password detection, video compression and machine learning to analyze how changes will impact clusters before they are rolled out.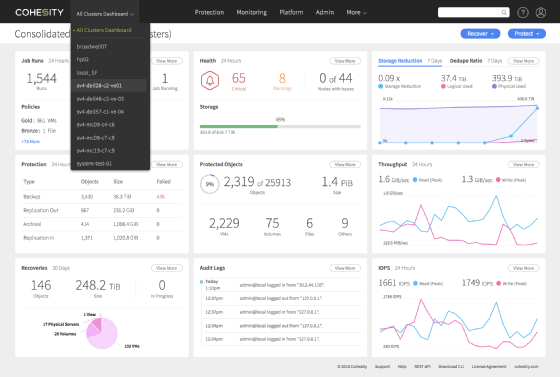 Dutt said the difference between Helios and competitors, such as Dell EMC CloudIQ analytics and Rubrik Polaris, is "almost none of the [others] offer active management on a global scale."
Although Helios is generally available today, Dutt said not all of its features will be ready to go right out of the gate. They will be rolled out as part of monthly releases of the core Cohesity backup software, with the expectation that all of the planned capabilities will be available by the end of 2018.
Cohesity backup checks the SaaS boxes
Edwin Yuen, senior analyst at Enterprise Strategy Group, said Helios fills the major requirements for SaaS-based management across clusters and clouds.
They're experts in their storage and they're adding a management layer on top of it.

Edwin Yuensenior analyst, Enterprise Strategy Group
"Within systems management, you need to have three things," he said. "One is inventory -- you need to be able to know what you have out there and go and find it. No. 2, you need to have status -- you need to know what's going on with them. And three, you need to have actions -- you need to actually be able to do something about them. A lot of tools don't actually do that. … Helios does."
Yuen also pointed out that many vendors are moving from simply selling their software licenses to SaaS-based, subscription models. "It's often consumption-based, it's a living service, you'll get data updates so you're not always waiting for another version," Yuen said. "If you are going to manage across multiple destinations, that model does make a lot of sense."
As more products offering assisted integration and optimization like the Cohesity backup software emerge in the multi-cloud management space, Yuen speculates there will be a growing demand for cross-platform, vendor-agnostic products. Helios can see and manage the metadata hosted on Microsoft Azure, Google and Amazon Web Services public clouds -- as long as you're running Cohesity DataPlatform.
"They're experts in their storage and they're adding a management layer on top of it," Yuen said. "The question is are you going to be an expert in the management layer so that it doesn't matter what storage you have? I think there's going to be demand for this type of solution across the board for managing data."