JohanSwanepoel - Fotolia
Rubrik Polaris SaaS app targets multi-cloud data
Rubrik takes another step toward cloud data management with Polaris GPS, a SaaS app that brings together secondary data stored in on-premises appliances and across clouds.
Rubrik today unveiled Polaris, a software-as-a-service management platform for data on the vendor's physical appliances and running in the cloud.
Rubrik Polaris GPS, which is in preview with customers, is the first application on the new platform. GPS provides policy management and control of data stored on premises and across multiple clouds.
Rubrik CEO Bipul Sinha said Polaris will provide a global policy framework, workflow orchestration and analytics for secondary data managed by Rubrik software. That includes data stored for backup, archival, disaster recovery and DevOps. The goal is to provide unified search and data intelligence.
Rubrik Polaris includes a global dashboard for all applications and data on premises and in clouds. It allows organizations to run custom analytics and reports, set data management policies and produce records to show service-level agreement compliance.
Sinha said Rubrik will open its APIs to third-party developers to write data management applications for Polaris.
"One of the main challenges we were seeing from our customers was their applications and data are now getting fragmented because of multiple clouds and multiple data centers," Sinha said. "They are now looking for a unified system, where all application data can be managed. We want to have a data management application that we can apply to all their applications, no matter where they reside."
'We are the managers of the data'
Rubrik Cloud Data Management software runs on integrated Rubrik appliances or in the cloud. It can move data from the appliances to public cloud for long-term retention or disaster recovery. Polaris runs on a cloud built by Rubrik.
Although it bills itself as a cloud data management company, Rubrik began in 2015 selling on-premises appliances with its software built in. It has since added Edge software appliances for remote offices, as well as cloud support.
We are not in the primary infrastructure space at all. Neither are we a storage company. We are a data management company.

Bipul SinhaCEO, Rubrik
Cloud Data Management software can run as instances in Amazon Web Services and Microsoft Azure clouds. Rubrik uses the cloud instances to protect cloud-native data and as an optional backup target.
Rubrik in February acquired Datos IO, which sells data protection software for cloud-native databases and big data file systems.
Dave Russell, a Gartner distinguished analyst, said Polaris is the second major cloud move for Rubrik in 2018, following the Datos IO acquisition.
"Polaris is essentially like Rubrik as a service," Russell said. "They're trying to take data management and put it into a SaaS [software-as-a-service] offering that can run in the cloud and offer views of data on premises and in the cloud. It almost can be seen as a global manager of current Rubrik physical and virtual appliances and what they got with the Datos IO acquisition."
Rubrik's software manages data by keeping a record of the metadata for quick retrieval.
Sinha said Rubrik Polaris fits the vendor's mission of managing all types of secondary data, while staying away from primary data.
"We are not in the primary infrastructure space at all," he said. "Neither are we a storage company. We are a data management company. We manage, automate and orchestrate applications and data whether they are on premises or in the cloud. We are not the keepers of the data. We are the managers of the data."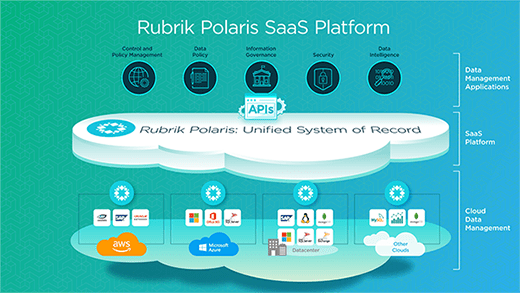 Converged secondary storage market heats up
Rubrik and Cohesity are leading the charge to combine backup, archiving, copy data management and other use cases into what they call converged secondary storage. Since the two startups hit the market, longtime backup stalwarts Dell EMC and Commvault launched their first integrated appliances. Rubrik has raised $292 million in funding, and Sinha said its global bookings are on track for $300 million over the next year.
Russell said endpoint backup specialist Druva is the only data protection vendor he knows of using the cloud in a similar way to Rubrik Polaris. Druva is completely cloud-based, but offers the ability to run search and analytics on data in the cloud.
"That's where they're similar -- the idea of taking all the management and putting that into a cloud-delivered capability," he said. "It makes sense, because when you run analytics in a cloud-based service, you don't have to tie up your on-premises resources."
The future of Polaris
Sinha said organizations will be able to use Polaris GPS to set local policy management for data and provide a single view across all applications and data.
"We always want to be the data control plane for enterprises," he said. "It doesn't matter where data lives or where applications live."
Sinha said there is nothing to install to activate Rubrik Polaris. When a customer licenses it, the SaaS application will discover all the data handled by Cloud Data Management.
Sinha said pricing has not been set yet for GPS, but Polaris applications will be based on the value they deliver, rather than capacity under management. He said he expects a new Polaris application every three to five months. He would not disclose a roadmap, but said security and compliance are areas customers want to address.
Gartner's Russell said he expects Rubrik to focus on analytics and security in coming versions of Polaris.
"I expect they'll add more analytics information, where you can process number crunching in the cloud," he said. "And I can envision security applications, like detection for ransomware or sensitive information."