carloscastilla - Fotolia
Rubrik Polaris enhancements unveiled at Forward summit
Rubrik Polaris data management platform extended its support to several cloud workloads popular among enterprise customers: AWS RDS, Google Cloud Platform and Microsoft OneDrive.
Backup vendor Rubrik Inc. opened up early access for three new SaaS products aimed at protecting cloud workloads.
Rubrik unveiled Polaris AWS Relational Database Service (RDS) Protection, Polaris Google Cloud Platform (GCP) Protection and Polaris Microsoft 365 OneDrive Protection at the Rubrik Forward Digital Summit today. Following closed early access to a select group of customers, those services are now available to all customers.
Polaris AWS RDS Protection and GCP Protection will be included in a cloud data protection package and priced on a per-instance, per-month subscription. OneDrive Protection will be included in the full Microsoft Office 365 Protection offering, which currently only backs up and recovers Exchange emails, and will be priced per user, per month. Support for SharePoint and Teams are in development.
Rubrik Polaris is a SaaS-based data management platform for data on Rubrik appliances in data centers and in clouds. It provides a global view of the data and allows customers to set policies, generate reports and run analytics. It also features several applications, such as Rubrik Polaris Sonar, which hunts down personally identifiable information, and Rubrik Polaris Radar, which detects anomalies that might indicate ransomware.
Rubrik President Dan Rogers said these applications will extend Polaris' coverage into the most popular cloud environments among Rubrik's customers. It enables Rubrik's data protection capabilities, such as Live Mount and instant recovery, through a familiar interface and policy framework that Rubrik's customers are already used to.
"We don't want these to appear as different workloads with their own tasks," Rogers said.
He said Rubrik will continue to develop Polaris applications geared toward protecting different environments based on customer demand but will also focus on applications that help customers extract more use and value from their data.
Vinny Choinski, senior lab analyst at Enterprise Strategy Group (ESG), tested the Rubrik Polaris interface with the recent Andes 5.2 release. He didn't have access to the three Polaris applications mentioned today, but he did use Polaris Radar. Choinski described the interface as simple to navigate and designed with easy expansion in mind. Polaris applications that have been purchased would be integrated into the interface.
"They continue to plug in stuff into that infrastructure as they expand their workflows. That's a nice approach," Choinski said.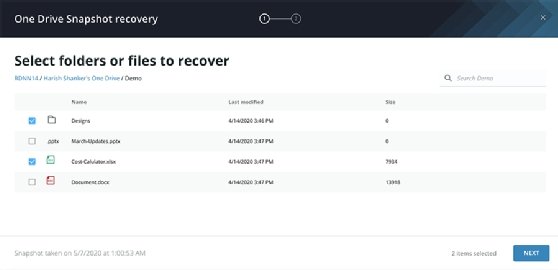 Rubrik and competitor Cohesity are often mentioned in the same breath, both having emerged in 2014 around the idea of hyper-converged secondary storage. Both have similar features, including global, real-time search, and they each have large amounts of private funding. Recently, Commvault filed a lawsuit against Rubrik and Cohesity, accusing them both of patent infringement.
One notable difference is Cohesity offers some products aimed at smaller, non-enterprise businesses, where Rubrik is more focused on the enterprise. Christophe Bertrand, senior analyst at ESG, said Rubrik has impressive enterprise adoption, with a good number of Fortune 100 customers under its belt. At the time of the Andes 5.2 release in late April 2020, Rubrik claimed its customers included three of the four telecom companies, two of the four defense and aerospace companies, two of the three specialty retailers and four of the five insurance companies in the Fortune 100.
Bertrand said Rubrik is looking to sell to companies that are large-scale, multi-cloud and multi-environment -- the modern-day enterprise. All the Polaris applications -- whether already released, releasing today or being worked on -- address high-priority concerns among enterprises that Bertrand found from his research, such as ransomware remediation, infrastructure simplification, and deriving value and use from secondary data.