kalafoto - Fotolia
Rubrik ramps up backup speed and test/dev clones for Oracle
Rubrik Andes 5.2 doesn't add any groundbreaking features, but it focused on using backup capabilities to enhance test/dev and improving backup speed for large datasets.
Rubrik Andes 5.2 brought some changes under the hood to enhance backup performance and test/dev.

The latest update to Rubrik's Cloud Data Management platform added faster VMware vSphere performance and greater Oracle database management controls, including the ability to clone databases for test/dev. The update also added security and compliance features, such as predefined roles for access management and additional data retention capabilities.

A speed boost comes from implementing multi-node data streaming. Andes 5.2 allows for parallel streaming instead of its previous single-thread streaming on 500-gigabyte shards. Rubrik claimed this translates to five times faster backup speed and triple the recovery speed for VMware restores. This feature was developed to address a growing number of customers who have multi-terabyte VMware VMs with strict recovery time objectives (RTOs) and recovery point objectives (RPOs).

Backup performance and accelerating development are two major demands from enterprises right now, according to Rubrik president Dan Rogers. The size of organizations' VMs continues to grow, making backup jobs and recoveries take longer. Rogers said improving backup speed will continue to be in Rubrik's roadmap because he doesn't anticipate this problem going away.
"There's never a good time to do a backup," Rogers said. "So anything we can do to improve that window is helpful."

Rubrik Andes 5.2's second major feature gets at Rogers' other point of speeding up customers' time to market, a demand that is pointedly not directly related to backup and recovery. The update expanded Cloud Data Management's Live Mount capabilities to any Oracle environment: Oracle Database Appliance; Oracle Exadata; Oracle 12cR2, 18c and 19c; Oracle RAC One Node; Oracle RAC; and Oracle Direct NFS. Live Mount is used to instantly recover a full VM from backup, and it also supports SQL databases. With respect to backup, this update means a damaged Oracle database can be recovered quickly. However, Live Mount can now also be used to quickly generate a clone of an Oracle database for test/dev purposes, and to a dissimilar Oracle system.
Putting the power to recover databases and provision clones in the hands of Oracle DBAs is a good move, said Phil Goodwin, research director at IDC. He compared it to Actifio's copy data management, and noted that Cohesity's CloudSpin and other data protection vendors' products have delved into this area. Goodwin's research found that a development team's ability to self-service a clone copy generally reduces test copy procurement time by two days.

Traditionally, backup software deduplicates, compresses or saves data in a proprietary format, making it unsuitable for secondary purposes. Goodwin said organizations want their backup vendors to provide useable data copies, to the point where it's almost an expected feature. He said Actifio may have played a large part in starting this trend.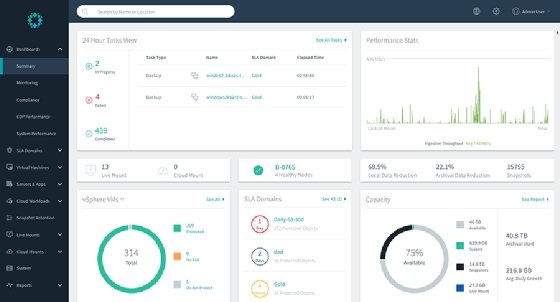 "[Backup vendors] are pitching to the test/dev guys now. They're bringing them into the purchase conversation," Goodwin said.

Goodwin warned that separations between different IT disciplines exist for good reason, one of which is to limit access to sensitive data. One of the pitfalls he sees with Live Mount's cloning capability is it doesn't come with a process for masking sensitive data built into the cloning process. This means test/dev staff might see PII or other sensitive information in a cloned database. Manually adding a masking script is possible, but this is dependent on the customer, and it's not fool-proof. Goodwin said ideally, Rubrik would have an automated masking process built in.

Robert Hamilton, director of product marketing at Rubrik, said this was something Rubrik is aware of and will likely invest in in the future.

Also in the future, Rogers said Rubrik Andes 5.3 will continue to focus on performance and finding more use cases for secondary data. While he said it was still too early to discuss the next version in any detail, he did mention that getting more leverage out of customers' data will be a major theme, following a trend shared by many other data protection vendors.

Rubrik Forward, the vendor's inaugural user conference, is scheduled to go live on May 11, 2020. The digital summit was initially planned as a physical conference in Chicago, but the COVID-19 pandemic and subsequent shelter-in-place orders prompted Rubrik to change it to a virtual event. Rogers said there are currently about 4,000 registrants for the event.