Rubrik backup focus moves to enterprise apps
Rubrik's Cloud Data Management Andes 5 release includes backup features aimed at apps that 'generate a lot of money for a company,' such as Oracle and SAP HANA.
Rubrik aimed the latest release of its Cloud Data Management platform squarely at enterprises, with enhanced data...
Continue Reading This Article
Enjoy this article as well as all of our content, including E-Guides, news, tips and more.
protection for Oracle, SAP HANA and file storage.
Rubrik's latest Cloud Data Management, which the vendor calls its Andes 5 release, went into early access availability today. The converged secondary storage software runs on Rubrik backup appliances on premises and also protects data in public clouds.
Besides shoring up common enterprise workloads, Andes adds Rubrik backup support for Microsoft Office 365 through the Rubrik Polaris SaaS application, bare-metal recovery for Windows and automated protection for the InterSystems Caché database used by electronic health records provider Epic Systems.
Chris Wahl, chief technologist at Rubrik, based in Palo Alto, Calif.,said the Andes release "is laser-targeted on the enterprise. We want to further integrate our platform so we can protect things that generate a lot of money for a company. We want to protect mission-critical, financially viable applications. Oracle is the heavy hitter here."
Rubrik backup 'looking more complete now'
Rubrik could already back up Oracle and SAP HANA databases, but did not go as deep as its protection for workloads such as Microsoft SQL Server and VMware virtual machines.
Wahl said Andes 5 brings features to Oracle that Rubrik already provided for Microsoft SQL Server. That includes Live Mount for instant restores of Oracle databases and the ability to build instant clones. Rubrik is also allowing customers to automate RMAN backup scripts to assign service-level agreement policies to databases.
With Andes 5, Rubrik Cloud Data Management also adds point-in-time recovery for SAP HANA in-memory databases. The Rubrik backup software will support SAP HANA Cockpit and Studio through APIs.
"This makes SAP HANA just another database from a Cloud Data Management perspective," Wahl said. "You don't need any level of skill to deploy this. Typically, there are a lot of hoops you usually have to jump through to protect HANA. This makes sure APIs are up-to-date, [it] understands the topology of SAP and provides all the backups. You choose if you want to recover using SAP Cockpit or Studio."
Christophe Bertrand, senior analyst at Enterprise Strategy Group in Milford, Mass., lauded Rubrik for adding enterprise backup capabilities. Rubrik has helped make converged secondary storage a popular notion, but has not focused on the enterprise applications where leading backup applications such as Veritas NetBackup dominate.
"From an enterprise standpoint, Oracle and HANA are big checkboxes," Bertrand said. "It's harder to be a serious enterprise player when you're not supporting Oracle or HANA. Rubrik is looking more complete now. It truly has more enterprise capabilities."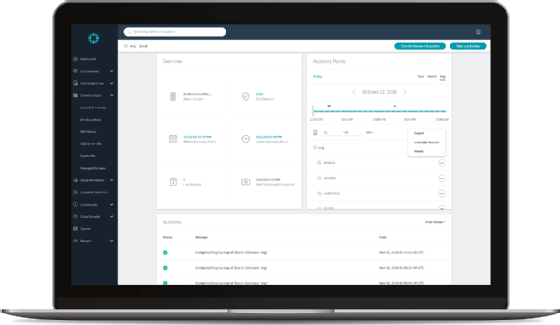 Elastic App Service stretches Rubrik protection further
This makes SAP HANA just another database from a Cloud Data Management perspective.

Chris Wahlchief technologist, Rubrik
Rubrik is also using its APIs to index scale-out NAS file system metadata. Cloud Data Management can directly archive files to public clouds, object storage or NFS storage, and then index and search the metadata wherever the files are stored.
Rubrik is adding an Elastic App Service for application-aware data protection, the ability to use its appliances as targets for distributed databases protected by its Datos IO software and Rubrik Accelerator for Azure.
Elastic App Service optimizes the performance of Oracle, SQL Server, SAP HANA, MySQL, PostgreSQL, MongoDB and Cassandra databases. Wahl said customers can create volumes on Rubrik backup appliances or in the cloud to protect one of those applications, and the service will automatically configure the best protection policies.
The Azure Accelerator speeds data archiving to Azure and includes six months of free Azure and 12 months of free Rubrik CloudOn disaster recovery tool subscriptions.
ESG's Bertrand said he would like to see Rubrik add even more of the type of artificial intelligence used in the Elastic App Service.
"It's about what they can do with all of that data," he said. "It's not only the systems; it's all about the data itself."