Photobank - Fotolia
Veritas appliances help Flex NetBackup muscle
More than two years after escaping Symantec, Veritas fights off data protection newcomers by packaging NetBackup with an expanding appliance portfolio.
As the 800-pound gorilla in storage software, Veritas Technologies' main challenge is innovating fast enough to keep up with its newer, nimble rivals, as well as its age-old competitors.
More than two years after its 2016 spinout from Symantec, the vendor seeks to combine its market-leading NetBackup software with new-fangled, scale-out, integrated Veritas appliances, cloud support, data analytics, containers and microservices.
"We're investing heavily in our product line to cover every workload and data, no matter where it lives," Veritas CEO Greg Hughes said.
The vendor gave a rundown of its products and roadmap during the recent Veritas Vision Solution Day in New York. Much of the focus fell on Veritas appliances that use NetBackup software. They include the Flex Appliance for data management, Access Appliance for archiving and a product due in early 2019 for analytics.
Veritas appliances: Flex, Access, TBA
The first version of the Veritas Flex Appliance launched in March. It incorporates the same hardware as the NetBackup 5340 Appliance -- the high end of the NetBackup Appliance platform -- with Flex software that enables services. Flex uses container technology to enable the delivery of microservices for multiple applications on one appliance. The goal is to converge servers into one appliance and enable rapid deployment. Veritas executives said Flex will be built into all of the NetBackup appliances.
The Veritas Access 3340 Appliance is a scale-out NAS appliance for long-term data retention. Access also supports Amazon S3 for object storage. The NetBackup family also includes a CloudCatalyst appliance that moves deduped data from NetBackup into Access Appliances and clouds, as well as CloudPoint software for managing snapshots across multiple clouds.
We're investing heavily in our product line to cover every workload and data, no matter where it lives.

Greg HughesCEO, Veritas
A not-yet-named appliance to apply data analytics will follow soon after the new year, according to Veritas executives.
The analytics Veritas appliances will use metadata from the NetBackup catalog.
"We'll be looking at the whole spectrum of the data," said Scott Genereux, Veritas executive vice president of worldwide field operations. "Customers are asking us, 'Since you have access to all this metadata, how do we do more with it?'"
Genereux said, even as Veritas expands its products outside of backup, NetBackup remains the focus point for its technology. Veritas will integrate the other technologies into NetBackup.
"NetBackup is the core technology that most of our large customers have," he said. "Customers want that one view using that. We've spent a lot of development money on that and made good progress, especially with 8.1.2."
Veritas claims more than $2 billion in annual revenue, which is about where it was before Symantec acquired it for $13 billion in 2004. Veritas also claims around 6,500 employees and more than 50,000 customers that include more than 90 of the Fortune 100 companies.
"The best thing that ever happened to this company was we split from Symantec," Genereux said. "That allows investing more in R&D. We've rolled out a lot of new products since we separated."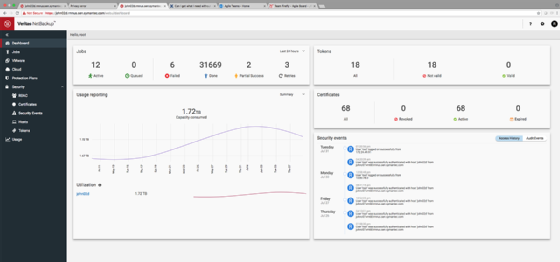 'Disruptors all around us'
Veritas still battles storage giants Dell EMC and IBM, but its new features appear aimed at fighting off data management appliances from newcomers such as Rubrik and Cohesity. Those startups, which bill their products as converged or hyper-converged secondary storage, are often credited with making data protection interesting again. Established vendors such as Veritas are trying to keep up.
"There are disruptors all around us, so why should you trust the leader?" said Jyothi Swaroop, Veritas vice president of global marketing. "Our competitors only talk about two things: simple and modern. We took that seriously, and we've done some things to NetBackup."
Those things include moving from a Java-based console to a simplified GUI, a new dashboard, an API-first approach to make it easier for NetBackup to integrate with third-party tools, and the Flex Appliance for simpler deployment. The latest NetBackup version, 8.1.2, includes automated policy management and a new reporting tool. Veritas also added support for newer distributed databases, such as MongoDB and Cassandra, and point-in-time snapshots for Hadoop.
NetBackup customer Vishal Kadakia, manager of data protection for NBCUniversal, said he welcomes the new interface because the old one used too much memory. He also likes having one management dashboard.
But Kadakia said he is most excited about Veritas appliances. He anticipates Flex will enable NBCUniversal's Comcast parent to consolidate servers and use less data center space.
"What I'm looking forward to is not so much the software but the hardware portion," Kadakia said. "Space is expensive, especially in California. We've been mandated to consolidate. I'm looking at a Flex Appliance to truly help me consolidate and move all the physical servers that I would need. That's what I'm looking forward to next."
Integrations mark 'Net' gain
Genereux said Veritas is also emphasizing partnership with storage vendors. Last week, Veritas and flash storage pioneer Pure Storage disclosed a technology partnership. NetBackup can manage snapshots on Pure FlashArrays through CloudPoint and use Pure's FlashBlade as a backup target.
Integration with public cloud providers is also important to storage software vendors these days. Veritas has a tight relationship with AWS. The Veritas Resiliency Platform orchestrates failover and failback from AWS for disaster recovery, and Veritas InfoScale for AWS enables customers to run Oracle and SAP into AWS. Veritas NetBackup and its Backup Exec SMB product are also integrated with AWS.
Henry Axelrod, AWS solutions architect and storage specialist, said AWS is also a customer of Veritas' products.
"We see Veritas' strength in addressing five use cases: primary storage, backup and recovery, archiving, business continuity and migration," Axelrod said. "We've been working with Veritas for years building solutions that will drive that innovation. We have shared roadmaps to help customers in all their data management challenges."