cutimage - Fotolia
Veritas NetBackup upgrade includes facelift
Veritas gives the grande dame of data protection a facelift, making NetBackup more intuitive and visually appealing to capture backup newbies, as well as the grizzled vets.
Veritas NetBackup customers will see some changes soon. Veritas today launched NetBackup 8.1.2, giving its flagship data protection software a massive interface facelift.
Killian Evers, vice president of customer and user experience at Veritas, joined the company eight months ago and has been working on a NetBackup upgrade ever since. She said her design team focused on making NetBackup's new design simple, intuitive and integrated. The idea is to make it more visually appealing but also easier to use.
"We've done a lot of design changes that simplify the overall experience -- visually and interactively," she said. "We created guided experiences. We give you tips and recommendations so that you're not hunting and pecking."
Examples of interface improvements in the NetBackup upgrade include using calendars to set data recovery points and a modernized, mobile-friendly navigation menu.
The NetBackup upgrade is a response to a growing trend in which IT administrator roles are becoming more generalized rather than specialized. That means IT staff using NetBackup 8.1.2 might be application owners or virtualization administrators rather than the backup administrators who have been using the leading backup software app for years or even decades.
"This is a trend we're seeing in this space, where admins are being asked to do more with less, and other folks are being asked to do some tasks that your traditional [backup] admin would've done," Evers said. Simplifying the user experience is meant to help these IT "versatilists," whose disciplines and duties are not narrowed to just backup.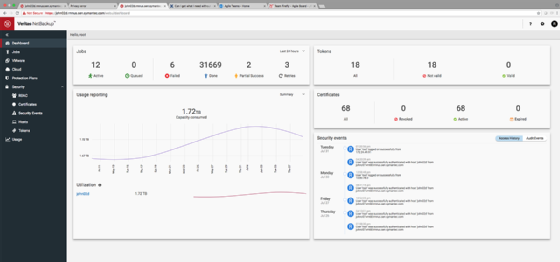 Integrations included with interface upgrade
Although a major component, the interface design improvements aren't the only enhancements in NetBackup 8.1.2. The NetBackup upgrade unifies cloud, virtual and physical workloads onto a single console and features greater integration with VMware. There are also new automation options and integration with Veritas CloudPoint 2.1, the vendor's multi-cloud data protection app.
We've done a lot of design changes that simplify the overall experience -- visually and interactively.

Killian Eversvice president of customer and user experience, Veritas
Edwin Yuen, senior analyst at Enterprise Strategy Group, said the NetBackup design changes are significant in today's IT world where iPhone users of yesterday are the IT versatilists of today.
"The critical thing that's happening here is there's been a generation where the end-user interface is the service," Yuen said. "They really don't care about the back end."
Because of this trend, it's not surprising to Yuen that Veritas was so focused on catering its interface to this growing audience. "The productivity of a user and the satisfaction of the end user for most services today is really predicated on how they interact with it," he said. "They see the app as the manifestation of the service."
Evers said customer feedback and collaboration drove development of the NetBackup upgrade. "It really was in response to our customers, which is why we've been working with them so hand in hand throughout this entire experience," she said. "We tested the heck out of this thing."
Evers' team will look to redesign more Veritas applications now that it is finished with the flagship product. Before joining Veritas in January 2018, Evers spent eight years working on product design at Oracle. She said she helped spruce up products such as Oracle Sales Online, Oracle Fusion and Oracle HCM Cloud before moving to Veritas.
"My team is looking at the entire lifecycle experience at Veritas," she said. "I want people to want to use our software, and not to have to use our software."
Veritas NetBackup 8.1.2 will be generally available in mid-to-late September. Current users will not have to do anything to receive the upgrade.