Rubrik makes Security Cloud case to its Polaris customers
During its first stop on its world tour, Rubrik pitched its Security Cloud SaaS platform to Polaris customers by touting new features and upgrades such as support for databases.
Rubrik Inc. executives said customers still looking to Polaris should get their heads out of space and back into the clouds.
The data protection vendor, which rebranded itself as a cybersecurity company last year, wants customers of its SaaS product Polaris to embrace the new Rubrik Security Cloud and update their software.
The Security Cloud update enables access to the new features and services showcased last week at Rubrik Forward 2023, the vendor's online user conference. But some attendees at the Rubrik Forward World Tour's first stop in Boston, however, had yet to update to the new platform.
I will tell you -- nothing bad will happen.

Joshua StenhouseField CTO of cyber resilience, Rubrik
Rubrik is hosting local events across the globe in the next few months following its online show last week to pitch its cybersecurity SaaS to customers in person.
"I will tell you -- nothing bad will happen," said Joshua Stenhouse, field CTO of cyber resilience at Rubrik, during a roadmap session. "Absolutely nothing will change other than the brand name."
Beyond changing the product name, Stenhouse and other Rubik executives said customers who update to Security Cloud should expect new protection capabilities for more databases, VMs and Microsoft Azure Blob object storage in the coming year.
Data protection across the brands
Rubrik expects to update features for numerous supported databases in the next several months and add protection capabilities to a handful of new SaaS products.
SQL Server users can expect SQL Server 2022 support alongside other features such as transaction log retention and multi-cluster remote blob storage (RBS) support. Customers should expect to see updates to Oracle, AWS Aurora, SAP HANA, IBM Db2 and MongoDB this year, according to Rubrik executives.
The Security Cloud will gain backup capabilities for Salesforce SaaS data, building off the Jira SaaS backup capability coming this summer, as well as Microsoft Azure Blob storage.
Rubrik can currently back up Blob storage but not as a native service, as it fails to capture Blob metadata and requires additional tooling to use.
Database updates are expected to roll out in the coming months, with support for Azure Blob and Salesforce arriving later this year.
Further along the product roadmap is support for VM encryption detection in the event of a ransomware attack during a backup.
Anomalies will be reported to Security Cloud users alongside other events with the option to automatically restore from recent backups. The service likely won't require installing agents for VMware and Nutanix VMs but would for Microsoft Hyper-V, according to Stenhouse. Future updates, he added, should eventually add real-time encryption alerts and detection beyond just during the backup process.
"If a VM backup fails, it's going to fail in some very specific ways that are indicative that the VM has been encrypted," Stenhouse said.
The service is expected to be included with the enterprise versions of Security Cloud and doesn't have a release date.
Beyond these new features, Stenhouse said nothing from Polaris would be lost for customers who update to the new Security Cloud. Customers who want to continue having offline capabilities and limited internet connectivity to their backups can still do so with the new product.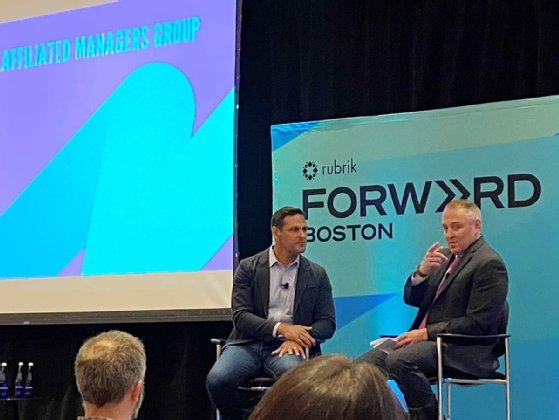 Global protection
One customer that made the leap to Rubrik Security Cloud was Steve Pruell, CIO at Affiliated Managers Group (AMG), where he's worked for 25 years. Pruell became CIO of AMG, which employs around 250, in 2016.
Several years ago, Pruell's board of directors pushed to shift the global asset management company with headquarters in West Palm Beach, Fla., from on-premises data centers into the cloud, specifically AWS and Azure. Rubrik enabled easier backups of cloud data prior software used by AMG and delivered the right message to his board regarding cybersecurity.
He said the new user intelligence service that Rubrik unveiled last week, which pinpoints what data users have access to and how they're using it, will be useful for his geographically dispersed company.
"If you think you know about all the data you have -- you don't," he said. "People don't know the data employees are saving and where they're saving it."
Tim McCarthy is a journalist from the Merrimack Valley of Massachusetts. He covers cloud and data storage news.
Dig Deeper on Data backup and recovery software