Intelligent data management drives smarter use of copy data
Intelligent data management has turned copies of backup data into tools for analytics, test/dev and other use cases. But company culture prevents some organizations from adoption.
BOSTON -- The world of data protection is changing rapidly, and organizations need to change with it. Backup is still necessary but only a piece of the data protection puzzle.
That was the message at Actifio Data Driven 2019 from Actifio CEO Ash Ashutosh, industry analysts and customers this week. A common theme was how intelligent data management is driving enterprises to use copies of their data for more than just backup. They discussed the technology that enabled this, as well as the barriers many organizations faced.
"Today, backup is the ingestion tip of the spear toward everything else you can do with a copy of data," Ashutosh said on the main session stage at the event Wednesday morning.
He said the cloud's ability to provide large amounts of compute power was a catalyst for intelligent data management. The ability to aggregate, categorize and automate data for optimal backup and disaster recovery also led to the proliferation of nonbackup use cases like application development, teaching machine learning algorithms and compliance. This changed creating and maintaining copies of data from being a cost center and insurance policy to a strategic asset for generating revenue and business insight.
The main use case of copies of data will still always be backup, said George Crump, founder of storage industry analyst firm Storage Switzerland. Backup is the foundation. However, he said there's been shift from vendor's simply making better and faster backup products to making products that can cover more use cases. Crump noted Ashutosh didn't emphasize Actifio's backup capabilities during his time onstage.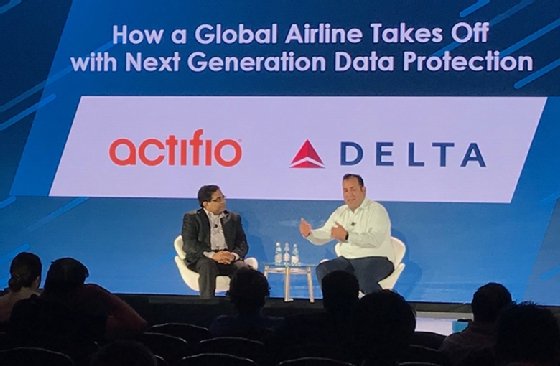 "Actifio's definitely doing some interesting things on the backup side, but I think Ash wanted to keep the focus on using copies of data for more than that," Crump said.
But Actifio customers did talk about backup. Rene Lopez, managing director of infrastructure at Delta, said Actifio's backup capabilities initially drove Delta Air Lines to deploy the product. He said the catalyst was when Delta suffered a major data center outage in August 2016, leading to about 2,000 canceled flights.
"It made us take a real look at how IT worked for Delta," Lopez said.
Delta's overly complex infrastructure consisted of about 1,000 applications and two data sets resulting from its merger with Northwest Airlines in April 2008. Data rested in multiple silos, with no association between them and no standardized way to view them all. Lopez described the legacy system as, "No vendor left behind," as he facetiously claimed to have a license from every software vendor.
Today, backup is the ingestion tip of the spear toward everything else you can do with a copy of data.

Ash AshutoshCEO, Actifio
Actifio brought intelligent data management to consolidate the sprawling infrastructure. This simplification made it easier to find the mission-critical applications and data needed to keep planes flying, and Lopez said he felt the new system was more resilient against another outage.
But in consolidating the data and improving access to it for backup and recovery purposes, Delta found other business uses for that data. Lopez described a marketing initiative to share relevant flight data to travelers informing them about flight delay times and the reasons behind them. The processes for determining what data is relevant to which passengers, automating the dissemination of info and doing it all in a compliant manner is possible when everything is intelligently connected.
Interestingly, the barrier to adopting something to contain the infrastructure sprawl was not cost or lack of knowledge. Instead, it was a company culture that was overly hesitant about making changes.
Lopez said Delta's IT attrition rate is less than 1%, and the average IT staff member's tenure is 20 years. He said this led to a culture of people who were unwilling to rock the boat with any major IT overhauls or projects. It took a catastrophic event to effect change, which Lopez said is not how IT should be run.
Christophe Bertrand, senior analyst at Enterprise Strategy Group (ESG), said according to his research, 71% of organizations now know where and what their data is and are using it for more than just backup. However, he found in his research that the biggest barrier to getting to that point was a company culture that was resistant to change.
"My belief is that culture is what you're going to have to look into first," Bertrand said.
At a session demonstrating the potential lower total cost of ownership of Actifio versus traditional test/dev data cloning methods, Brian Garrett, executive vice president of validation services at ESG, said having the data on how a product can save or make money goes a long way toward changing culture. The next step is getting those numbers in front of people who matter.
"You need executive sponsor, executive investment, executive buy-in," Garrett said. "It's about having the right people around the table."