Actifio GO 'SaaSifies' copy data management in GCP
The new Actifio GO for GCP has expanded from backup as a service to include copy data management and disaster recovery, putting it on par with the vendor's on-premises product.
The latest update to Actifio GO is incremental, but it has big implications on where workloads are going.
Actifio GO became available on Google Cloud Platform (GCP) Marketplace last week, and gained the same capabilities as its on-premises counterpart, Actifio Sky. Actifio GO, which started as backup as a service for VMware, now supports Microsoft Hyper-V and protects databases such as SAP HANA, Microsoft SQL Server.
This version of GO, called Actifio GO for GCP, is tightly integrated with Google's public cloud -- customers buy it from GCP Marketplace and its charges show up on their GCP bill. Despite the "for GCP" moniker, users can still back up and manage data from other public clouds like AWS and Microsoft Azure, but the storage target is on GCP.
Actifio GO for GCP, classic Actifio GO and Actifio Sky are on par with each other, said Ranajit Nevatia, senior vice president and general manager of Actifio GO sales and cloud business development at Actifio. GO and GO for GCP have the same database cloning and instant recovery capabilities as Sky, only in SaaS form.
"The whole portfolio was SaaSified," Nevatia said.
Deep integration with GCP was a calculated move. GCP is the smallest of the "big three" public clouds, but unlike its larger rivals Azure and AWS, GCP lacks a turn-key data protection product. GCP users can script backup-like functions together with snapshots, but there's no dedicated product for the task. However, Nevatia hasn't ruled out bringing similar integration of Actifio GO to Azure or AWS.
Actifio isn't the only option for backup on GCP, however. Cohesity, Rubrik, Commvault and HYCU are among vendors whose products support GCP.
Since the Actifio Data Driven conference earlier this year, the vendor's message has shifted from helping customers protect their data to helping them do more with it. Christophe Bertrand, senior analyst at Enterprise Strategy Group, said Actifio is already at the "beyond backup" stage and has been appealing to test/dev admins by offering a product that quickly spins up testing environments. Actifio continues to sell in the traditional backup space because there's still money to be made there.
They're not presenting themselves as just backup and recovery anymore. They're ahead of other vendors in many ways.

Christophe BertrandSenior analyst, Enterprise Strategy Group
"They're not presenting themselves as just backup and recovery anymore," Bertrand said. "They're ahead of other vendors in many ways."
While there are no new technical capabilities introduced in this update, industry analysts have pointed out it reflects two important trends. One is customers moving more workloads out of their data centers and into the cloud, and vendors catering to that. The other is the desire for subscription-based, pay-as-you-go billing rather than investing in products upfront (opex versus capex).
Chandra Reddy, vice president of product marketing at Actifio, said 75% of Actifio's current customers use the cloud in some way, either putting workloads there or at least pointing their backups to it. Ninety-five percent of new prospects either already have workloads on the cloud or want to get rid of their data centers.

"It is hard to find a customer who isn't trying to leverage cloud," Reddy said.
Bertrand acknowledged people are steadily moving more aggressively to the cloud, but said he doesn't see it as the place where everything will live.
Bertrand said that when deciding whether data or applications should be moved to the cloud, businesses need to consider five things: security, sensitivity of the data (compliance), cost, high-availability requirements and business continuity and disaster recovery (BC/DR). He said many workloads need to stay on premises just for security and compliance reasons.
"I don't think we'll ever be in a 100% cloud world," Bertrand said.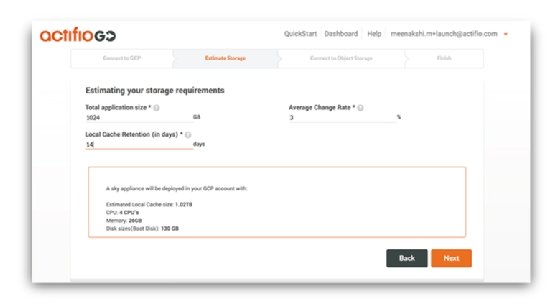 George Crump, president and founder of storage industry analysis firm Storage Switzerland, similarly said business-critical and proprietary workloads should stay on premises. The more mundane workloads -- productivity applications, email, backup and archiving -- can be stored on the cloud. He said we'll be in a hybrid world for the foreseeable future, with more weight in the cloud than on the ground.
Crump pointed out that many vendors besides Actifio are pushing for "SaaSifying" their products and selling them as subscription-based services rather than the traditional upfront licensing model. For the end customer, it's usually easier to consume -- in fact, Reddy said much of Actifio GO's success can be owed to how easy it is to deploy. Crump said there's a price for that convenience, but businesses appear to be willing to pay it.
"Financially, if you're going to go long-term, [pay-as-you-go] makes no sense," Crump said.
Actifio GO's pricing model hasn't changed: The base product is charged on a per-VM, per-month basis, and databases are charged per terabyte.