JNT Visual - Fotolia
Igneous brings SaaS data management to Dell EMC appliances
Igneous rocks on-premises backup, data management with ability to use Dell NAS appliances as targets for its SaaS platform that was designed for public clouds.
The cloud may be the future of backup, but the present is looking decidedly grounded.
Igneous Systems has added support for Dell EMC appliances to its SaaS data management platform. Rather than pointing backup to the Igneous cloud, which is the typical use case, Igneous customers can now use Dell EMC Isilon and ECS appliances as backup targets. Igneous DataProtect software compresses and deduplicates data in-flight from the NAS source to the backup device the same as it does for cloud targets.
Igneous DataProtect is designed to allow large-scale backup and archive from any NAS source to any cloud tier in Amazon AWS, Microsoft Azure and Google Cloud. It has API integration for Isilon, NetApp, Qumulo and Pure FlashBlade.
However, Igneous recognized that not all customers are ready for the cloud. Christian Smith, vice president of product at Igneous Systems, said some customers were heavily invested in physical hardware already. Others didn't want to invest in an infrastructure overhaul or were bound to the data center by compliance or security concerns. Igneous started with Dell EMC appliances because they were the most commonly requested backup targets among its install base.
Smith said older organizations typically invested deeply in on-premises infrastructure. When they started building out their data centers, they planned their infrastructure with data center footprint in mind and not necessarily bandwidth to the cloud. Igneous' Dell EMC appliance support helps organizations continue to use their physical infrastructure investments along with Igneous' SaaS data management capabilities.
However, Smith added that even organizations that would rather back up locally tend to look at the cloud for archiving. He believes every organization is evaluating the cloud in some capacity.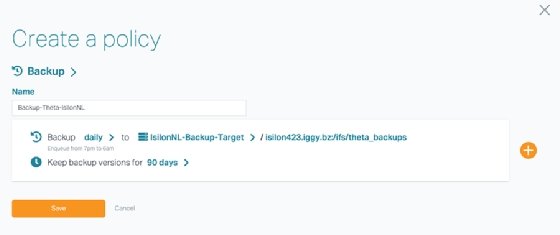 Krista Macomber, senior analyst at Evaluator Group, said there's another factor keeping businesses off the cloud besides the notion of sunk cost. Enterprises that have been working with the same on-premises backup vendors for years have a stable, familiar cost. The fluctuating costs and egress fees of using the cloud turns some businesses away, along with the daunting task of replacing infrastructure that the organization had been using for a long time.
"These technologies are ingrained within the company, and it's expensive, time-consuming and very risky to migrate off of them," Macomber said.
Other factors such as security and data availability play a part, too. Macomber said cybercriminals have been increasingly targeting backup over the past 12 to 18 months, and there is usually little recourse if a major cloud provider is experiencing downtime and an organization's data is rendered inaccessible.
Macomber cited findings from Evaluator Group's Trends in Enterprise Data Protection study, published in January 2019, that showed only about 10% of respondents used backup as a service and DR as a service. However, that same study also found more than half of respondents were evaluating the cloud in their data protection strategies. Whether that translates to more cloud-based backup adoption remains to be seen, but Macomber stressed the difficulty in assessing whether it's cheaper to protect data on premises or in the cloud.
"We don't really see a magic number in terms of it becoming more economical to host backup locally versus in the cloud," Macomber said.
Macomber pointed out that data protection professionals are exploring different strategies because data stores continue to grow infinitely, while the budget to manage and protect them remains limited. This means continuing to invest in on-premises infrastructure will eventually become unsustainable, but the tipping point will vary between individual organizations. Knowing when's the right time to jump to the cloud is the tricky part.
Igneous is not alone in the cloud-based backup market. The three major public cloud providers have their own backup offerings, but third-party vendors include Druva, Clumio and the recently launched Commvault Metallic. Igneous' unstructured data management capabilities help it stand out among its competitors.