olly - Fotolia
Igneous Systems rocks unstructured data protection for NAS
Igneous expands its integrations with network-attached storage, aiming to offer easier, unified backup of unstructured data. Volume and complexity of that data can be challenging.
Igneous Systems Inc. is getting attached to NAS.
The unstructured data protection specialist this week expanded integrations with providers of network-attached storage. Igneous Systems now provides multiprotocol support for Dell EMC Isilon OneFS, direct integration with Qumulo File Fabric (QF2) and Pure Storage FlashBlade object storage support.
Igneous backs up data to its fully managed appliance that runs in the customer's data center. Customers can also tier data up to the Amazon, Microsoft and Google public clouds.
Protecting unstructured data at scale is important at a time when data sets are no longer tidy and living in one place, said Allison Armstrong, vice president of marketing at Igneous Systems.
Igneous seeks simplified backup
Igneous claims it provides the only multiprotocol support for Isilon OneFS. Organizations that use SMB and NFS at the same time can protect all that data and retain both permission sets through one backup. The support provides an alternative to replication for data protection.
The Igneous API-based integration with Qumulo also offers an alternative to replication. Igneous Systems enables backup and archive for QF2 clusters.
"Customers now have the ability to run a very simple backup routine," Armstrong said.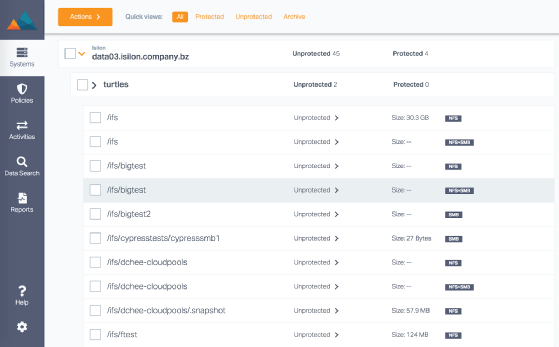 In addition, the support means Qumulo customers do not have to implement Network Data Management Protocol, a dated way of protecting NAS filers.
Igneous previously provided API-based integration to back up NFS data on Pure and is expanding that support to include FlashBlade object storage. The protection includes data movement at scale and features automated provisioning and snapshot integration.
We're optimized for unstructured data.

Allison Armstrongvice president of marketing, Igneous Systems
"This is a way to ensure that modern data workflows are protected," Armstrong said.
Igneous Systems customers do not have to download or install any additional software to receive the updates. Igneous data protection products are available through its channel partners.
Igneous delivers its protection as a service, unified and with massive scale, said Christophe Bertrand, senior analyst at Enterprise Strategy Group. Bertrand said he thinks there's an interest for the protection that Igneous provides and he's curious to see how the business will evolve.
"They're doing it for a variety of platforms," Bertrand said. "I think they're solving a problem for a number of organizations. But … the market will decide."
Focusing on unstructured data
Launched in 2016, Igneous has a customer base in the double digits, Armstrong said. Two main targets are large enterprises and data-centric organizations such as life sciences businesses. Earlier this year, CEO and Founder Kiran Bhageshpur said he expected to see a significant increase in the customer count by the end of 2018.
Igneous closed a $15 million Series B funding round in January, geared toward helping expand its workforce and marketing.
Armstrong said Igneous Systems runs into secondary storage startups Cohesity and Rubrik in the marketplace, but they don't have as much scale and are more focused on structured data.
"We're optimized for unstructured data," Armstrong said.