JNT Visual - Fotolia
Igneous Systems DataProtect gets software-only release
Igneous DataProtect's software-only version is aimed at cloud-first customers. It has the same capabilities as the NAS appliance version, including integration with DataDiscover.
Igneous Systems launched a software-only version of its DataProtect product for customers who want as little on premises as possible.
Igneous DataProtect, originally deployed on dedicated appliances, is a tool for backup and archiving of unstructured data. Igneous software is designed to protect data and move it to the most cost-effective storage tier. Igneous DataProtect writes data directly to Amazon Web Services (AWS) S3 tiers, including the Infrequent Access tier and colder Glacier and Glacier Deep Archive tiers.
Igneous DataProtect could already accommodate local and hybrid cloud deployments. The software-only version allows customers to use the cloud as their primary tier for backup, with little or nothing on premises.
Launching alongside Igneous DataProtect backup as a service, Igneous DataDiscover became generally available this week. In early access since October 2018, DataDiscover is file analytics as a service sold separately from Igneous DataProtect, though the two products are integrated with each other. DataDiscover scans an organization's data for access frequency, identifying hot data and cold data. DataDiscover provides visibility and DataProtect provides mobility, allowing customers to push hot and cold data to appropriate storage tiers.
Being able to use the various tiers of S3 is an important feature of Igneous Systems DataProtect, said Krista Macomber, senior analyst at IT analyst firm Evaluator Group. Many organizations use the public cloud for backup and long-term data retention so that they don't have to devote physical space to it, which saves on electricity and cooling costs. However, the cost of cloud can outstrip those savings, as using the data incurs egress charges.

Amazon and cloud providers have various tiers and continually introduce new ones so that less-frequently accessed data can sit in colder, less-expensive tiers. Macomber said storage administrators must balance storage costs with making sure data is accessible, and tools such as Igneous DataProtect and DataDiscover give them the visibility and capability to do that.

"Taking advantage of these services while keeping data available requires sophisticated data management and tiering capabilities," Macomber said.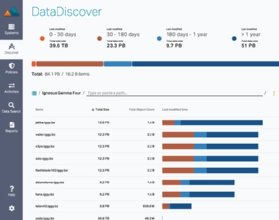 Macomber said unstructured data growth is one of the largest problems for IT professionals. In a study Evaluator Group published early this year, 50% of respondents said dealing with data growth was their top challenge. While ransomware and infrastructure complexity are also frequently cited customer concerns, Macomber said those problems are about recovering and managing unstructured data.

Igneous Systems isn't the first to offer backup as a service. Data protection vendors Druva and Cohesity offer similar AWS S3-tiering capabilities. Hitachi Vantara sells data protection as a service along with primary storage as a service. Other large vendors, including Dell EMC, Hewlett Packard Enterprise and Lenovo, also sell their storage systems as billable services for data centers.
"It's an incredible challenge for storage managers to get their arms around what data is being stored, how it's being used, how it's protected, and making sure that it's stored as cost-efficiently as possible, while still being readily accessible by the business," Macomber said.
Igneous DataProtect and Igneous DataDiscover are currently available in the Amazon Marketplace. Igneous Data Protect starts at $2,500 for a 1-month subscription for the first 100 terabytes, with scaling discounts for longer subscriptions and larger capacities. DataDiscover costs $2,000 per month, per virtual machine. Since both are offered as a service, customers are not responsible for maintaining the software -- Igneous Systems provides security and software updates as needed.