Kalawin - stock.adobe.com
Smart cloud storage tier management added to Druva cloud
The new Druva cloud tiering capability saves customers money by automatically optimizing data stored in Glacier Deep Archive, Glacier and S3 based on usage patterns.
IT pros could significantly reduce their monthly bills with the new intelligent data tiering feature from Druva.
Based on frequency of access, data can be considered cold, warm or hot, and Amazon Web Services (AWS) has respective storage tiers for them: Glacier Deep Archive, Glacier and S3. The hotter the tier, the more expensive it is to maintain.
Druva Cloud Platform, a software product built on AWS for cloud data protection and management, has a new functionality that uses machine learning algorithms to assess which tier backup data belongs and automatically moves it there, optimizing cloud storage costs. Customers would also have oversight of the data and be able to manually manage it if they choose.
NetApp Cloud Volumes OnTap and Hitachi Vantara have similar automated cloud tiering features to optimize data storage between on-premises environments and public clouds. Druva's upcoming feature is different in that it works with all layers of AWS storage.
Druva is a privately held software company based in Sunnyvale, Calif., and completed a $130 million funding round earlier this year. It acquired CloudLanes around that same time, adding its on-premises data ingestion capability to Druva Cloud Platform. In 2018, Druva acquired CloudRanger, which provides data protection for AWS.
AWS supplies its customers with the tools to build tiered storage and prices the tiers competitively, according to Mike Palmer, chief product officer at Druva, but customers have to rely on their own know-how in order to stitch together a system to manage it. They'd have to build their own indexes for data visibility and develop a clear understanding of the pricing and benefits of each cloud storage tier, then come up with ways to determine where their data should go to maximize savings.
"Amazon makes the customer the systems integrator, and that's by design. They're providing the absolute best price and performance, but it's your job to [put it together]," Palmer said.
Mismatching data to their respective tiers could be costly to a business. With deeper archives come larger penalties for pulling data out early, and there are fees for putting data in AWS and taking it out. Palmer said many enterprises understand the potential benefits of the cloud, but they are also worried that mismanagement will wipe out any cost savings. Intelligent tiering provided by Druva cloud is designed to remove the need for this level of Amazon expertise.
"We're going to make it easy for an untrained person to be able to clearly understand what's happening to their data, how to get it back, and how to manage the cost," Palmer said.
From a storage standpoint, the cloud has some benefits over on-premises options, said Steven Hill, senior analyst at IT market analyst firm 451 Research. Consumption-based pricing prevents overprovisioning (although storage as a service exists for on-premises infrastructure), and there are often five or more storage tiers with a wide range of response times.
Realizing those benefits can be difficult, as more choices also mean more complexity. Druva Cloud's new automated tiering addresses the complexity of balancing the availability of data with the cost of storing it.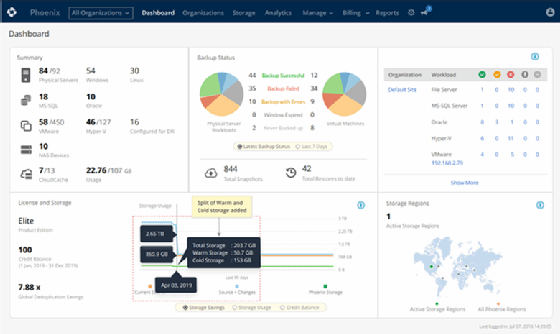 "Having more choices can be really cost-efficient, provided that you have an abstraction layer capable of placing data in the appropriate tiers efficiently and automatically," Hill said.
Druva's intelligent tiering not only works for existing storage tiers in AWS, but future ones as well. The machine learning algorithm works behind the scenes to predict data usage patterns and compares them against the costs of different AWS tiers.
Hill said many organizations are understandably hesitant to allow automated processes to determine storage policy, which is why Druva's new function allows users who know their data access patterns to set tiering themselves. However, as AWS and other cloud vendors introduce more tiers to their cloud storage services, the complexity will grow to a point where automated management is the only logical step.
A growing number customers won't have the time or skills needed to manually make these decisions as they evolve.

Steven HillSenior analyst, 451 Research
"A growing number of customers won't have the time or skills needed to manually make these decisions as they evolve," Hill said.
Hill believes over time, the automation of hybrid storage tiering will be efficient and reliable enough that, "it will gain the trust of even the most apprehensive storage or data protection administrator."
Druva's automated cloud tiering feature is currently in early access and will be available in September 2019. The feature will be free and can be enabled directly from Druva's backup policy interface. After providing info about their data retention needs, customers will be presented with an adjusted bill of their existing Druva subscription that factors in the discounts from moving data to cold tiering. Customers only receive a bill from Druva, and not AWS.