yoshitaka272 - Fotolia
Asigra appliance uses Zadara technology
Asigra partnered with Zadara to release a purpose-built backup appliance with a subscription-based pricing model. It's aimed at service providers who would rather rent than buy.
The new Asigra appliance can't be bought -- only rented.
Asigra has partnered with Zadara Storage to release the Asigra Cloud OpEx Appliance. The device is Zadara's Virtual Private Storage Appliance (VPSA) pre-installed with Asigra's backup software. Like Zadara's storage-as-a-service (STaaS) offerings, the Asigra appliance is sold as a subscription, essentially making it a backup appliance as-a-Service.
Asigra will ship the device to the customer's data center or colocation. All of the storage, controllers and disks are managed. The end customer doesn't need to bring any storage expertise to the table. All the data is encrypted such that only the end customer can see it -- their managed service provider (MSP) can't.
Asigra sells its products exclusively through channel partners, many of which are MSPs that provide backup-as-a-service (BaaS) and disaster recovery-as-a-service (DRaaS) to end customers. The revenue model of MSPs is subscription-based, but traditionally, procuring storage is based on projected consumption. This means MSPs could end up buying more storage than they need.
Eran Farajun, executive vice president of Asigra, said by buying Asigra backup on an appliance on a pay-as-you-go basis, MSPs avoid overprovisioning and will only pay for the storage they use. Many of Asigra's MSPs were using Asigra's backup and Zadara's STaaS separately, and Farajun said they were the ones who first brought up the idea of packaging the two.
"We're really just responding to what our market has been asking for," Farajun said.
Asigra only makes backup software, and all of its converged backup appliances come from partnerships with hardware vendors. The company started in 1986, but didn't release its first device with pre-installed backup software until 2015 through a partnership with SuperMicro. Asigra began packaging software on iXsystems appliances in 2018.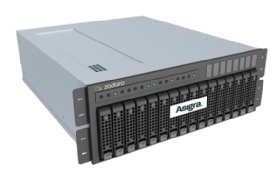 Marc Staimer, president and founder of Dragon Slayer Consulting, said MSPs operate in a world where capital expenditure (capex) is going against an operational expenditure (opex) revenue stream. Money is made when the streams cross, but MSPs would rather have their costs and revenue be in alignment.
Many of the costs of running a service provider business fall under capex. Staimer said service providers who use the public cloud to provide BaaS and DRaaS need to purchase storage in a high-cost, high-performance tier to ensure fast recovery as well as a low-cost, high-capacity tier to keep overall costs down. According to Staimer, the performance tier costs six times more than the capacity tier.
MSPs also must provision hardware for their end customers. Staimer said MSPs are typically expected to provide the hardware at no cost, as it's a necessary component of their services.
The Asigra appliance solves both of these problems because it's entirely pay-as-you-go, with no upfront investment.
"People want a pure opex model," Staimer said. "It's a very good move on Asigra's part."
The Asigra Cloud OpEx Appliance is generally available now and starts at 30 terabytes of capacity and can scale up to petabytes. Pricing starts at pennies per gigabyte per month.
The Cloud OpEx Appliance uses Asigra's flagship Asigra Cloud Backup Evolved software. Farajun said he expects updates to the core backup software in early 2020, including security enhancements and better integration with VMware.
Farajun said the next update will also focus on integrating with Microsoft Office 365's Teams and Groups applications, as well as other cloud-based SaaS applications. He noted he has been seeing more customers realizing the need to protect their SaaS data.