imageteam - Fotolia
Asigra FreeNAS plugin brings open source data protection
The Asigra FreeNAS plugin covers up to ten physical machines, ten virtual machines and ten cloud accounts for free. Customers wanting more must get Asigra on TrueNAS.
Asigra is trying to capture FreeNAS users with a free-to-try plugin version of its backup software.
The Asigra FreeNAS plugin released this week allows customers to turn their iXsystems FreeNAS storage systems into backup targets. It encrypts and deduplicates data before it is sent to the FreeNAS system. The plugin also detects and quarantines malware and ransomware so that it doesn't get backed up.
Asigra, a software-only backup vendor, partnered with iXsystems and released an integrated backup appliance in August 2018, which combined Asigra's backup software with iXsystems's TrueNAS storage appliance.
FreeNAS is a software-defined storage system developed by iXsystems for the open source community. The company first took over the FreeNAS project in December 2009 and continued to develop for it. It has garnered over half a million users.
Asigra Executive Vice President Eran Farajun said the Asigra FreeNAS plugin is, "100% same software, same capabilities, same functionality," as the Asigra Cloud Backup Evolved software that comes integrated with a TrueNAS appliance.
Functionally, the Asigra FreeNAS is no different from Asigra's backup software, but the free license only supports ten physical and ten virtual machines and up to ten cloud accounts. It also does not come with vendor support.
"Ten machines is not a lot of machines. There aren't a lot of companies that small," said Marc Staimer, president of Dragon Slayer Consulting. The free customers are not the endgame for Asigra. Instead, Staimer sees this as a way for Asigra to convert FreeNAS users into TrueNAS buyers. This will initially do more good for iXsystems than for Asigra, but, "it becomes a foot in the door for Asigra," Staimer said.
Ten machines is not a lot of machines. There aren't a lot of companies that small.

Marc StaimerPresident of Dragon Slayer Consulting
According to Staimer, the usual entry play for backup software vendors is through low-cost, entry-level versions of their products with features that turn off after a certain period of time. This is normally a good path to upsell customers to "premium" or "enterprise" versions.
The Asigra FreeNAS offering is unique in that all the capabilities are there, but there's a hard limit on its scale. Nothing is taken away from the customer, and they can upgrade to the paid version when they hit their limit.
"This is the only one that I'm aware of that is truly freemium, in the sense that you're not losing any of your features and functionality. It's just limited by the number of machines," Staimer said.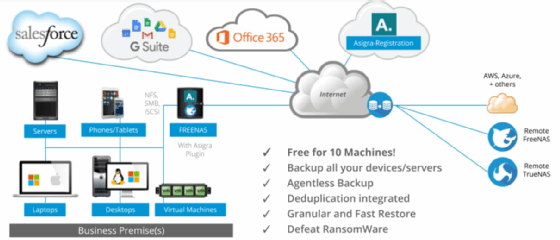 "Tapping into freemium and offering free, try-before-you-buy is not an unheard of marketing approach," Farajun said about the uniqueness of the pricing model. He said the true novelty is in Asigra tapping into a captive market, offering the only backup product that's fully integrated with FreeNAS.
Staimer said this is a smart move, describing it as "seeding the market." As with any open source product, some users may be willing to make the jump to the paid-for version because they want the vendor support. The ones who don't upgrade get a free tool that enhances something they're already using, and they can rely on the rest of the open source community for support on whatever project or deployment they're using FreeNAS for.
"They're probably going to look at this very favorably," Staimer said.
In a broad sense, Asigra is taking a page from iXsystems's marketing handbook, but Staimer pointed out a slight shift in Asigra's marketing strategy. Asigra has been focused on SMBs and the enterprise, but this FreeNAS product is an entry-level offering targeting smaller customers. Normally, the overall cost of obtaining a small customer is higher in terms of sales and marketing resources spent versus revenue gained from deals. The freemium approach minimizes costs while still capturing the customers Asigra is looking for.
The Asigra FreeNAS plug in available to download in the app from the Plugins menu of the FreeNAS UI.