Mini XL+, Mini E added to iXsystems FreeNAS Mini series
Open source storage hardware provider iXsystems added two new models to its FreeNAS Mini lineup: the FreeNAS Mini XL+ for professionals and FreeNAS Mini E for small offices.
Open source hardware provider iXsystems introduced two new models to its FreeNAS Mini series storage system lineup: FreeNAS Mini XL+ and FreeNAS Mini E. The vendor also introduced tighter integration with TrueNAS and cloud services.
Designed for small offices, iXsystems' FreeNAS Mini series models are compact, low-power and quiet. Joining the FreeNAS Mini and Mini XL, the FreeNAS Mini XL+ is intended for professional workgroups, while the FreeNAS Mini E is a low-cost option for small home offices.
The FreeNAS Mini XL+ is a 10-bay platform -- eight 3.5-inch and one 2.5-inch hot-swappable bays and one 2.5-inch internal bay -- and iXsystem's highest-end Mini model. The Mini XL+ provides dual 10 Gigabit Ethernet (GbE) ports, eight CPU cores and 32 GB RAM for high-performance workloads. For demanding applications, such as hosting virtual machines or multimedia editing, the Mini XL+ scales beyond 100 TB.
For lower-intensity workloads, the FreeNAS Mini E is ideal for file sharing, streaming and transcoding video up to 1080p. The FreeNAS Mini E features four bays with quad GbE ports and 8 GB RAM, configured with 8 TB capacity.
The full iXsystems FreeNAS Mini series supports error correction RAM and Z File System with data checksumming, unlimited snapshots and replication. IT operations can remotely manage systems via Intelligent Platform Management Interface and, dependent on needs, can be built has hybrid or all-flash storage.
FreeNAS provides traditional NAS and delivers network application services via plugin applications, featuring both open source and commercial applications to extend usability to entertainment, collaboration, security and backup. IXsystems' FreeNAS 11.2 provides a web interface and encrypted cloud sync to major cloud services, such as Amazon S3, Microsoft Azure, Google Drive and Backblaze B2.
At Gartner's 2018 IT Infrastructure, Operations & Cloud Strategies Conference, ubiquity of IT infrastructure was a main theme, and FreeNAS was named an option for file, block, object and hyper-converged software-defined storage. According to iXsystems, FreeNAS and TrueNAS are leading platforms for video, telemetry and other data processing in the cloud or a colocation facility.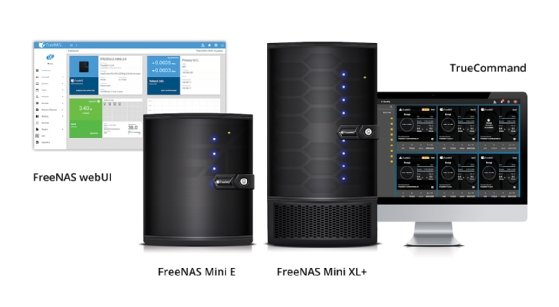 With the upgrade, the FreeNAS Mini series can be managed by iXsystems' unified management system, TrueCommand, which enables admins to monitor all TrueNAS and FreeNAS systems from a single UI and share access to alerts, reports and control of storage systems. A TrueCommand license is free for FreeNAS deployments of fewer than 50 drives.
According to iXsystems, FreeNAS Mini products reduce TCO by combining enterprise-class data management and open source economics. The FreeNAS Mini XL+ ranges from $1,499 to $4,299 and the FreeNAS Mini E from $749 to $999.
FreeNAS version 11.3 is available in beta, and the vendor anticipates a 12.0 release that will bring more efficiency to its line of FreeNAS Minis.