Minerva Studio - Fotolia
Is Zadara storage as a service right for your company?
Zadara Cloud Platform offers a storage-as-a-service approach that limits customers' upfront investment and risk, while providing flexible, NVMe-based storage.
The Zadara Cloud Platform is an enterprise storage-as-a-service offering from Zadara Storage Inc. that provides a flexible, pay-as-you-go pricing model and is designed to be easier to deploy and manage than traditional storage.
Zadara Cloud can be deployed on premises, with a public cloud provider or in a hybrid configuration that uses a combination of both. It supports block, file and object storage -- simultaneously, if needed -- as well as a wide range of storage protocols and standards, including NVMe, making it possible to better use flash drive technologies.
Zadara offers its platform as a fully managed service with 100% uptime guaranteed. Subscribers pay only for services they use, much like a public cloud, but with an on-premises option. Because customers don't pay the upfront costs that accompany traditional storage, they also avoid many risks that come with buying a system outright, which can result in technical and operational issues that undermine the investment.
Who does Zadara Storage work for?
Of course, anyone considering such a service should do their own total cost of ownership (TCO) analysis. However, there are organizations -- such as startups, small business and even small teams in large organizations -- where this sort of Opex pricing model provides the flexibility to undertake a storage project with fewer internal resources. In this way, an organization gets the power of enterprise storage without the big initial investment.
The Zadara delivery model can also make storage easier to deploy and manage than traditional storage. When ordering the service, subscribers choose the storage types, drive types, capacities, protocols, levels of RAID protection, throughputs and locations. Zadara handles the ongoing maintenance and provides 24/7 monitoring and support. Customers can adjust their storage configurations as needed, using the available GUI or API, but Zadara handles daily operations.
In addition, Zadara handles hardware upgrades. If the platform is running in the cloud, the upgrade happens automatically without the subscriber taking any action. If it's running on premises, Zadara ships a new storage node to the customer's data center, copies data to the new drive and shreds data on the old drive. An administrator needs only to swap out one drive for the other.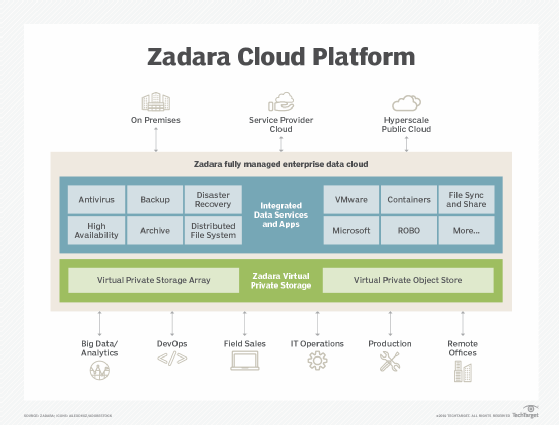 Deploying Zadara
Zadara is delivered as a collection of storage nodes. An installation will support as many as 100 nodes, which can be standard x86 servers, and as many as 3,500 drives and 35 PB of capacity. Each node can be configured with 60 physical drives, 256 drive partitions and 512 GB of memory. The maximum throughput for each node is 2.2 GBps. The maximum throughput for an entire installation is 220 GBps.
Each server runs the Linux OS and Zadara Storage's virtualization software, which creates an abstraction layer across the storage resources. To facilitate connectivity throughout the infrastructure, the platform uses Mellanox 40 Gb Ethernet switches and network interface cards.
The storage arrays can include solid-state drives (SSDs) or HDDs. The arrays use OpenStack and the Linux Kernel-based Virtual Machine to host and manage the Zadara engines, which are virtual machines that run on the storage nodes and serve as virtual controllers. The engines manage, place and protect the data on the storage nodes in order to provide predictable performance and high availability.
The Zadara platform supports block, file and object storage.
Block storage behaves much like a SAN and supports the Fibre Channel, iSCSI and iSCSI extension for remote direct access memory standards.
File storage behaves much like a NAS appliance and supports the Network File System and Common Internet File System standards.
Object storage offers private cloud storage compatible with public cloud object storage, with support for the Swift and Amazon S3 APIs.
The three storage types can run on the same physical machines simultaneously, without interfering with one another or compromising data security and privacy.
An organization might turn to Zadara for a variety of use cases, including mission-critical applications, secondary storage, DevOps application delivery processes and edge computing environments.
When deploying the platform on premises, Zadara delivers the system to your data center. The same goes for the on-premises component of a hybrid configuration, except Zadara ensures you have seamless connectivity between the on-site and public cloud environments. The platform can be deployed to AWS, Google Cloud Platform or Microsoft Azure.
Organizations that use SSDs in their storage arrays can take advantage of the platform's use of the NVMe interface, which maximizes operations based on flash technologies. NVMe offers faster throughputs and lower latencies than traditional storage interfaces, while reducing power consumption. Although many storage solutions now support NVMe and NVMe over Fabrics, Zadara's service-based delivery model lets organizations avoid the upfront costs that often come with upgrading to newer storage technologies.
A variety of features and use cases
In addition to its flexible storage and deployment options, Zadara also offers other important features. It supports multizone high availability and disaster recovery, as well as snapshots for migrating point-in-time copies of the data. Zadara Storage also supports Docker container technology for running processing tasks inside the storage infrastructure. In addition, it includes advanced security features for protecting data and ensuring compliance.
An organization might turn to Zadara for a variety of use cases, including mission-critical applications, secondary storage, DevOps application delivery processes and edge computing environments. Even with this flexibility, however, the platform might not be for everyone, and certainly an organization needs to weigh the long-term TCO before deciding.
That said, IT teams looking for storage products that are easy to deploy and maintain should consider Zadara Storage's Cloud Platform, especially given its service-based delivery model.