Cybrain - Fotolia
Druva expands on AWS backup, moves S3 snaps across regions
In response to customers' expanding AWS footprint, Druva added new backup features to CloudRanger, which it acquired in 2018 for protection of data stored in AWS.
Customers with multiple Amazon accounts now have a way to manage backup policies for all of them.
Druva is adding a global policy management tool to its CloudRanger software, alongside other AWS backup features. Originally, CloudRanger only allowed backup policy setting within individual accounts. The update allows users to create backup policies first, then select or exclude the Amazon accounts to apply them to.
Druva's vice president of product David Gildea said there has been an increase in the number of enterprises that hold multiple accounts. He said Druva designed the new CloudRanger feature around the idea that customers have thousands of accounts and multiple resources, and it gives the customer a "broad stroke" approach to backup policy management.
"[Amazon] S3 is one of the biggest and most important data sources in the world now," Gildea said, highlighting the need to protect and manage the data within it.
S3 backup is one of Druva's key new AWS backup features. Customers can back up S3 snapshots across regions, protecting them from a regional outage. In addition, users can move EBS snapshots to S3 storage, including Glacier and Glacier Deep Archive tiers for greater cost efficiency.
Druva CloudRanger is a management tool for AWS workloads and automated disaster recovery. The total list of Amazon workloads CloudRanger protects now includes EBS, S3, RedShift, ODS, EC2, DocumentDB and Neptune DB. Along with AWS backup, Druva also has products for on-premises data center, endpoint and SaaS application protection.
Druva is not alone in the AWS backup space. Clumio recently extended its backup as a service to support EBS, and Veeam recently launched a cloud-native EC2 protection product in AWS Marketplace.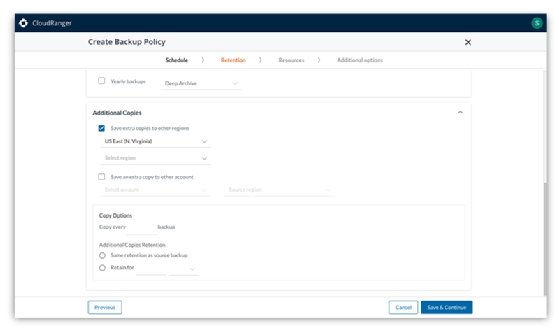 Druva's new AWS backup capabilities are available immediately to early access customers and are expected to become generally available in the first quarter of 2020.
Gildea said customers who have built apps on Amazon and use them at a large scale have a large amount of off-premises data that may not be under the protection of a business's traditional backup. Druva's AWS backup saves these customers the trouble of scripting and developing custom backup, which typically does not scale and needs to be continually maintained with every Amazon update.
There is a growing adoption of hybrid cloud infrastructure, said Steven Hill, a senior analyst at 451 Research. Backup vendors have products for protecting on-premises workloads, as well as offerings for the cloud. However, Hill said the challenge for vendors is eliminating the complexity that comes with managing separate environments, one of which is off premises.
Hill said as businesses push more critical workloads to the cloud, the cost of backup will be minor compared to the potential loss of data. He said some businesses have to learn this the hard way through a data loss incident before they buy in.

"Data protection is a bit like buying insurance -- it's optional," Hill said.
Hill said over time, businesses will learn that cloud workloads need the same quality of backup and business continuity and disaster recovery (BC/DR) as on-premises environments. However, monitoring off-premises systems is an additional challenge. Therefore, he believes the future of BC/DR will lie in automation and flexibility through policy-based management regardless if an environment is on or off premises.