Fotolia
Druva CloudRanger launches automated disaster recovery
Druva automates its disaster recovery for AWS workloads through its recent addition of CloudRanger. Updates to the product also include compliance-specific features.
Six months after acquiring CloudRanger and its AWS data protection, Druva launched disaster recovery features that...
Continue Reading This Article
Enjoy this article as well as all of our content, including E-Guides, news, tips and more.
make it easier to perform DR, planning and testing.
The Druva CloudRanger automated disaster recovery enables organizations to clone a whole AWS account and associated environments across regions. CloudRanger is part of the Druva Cloud Platform, which also includes the InSync and Phoenix products. Druva acquired CloudRanger last June.
'Cloud-native approach' provides DR enhancements
Recovery speed is crucial. Most business continuity issues, though, aren't "full-blown disasters," said Steven Hill, senior analyst at 451 Research, so it's important for a user to be able to quickly respond to and recover from something like an application outage. Automation in disaster recovery is a big help there.
"CloudRanger takes a volume/snapshot-based approach to protecting applications running on AWS, which supports a combination of really rapid data capture of running applications and the ability to restore those applications quickly in the event of an outage," Hill wrote in an email. "AWS is a massive ecosystem, and CloudRanger's AWS-based, cloud-native approach to data protection provides better access to all that inherent resilience."
Druva also offers disaster recovery through its Phoenix product, designed for virtualized environments on premises based on a backup stored in the cloud, according to David Gildea, vice president of product and general manager of Druva CloudRanger.
Druva CloudRanger, however, is designed for AWS workloads already running in the cloud and provides the ability to recover the workloads across any region, Gildea said. The product also clones environments through Amazon's Virtual Private Cloud.
Druva CloudRanger customers can create recovery plans and perform quick DR testing.
"You need to test that your DR works," Gildea said.
The product enables customers to test on a daily, weekly and monthly basis. Druva is seeing customers primarily test weekly.
"Doing it once a week is a huge leap forward," Gildea said.
As companies move more data to the cloud, protection for AWS workloads is an emerging trend. In late 2017, Veeam Software purchased N2WS, which provides cloud-native, enterprise backup and disaster recovery for AWS, similar to Druva CloudRanger.
The target market for Druva CloudRanger stretches from the midmarket to large enterprises, Gildea said.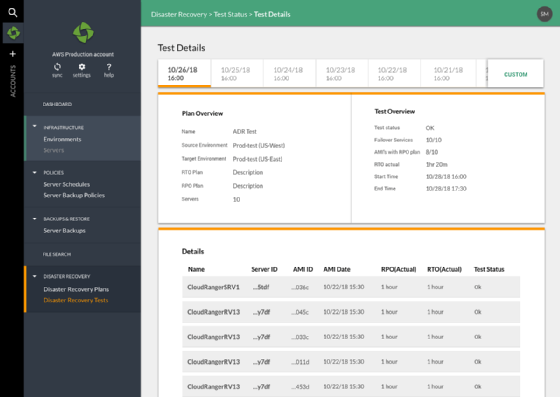 Druva CloudRanger adds file search, data governance
Druva CloudRanger also includes the ability to search across all of a customer's AWS accounts and snapshots, and discovers where files exist.
The cloud is moving so fast. It's presenting new opportunities to us all the time.

David Gildeavice president of product and general manager, Druva CloudRanger
This feature helps compliance and enforcement of retention and data policies, according to Druva. Organizations with specific compliance requirements, such as the recently enacted General Data Protection Regulation, can now search for particular files across thousands of snapshots simultaneously.
"The ability to search for specific data within a snapshot is easier said than done, so file search capabilities can be a real benefit for compliance-heavy customers who may need to drill down into their cloud-based data," Hill wrote. "Enhanced snapshot management plays into compliance as well, so being able to set specific retention policies for snapshots, or the ability to lock them for legal discovery purposes adds a new dimension to workload/data protection in the cloud."
Combining Druva CloudRanger file search and legal hold, customers can automate and simplify the identification, collection and preservation of targeted data across cloud workloads.
Keeping up with a fast-moving cloud
Druva CloudRanger has been building these product updates for the last six months, Gildea said.
"I think it's a great complement to the Druva Cloud Platform," he said.
Gildea noted a "great synergy" between Druva and CloudRanger, for example, in their similar "cloud-first" method in backup and recovery.
Prior to acquiring CloudRanger, Druva had been working on a similar product. CloudRanger replaced that product, called Apollo.
"Apparently there was very little that needed to be done to make things mesh," Hill wrote. "They've been spot on with their projected releases so far and it will be interesting to see where it goes from here."
Gildea said Druva CloudRanger has a significant roadmap for the next two months. The company is looking to incorporate more of AWS' services, such as its Simple Queue Service, into the DR process. Gildea expected an updated version to launch within the next two months.
"The cloud is moving so fast," Gildea said. "It's presenting new opportunities to us all the time."
Hill said that as more companies take a multi-cloud approach, the next logical step for Druva is to extend its model to other cloud platforms.
"They've already hinted at plans to expand the offering, and there's certainly a growing market for a unified [business continuity and disaster recovery] technology that can seamlessly span multiple clouds," Hill wrote.
The Druva CloudRanger automated disaster recovery is generally available now. The legal hold and file level search are available to early access customers and will be generally available in the first quarter of 2019.