nobeastsofierce - Fotolia
Druva CloudRanger finds home in Cloud Platform
With the integration of CloudRanger, Druva's Cloud Platform now provides protection and management of data centers, software as a service, end-user devices and cloud workloads.
Less than two months after acquiring a vendor specializing in data protection for Amazon Web Services workloads, Druva has integrated the product into its Cloud Platform.
Druva CloudRanger, generally available today, replaces the Apollo product the cloud data protection and management vendor had started to work on. Announced in late 2017, Apollo also had a focus on AWS backup and recovery.
Having the underlying technology aided the integration, said Steven Hill, senior analyst of storage technologies at 451 Research.
"They were a good chunk of the way there," Hill said. "Picking up CloudRanger was an excellent purchase."
Druva executives said a customer advisory board meeting in February fueled the need to bring a product quickly to market.
"Sometimes, it's just better to purchase technology than to write it from scratch," Hill said.
It also helps that Druva and CloudRanger were both built natively on AWS, said Dave Packer, Druva's vice president of product and alliance marketing. Druva CloudRanger can back up to a customer's immediate account or cross-region.
Helping companies 'make that leap' to cloud
Druva completed the CloudRanger acquisition in June, and CloudRanger is now a Druva company. Druva did not disclose the price of its first acquisition since its 2008 founding.
CloudRanger provided a platform for snapshot management of Amazon Elastic Compute Cloud workloads using AWS native snapshots. It also provided management of servers and backup policies across multiple AWS regions and accounts.
CloudRanger's disaster recovery features included file-level recovery, AWS snapshot restoration and automated DR testing.
In the last few weeks, CloudRanger has added about 20 new customers, and Packer expects a further increase in August.
"Companies really want to make that leap from on premises to the cloud," but they need to do it and manage it the right way, Packer said.
Another key element is managing the costs of the cloud. Giving customers visibility across accounts and workloads can improve efficiency, Packer said.
Druva said its Cloud Platform provides a holistic view into data activities throughout the organization, including data protection status by source and region, service use, storage use and data compliance status.
Companies really want to make that leap from on premises to the cloud.

Dave Packervice president of product and alliance marketing, Druva
As it also includes Druva's inSync and Phoenix products, the Druva Cloud Platform now protects and manages what the vendor calls four primary pillars of enterprise data: data center, software as a service, end-user devices and cloud workloads. Druva, based in Sunnyvale, Calif., started out providing endpoint data protection.
Though Hill said he was surprised at the speed of the Druva CloudRanger integration, he said he doesn't foresee any issues with the quick rollout. In addition, AWS' stability helps ease the challenge of integrating CloudRanger's original 300 customers, Hill said.
"That's the first place you want to establish yourself," he said of Druva's decision to start its cloud backup on AWS.
Current Druva customers have free access to the Cloud Platform. More pricing information is available by contacting Druva.
Looking at the clouds ahead
Hill said Druva should focus next on multi-cloud support -- for example, moving an AWS workload to Microsoft Azure or the Google Cloud Platform.
Packer said Druva is keeping an eye on the possibility of support for other public clouds, but the greatest demand is for AWS. He said nearly all Druva customers have data in AWS, and few have data only in one of the other public clouds.
"The priority right now is AWS, because there is a large volume of enterprises moving in that direction," Packer said.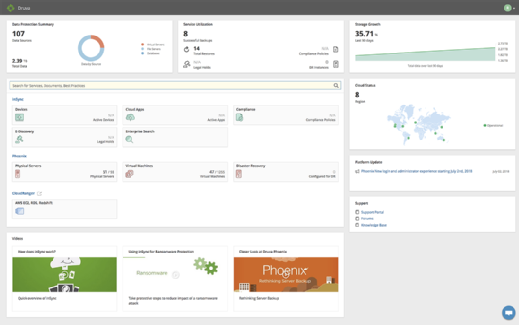 Other backup vendors are also paying a great deal of attention to protecting public cloud data.
In late 2017, Veeam Software made its first acquisition in 10 years with the purchase of N2WS, which provides -- similarly to Druva CloudRanger -- cloud-native, enterprise backup and disaster recovery for AWS.
Druva has positioned its software to go up against traditional backup vendors Commvault and Veritas, which are also increasing their data management focus. It also competes with startups Rubrik and Cohesity, with their converged data protection and management appliances for secondary storage.
Druva claims about 4,000 customers.