ra2 studio - Fotolia
Druva Office 365 backup adds restore options, snaps
Druva sets out to fill in data protection gaps in Microsoft Office 365, providing an independent backup source for the popular software-as-a-service application.
Cloud backup vendor Druva sharpened its focus on protecting Microsoft Office 365 with its latest update.
Druva added granular user-level restores of SharePoint and OneDrive; point-in-time recovery for Exchange email accounts; time-indexed backup snapshots for ransomware recovery; and long-term, lower-cost retention options for Office 365 data.
The Druva Cloud Platform offers a suite of SaaS data protection products that include Salesforce and Office 365 backup. The Druva backup portfolio also protects servers and endpoint devices.
The Druva Office 365 backup enhancements are meant to shore up some of the weaknesses in the SaaS app's native backup tools. For example, Microsoft backs up SharePoint data every 12 hours and retains it for only 14 days. Restores can only be done as entire instances rather than individual files and require a call to Microsoft support.

"That's a big gap, because if I want a specific list or document, it's not possible," said Prem Ananthakrishnan, vice president of products at Druva.
Ananthakrishnan said the enhancements were driven by customer concerns around Office 365's lack of granular recovery, inability to recover from a cyberattack or unintentional deletion, and inability to retain data long term. Aside from file-level restores, Druva Office 365 backup addresses the other points by allowing customers to restore to known good copies in the wake of a ransomware attack and store data on Druva's cloud in a "warm" tier with no penalty to retrieval speed.
Ananthakrishnan said he is seeing more adoption of SaaS applications. As businesses increasingly put their critical data on those cloud-based applications, they take protecting that data more seriously. He noted this attitude is a shift from the earlier days of SaaS applications.

"About 18 months ago, people were still questioning whether they should be protecting the cloud," Ananthakrishnan said. "I think we're past that point. We now have thousands of customers who are backing up Office 365."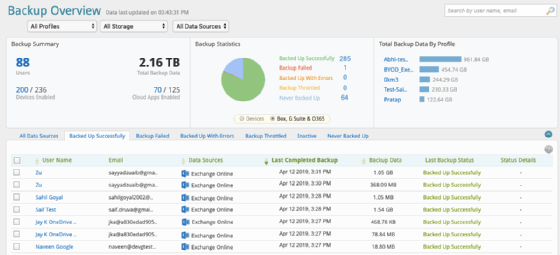 SaaS provider puts Druva backup to work
WorkForce Software, a SaaS provider of time and attendance software, based in Livonia, Mich., relies extensively on Office 365 and Salesforce and uses Druva backup to protect both.

Peter Webber, director of IT operations at WorkForce Software, said he went with Druva Office 365 backup because he wanted copies to live outside of Microsoft's cloud.
We initially knew with Office 365 that we wanted to have it backed up in a diverse way from just how Microsoft was doing it. It was important to us that we back it up using a tool that we controlled.

Peter WebberDirector of IT operations, WorkForce Software
"We initially knew with Office 365 that we wanted to have it backed up in a diverse way from just how Microsoft was doing it," Webber said. "It was important to us that we back it up using a tool that we controlled, independent of Microsoft, and allow us to use a repository other than Microsoft's cloud."
Druva replaced WorkForce Software's on-premises endpoint backup, which was called Symantec NetBackup at the time. WorkForce subsequently acquired smaller companies and inherited their backup infrastructures, which included Veeam Software and Veritas after its spin out from Symantec. Webber said he has worked to phase out his company's on-premises backup, and Druva has simplified the process because it is a cloud-based service.
"Those classic, legacy backup solutions tend to be really painful to manage and take a lot of admin overhead," Webber said. "It has been much easier for me to just put a Druva client on the machine or the host and get it rolling instead of trying to work with existing environments."
Ananthakrishnan said because Druva is cloud-based, buyers don't need to deal with hardware, sizing or building out infrastructure like for on-premises backup. He said Druva can also make updates available quicker than on-premises applications when Microsoft adds applications or makes other upgrades to Office 365.
Ananthakrishnan said Druva Office 365 backup capabilities must grow along with Office 365. He said he still sees gaps in the backup capabilities of Microsoft Teams, and he said Druva will address those in a coming release.