zapp2photo - stock.adobe.com
Druva unveils Slack and Microsoft Teams backup
Druva's next update will include Slack and Microsoft Teams backup, on top of integrations with ServiceNow, Splunk and Okta. The company is capitalizing on increased SaaS adoption.
Customers will be able to recover Slack and Microsoft Teams conversations in Druva's latest update.
Druva will be rolling out some new features over the next month into its AWS-based data protection platform, including new Slack and Microsoft Teams backup. Druva currently supports other components of Office 365, such as Exchange emails, OneDrive and SharePoint. With the new Teams support, Druva will allow customers to restore Teams interactions to specific points in time in case of accidental or malicious deletion, with all underlying interdependencies preserved.
Druva is pitching the Slack and Microsoft Teams backup component as most useful for legal teams, as it allows them to perform e-discovery by mining old conversations or to put users on legal hold while they access Teams chats, emails, SharePoint data and OneDrive files from the same backup pool. For Slack, which currently has no built-in point-in-time recovery capabilities, it allows user interactions to be captured in the first place.
Currently, the process to restore a Microsoft Teams session in Office 365 is convoluted and involves delving into multiple recovery bins and lining up timestamps. A Teams channel could have multiple messages and files that are referenced elsewhere. These layers of interdependencies make it difficult to restore Teams to an earlier version.
"The ability to recover data within Microsoft Teams is extremely critical, and this is a gap customers see within the native Office 365 environment," said Prem Ananthakrishnan, vice president of products and technology alliances at Druva.
Ananthakrishnan compared the web of interdependent objects in Teams to Salesforce, another widely used SaaS application. Both do not natively have ways to restore the entire application back to an earlier point in time. He said customers were recognizing that and turning to third-party software vendors.
Druva joins Veeam and AvePoint as one of the few third-party vendors offering Microsoft Teams backup. Enterprise-grade SaaS-based backup for Slack is also hard to find -- OwnBackup once had a product for this, but it has since been discontinued. It is worth noting that AvePoint has a means to migrate Slack to Microsoft Teams, which can then be backed up.
"We're just starting to see an interest in data protection for those types of communications," said Steven Hill, a senior analyst at 451 Research.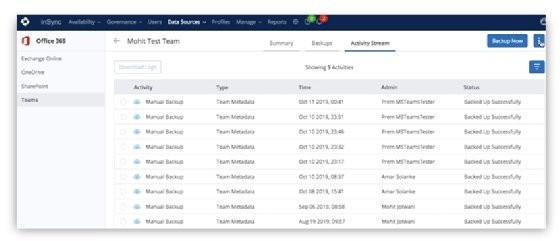 Smaller vendors like CloudHQ and Backupery have tackled Slack backup, but Hill said it's only recently that the bigger, more recognized names have started adding data protection for SaaS-based collaboration applications to their portfolios. For these vendors that already have a platform for enterprise data protection and business continuity/disaster recovery (BC/DR), it's a matter of supporting another data source. As more businesses recognize the importance of the data from their collaboration applications, the number of sources vendors will support will continue to grow.
Hill said there's a need for third-party backup vendors to provide this level of data protection for SaaS applications because the application vendors themselves don't. Salesforce and ServiceNow guarantee only their services' availability, but they can't guarantee the integrity of their customers' data.
"The vast majority of SaaS applications do not include data protection as part of the package," Hill said. "In fact, most SaaS applications in the cloud have language in their licensing agreements that insist data protection is the responsibility of the customer."
The myth that data is automatically safe simply because it's "in the cloud," is a harsh lesson customers have started to learn, but Hill noted it created a market opportunity for backup vendors. Vendors like Commvault and Veeam have rolled out Office 365 backup products, and companies like Odaseva have emerged solely focused on protecting Salesforce data.
Druva's next update also includes deeper integrations with ServiceNow, Splunk and Okta. Ananthakrishnan said these integrations are responses to greater SaaS adoption among customers, as well as a greater desire to, "protect SaaS with a SaaS." He said Druva is always looking to support more SaaS applications on its platform but declined to specify which ones the vendor is targeting next.
The Microsoft Teams feature will be wrapped into the Druva Office 365 protection product, but the Slack data protection product will be a separate license. Both will be available within the next month as Druva rolls out its next update.