sdecoret - stock.adobe.com
Druva adds gen AI assistant to cloud backup tools
Generative AI arrives for SaaS backup vendor Druva with new tools to automate reports, detect anomalous activity and provide security guidance.
Introduce your backup admin to Dru, a new generative AI assistant courtesy of Druva.
Dru is the latest addition to Druva's flagship software, a cloud backup and caching SaaS offering. Now available for select customers in early access, Dru is expected to become available to more Druva customers in the coming months at no additional cost.
Dru adds generative AI tools and capabilities into the Druva backup suite to create after-action reports through a chat interface, provide security guidance and more.
Similar to efforts from backup vendor Cohesity and Dell Technologies, Dru is a tentative first step into the generative AI market, according to Brent Ellis, an analyst at Forrester Research. The capabilities of Dru are still under development and without much of an immediate enterprise audience.
"Druva seems to be experimenting early so they can develop the use cases early that make sense for the market they compete in," Ellis said.
Introducing Dru
Dru's AI is built on Amazon Bedrock, the generative AI managed service from AWS, according to Stephen Manley, CTO at Druva. Druva is already built with AWS tools, as the entire SaaS suite operates within the hyperscaler, according to Manley.
Druva manages API connections and setup related to the Dru AI, letting customers start using the feature once access is granted. The AI is trained on Druva's operations manuals and technologies; it uses no customer data.
Manley said the company has an aggressive update schedule planned for Dru, given the Druva SaaS updates every two weeks. However, he said, its push to expand availability and features won't come at the cost of customer data safety.
"We put some fairly tight guardrails around the answers we give," Manley said. "Being right 90% of the time isn't good enough in the security and compliance space."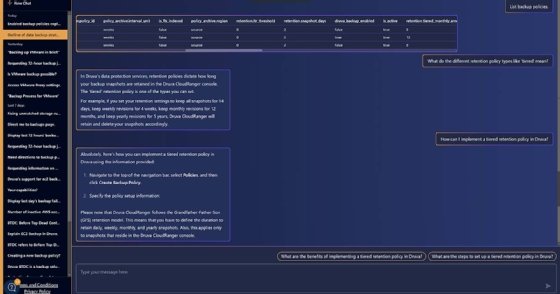 An early use case for Dru is to help customers who may miss out on capabilities when attempting to halt or recover from a ransomware attack, Manley said. Dru can act as a natural language guide to help them activate the right tools when needed.
Later updates to Dru's AI will focus on automating daily administration operations, conducting log analysis for troubleshooting and prompting users on remediation options.
'Early days with AI'
When it comes to customers, there's generally a feeling of early days with AI integration.

Krista MacomberAnalyst, Futurum Group
Generative AI has drawn significant attention and venture capital funding this year. But the technology is still far from being fully adopted into enterprise backup software, both by vendors and customers, said Krista Macomber, an analyst at Futurum Group.
"Most of the vendors we have conversations with, if they haven't announced anything, they're thinking about it," Macomber said. "When it comes to customers, there's generally a feeling of early days with AI integration."
Although backup vendors are touting the latest in AI capabilities, their products are still young. Unlike Druva, many vendors are waiting for buyers to dictate what they want from generative AI that existing technologies, such as machine learning, cannot offer, Ellis said.
"Right now, [generative] AI is not a request I see from the buyers in the market," Ellis said. "AI is still important. But traditional AI/ML for threat detection and self-healing [IT systems] are still more valuable features at this point."
Tim McCarthy is a journalist living on the North Shore of Massachusetts. He covers cloud and data storage news.