putilov_denis - stock.adobe.com
Cohesity adds AI to its support portal for backups
A new support chatbot provides an AI use case for data backups on which Cohesity hopes to expand. But training AI and ML requires more than backup data, experts say.
Data backup SaaS vendor Cohesity is using its Turing AI capabilities to help customers resolve backup management issues without the need for additional support.
The vendor is championing the model as an example of how data backups can be used to generate data lakes for AI modeling and training, with this model in particular enabling Cohesity customers to self-triage common support issues.
Cohesity ultimately wants its customers to use the AI capabilities and connections its building to bring backup data into AI training workloads. But storage and AI experts warn that backups aren't the most efficient or most reliable datasets for AI app development.
Data used to train AI models tends to need filtering and categorization, typically done in a data lakehouse, said Randy Kerns, an analyst at Futurum Group. Backups will need to have metadata and other metrics applied to them, leading to a slower throughput for training, he said.
Backups used as training data could also be hindered by vendor specificity, as they are commonly formatted for a vendor's software.
"When you want to use the data for training or testing AI, you have to massage it," Kerns said. "Operationally, [backups are] probably not the best way to use that. You want to deal with the [original] source."
Helpline without the wait
The new Cohesity Support Experience enables customers to access an AI support and remediation chatbot, connecting backup admins to technical articles based on error codes or specific questions.
The chatbot eliminates the need for customers to file a support ticket with Cohesity, as questions which stump the system are automatically filed into a ticketing queue to connect with a human support agent.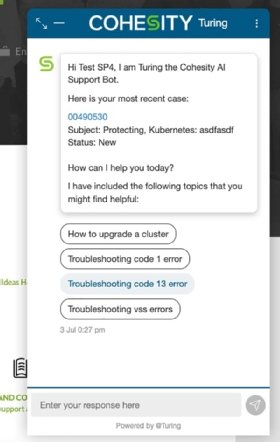 The service, which is now available free for all Cohesity customers, serves as the testing ground for Cohesity Turing AI capabilities and as a use case customers can build from, said Greg Statton, data and AI specialist for the CTO office at Cohesity.
"Our main goal is to help our customers reduce time to resolution," Statton said. "We're not trying to say we're a one-trick pony with AI. … We're going to create applications on top of [the Turing capabilities], absolutely."
The vendor trumpeted generative AI partnerships with Microsoft Azure and Google Cloud earlier this year and plans to implement additional AI capabilities using API connections and tools in its SaaS Cohesity Data Cloud platform.
Since the Cohesity Data Cloud Platform is already storing and providing an overview of customer data and supports common requirements for AI training such as metadata tagging, role access control to limit user interference and finding siloed data, according to Statton.
"What matters is the data," Statton said. "These models are going to become commodity. It's the data an enterprise has that can be used by these models safely and securely. That's the next [development]."
Brains from backups
Even with the Cohesity's push to make backup data ready for AI ingestion, establishing proper controls for Dremio or Databricks data lakehouses could make a difficult process for data engineers even more difficult, according to Kerns.
Data engineers want data that not only is actively in use, making AI models easier to train and more responsive when used by customers, but also ensures proper attribution, validation and crediting. Backup data, which could be years old, may lack that level of documentation or information.
"If you bring in a lot of different sources that have different schema and variables, that makes it much more difficult for [data engineers]," Kerns said. "If it's backup data, that isn't the original data source and makes their job that much harder."
The help agent created by Cohesity is like other AI services enterprises may use internally, said Uma Challa, an analyst at Gartner.
DevOps practitioners, for example, prefer self-service models, while enterprise IT is already looking to run a more efficient operation, he said. Having AI agents eliminate searching for and summarizing technical manuals, policies and procedures could get employees back on track faster.
"These are the areas where productivity can increase significantly," Challa said. "It's a different a different way of looking at assistants and bots."
Such AI assistants will only increase in their availability and usability for the enterprise, but making sure that data is free of errors to avoid hallucinations or misinformation will remain a challenge.
"[Even] if you're using just [Microsoft] Office, you will have AI capabilities," Challa said. "They will become part and parcel of everyone's day-to-day work."
Tim McCarthy is a journalist from the Merrimack Valley of Massachusetts. He covers cloud and data storage news.