chris - Fotolia
Druva dives into SaaS-based Kubernetes backup
Druva beta support for Kubernetes allows customers to recover, migrate and clone Kubernetes workloads from Druva CloudRanger using the backup vendor's stored snapshots.
As development projects in Kubernetes increasingly enter the production phase, Druva is preparing to ride that wave.
Druva's Kubernetes support launched into beta this week, extending the SaaS-based platform's data protection capabilities into container applications. Druva can now restore the entire state of a Kubernetes environment using stored snapshots. Customers can recover individual resources or an entire namespace through Druva. Additionally, snapshots can be restored to alternate locations, allowing customers to migrate, clone or test their environments as needed.
Druva installs a backup controller into the Kubernetes clusters the customer wants to protect, which saves snapshots of the cluster on premises. Snapshot management is done through the Druva CloudRanger interface, where admins can set backup and retention policies and choose replication locations.
Druva's Kubernetes beta program supports three databases: MySQL, MongoDB and Postgres. It is projected to become generally available in the first half of 2021. It will not require a separate module or license to use.
Aside from setting backup-related policies for all workloads, Druva CloudRanger is also the interface by which admins set access control for Druva functions. With Kubernetes support integrated into the platform, admins can grant restore capability and visibility into the snapshots to DevOps staff, allowing them to self-service any recovery or cloning tasks.
Druva chief technologist Stephen Manley said the vendor developed its Kubernetes support with knowledge that developers usually work directly with Kubernetes, while Druva's current users are system and backup admins. These two groups may not talk to each other because their IT tasks are different. Developers don't want to waste time going through another team for a simple restore or copy. System admins can't trust that developers are following data protection best practices and won't accidentally expose themselves to personally identifiable information (PII). Manley said Druva couldn't implement anything too heavy-handed that would end up slowing down both teams.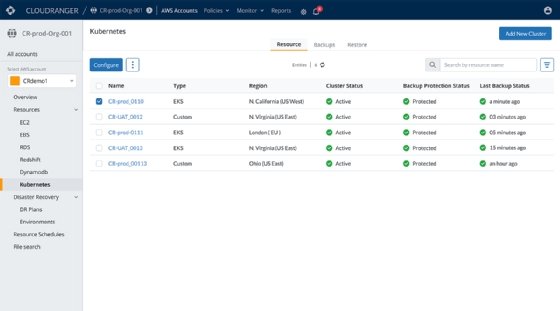 "We wanted to add central protection to Kubernetes, but not have Kubernetes users have to talk to central control," Manley said.
Market intelligence firm IDC's research shows Kubernetes is maturing and gaining adoption.
IDC research director Phil Goodwin said around 70% of organizations are developing projects in containers right now that will be rolled out into production within two years. Most of those applications won't be mission-critical at the start, but they will be as Kubernetes becomes mature and IT organizations become more confident in their ability. Although it's still early days for Kubernetes, Goodwin pointed out, "Everybody's dabbling in it."
This hasn't gone unnoticed by vendors, who have started dabbling in Kubernetes themselves. Other established data protection vendors with Kubernetes support include Cohesity, IBM Spectrum Protect and Zerto. A handful of vendors primarily focus on Kubernetes data protection and management, such as Portworx (now part of Pure Storage), Kasten, Diamanti and Rancher Labs (now part of SUSE). Druva installs an agent on Kubernetes clusters, leading to a resource overhead of about 1-2%. However, Asigra, Trilio's TrilioVault and Storware's vProtect offer agentless container backup.
Goodwin said it is difficult for established data protection vendors to develop Kubernetes support for their products. Traditionally, backup is time-based, which works for restoring most environments to its state at a given point in time. Containers, however, are event-based. Backing them up requires capturing their state during event triggers. This requires adjustments to how existing data protection products work. Yet, Goodwin pointed out established data protection vendors are developing or already have developed Kubernetes support for their products, indicating strong confidence in Kubernetes adoption.
Goodwin warned that vendors shouldn't be adding Kubernetes support just to tick a box. Although most customers will want to consolidate to a single vendor wherever they can, IDC research has found that many are willing to buy a "best in class" product specifically for a single workload if they feel their main vendor's support is inadequate for that workload. This is where established backup vendors could lose ground to pure Kubernetes vendors such as Trilio and Kasten. Goodwin also noted that the Kubernetes data protection purchasing decision is likely to fall on a DevOps member rather than a system admin.
Goodwin described Druva's Kubernetes beta as a good stake in the ground to establish a connection between Druva's platform and Kubernetes, and he predicts future releases will be based on how to make the product easier to consume for DevOps people.
"Druva is pretty early on the curve, so it has a runway to go through in parallel with the growth of the market," Goodwin said.
Manley said the ability to save snapshots to Druva cloud and support for other environments are on the company's Kubernetes roadmap, but did not specify when these capabilities will be implemented.