Kubernetes backup moves to forefront
Market appetite for Kubernetes backup is heating up, and product updates from Trilio, Commvault, Portworx and other vendors show an eagerness to attract early customers.
Data protection vendors are preparing to ride an anticipated Kubernetes backup wave.
Organizations are pushing Kubernetes out of the concept phase and into production, creating a need to protect Kubernetes environments from threats such as accidental and malicious deletion, corruption and ransomware. Recently, many data protection vendors have launched or upgraded Kubernetes backup products to stake their claim in what promises to be a hot market.
During KubeCon last week, Trilio updated its TrilioVault for Kubernetes to version 2.0. The update added the TrilioVault Management Console, designed to make monitoring and managing backup and restores for Kubernetes applications easier. The UI discovers Kubernetes applications, clusters and namespaces and lets users configure backup policies for them, serving as a centralized place for Kubernetes backup management across cloud and hybrid environments.
Trilio CEO David Safaii said Kubernetes backup is the "beginning of a big greenfield market." The flexibility and simplicity of the TrilioVault Management Console is important because in these early stages, different companies will handle Kubernetes backup differently. Safaii said the best way to help customers is to give them a management framework that supports multiple Kubernetes distributions and databases, which is why TrilioVault for Kubernetes 2.0 added database support for Cassandra, MongoDB and MySQL and certified Rancher support. Prashanto Kochavara, director of Kubernetes products at Trilio, said Azure Kubernetes Service support is next on the roadmap.
Commvault added Kubernetes backup to its SaaS subsidiary Metallic with the launch of Metallic VM & Kubernetes Backup. The new offering covers virtual and containerized environments. Metallic already had support for VMs from Microsoft Hyper-V, VMware vSphere, and VMware Cloud on AWS and Azure, but this launch added support for CNCF-certified Kubernetes distributions such as Red Hat OpenShift Kubernetes, Azure Red Hat OpenShift, AKS, Amazon EKS and VMware Tanzu.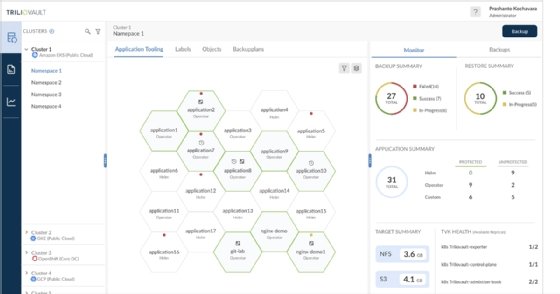 Like TrilioVault, Portworx PX-Backup and other competing Kubernetes backup products, Metallic VM & Kubernetes Backup offers granular restores. Metallic general manager Manoj Nair said this is how data protection for containers have evolved, and that it's a big step above putting containers on a VM and then snapshotting that whole VM. Nair said Kubernetes has become increasingly important as more companies use clouds and, like Safaii, indicated that the rise in Kubernetes backup demand is only just starting.
"Containers and Kubernetes have become more important and have become synonymous with the cloud journey. They are on the cusp of moving from sandbox to production," Nair said.
With the launch of Metallic VM & Kubernetes Backup, the Metallic Core Backup & Recovery product has been split into three, workload-aligned products: VM & Kubernetes Backup, File & Object Backup and Database Backup. Metallic still has separate products for Office 365 backup, endpoint protection and cloud storage.
Other vendors also made moves on Kubernetes backup during KubeCon. Kubernetes data management vendor Kasten, which was recently bought by Veeam, updated its K10 platform to version 3.0 and added multicluster views and security authentication. Portworx, which was bought by Pure Storage in September, updated its PX-Backup product to version 1.2 and added Container Storage Interface (CSI) support, broadening its storage support beyond its PX-Store storage platform. Zerto for Kubernetes, which entered early access in June, unveiled its beta program, with a full launch planned for 2021.
Phil Goodwin, research director at IDC, said these vendors want to get an early and firm foothold in an emerging market, even if they have to give away Kubernetes backup for now. TrilioVault for Kubernetes has a 30-day free trial for unlimited nodes and a free basic edition for up to 10 nodes. The Kubernetes backup component of Metallic's offering is free for customers who buy at least 10 VMs within the product. Catalogic's SaaS-based Kubernetes backup product CloudCasa, which launched earlier this month, follows a freemium model with unlimited CSI snapshots and a maximum retention of 30 days. Goodwin said these are all ways to make early entry as frictionless as possible for customers.
"We're in a land rush. People are fighting for market share," Goodwin said.
Goodwin added that this is especially important -- and somewhat tricky -- because Kubernetes backup has a different audience from general data protection. Traditional data protection treats backup and restore operations at the infrastructure level. However, container restores occur at the application level, which is why developers working on those applications are involved in purchase decisions surrounding their protection. Goodwin said traditional backup admins don't have visibility into that world, especially with things deployed in the cloud. Kubernetes backup isn't sold to a typical backup administrator, but to developers who usually do not care about data protection.
Safaii said there is a mixture of backup admins and developers buying TrilioVault for Kubernetes, but he is mindful of the differences between them. He said the divide is interesting -- admins focus on protecting containers from a cost optimization, compliance and disaster recovery perspective, and developers just want self-service so they can get their work done faster.
"Developers don't care about backup, but still might want to migrate or roll back on their own, without going through admin," Safaii said.