Commvault adds SaaS backup subsidiary Metallic
Metallic is a Commvault brand focused on delivering cloud-based SaaS backup, with separate products protecting servers and VMs, Office 365 and endpoints.
DENVER -- Commvault has launched Metallic, a SaaS-focused brand in an attempt to make it easier to consume their backup products.
The data protection vendor unveiled Metallic at its annual Commvault Go customer conference. Metallic features Commvault software's backup capabilities hosted on the Microsoft Azure cloud and delivered through a SaaS-based model. This SaaS backup model allows Metallic to offer free trials, easier deployment and simpler management than through enterprise channels, and is geared toward midmarket customers.
Metallic launched with three products: Core Backup & Recovery, Office 365 Backup & Recovery and Endpoint Backup & Recovery. Core Backup & Recovery protects file servers, SQL databases and virtual machines. Office 365 Backup & Recovery covers SharePoint, Exchange, OneDrive and emails. Endpoint Backup & Recovery backs up laptops and desktops. Core starts at $200 per terabyte, per month, Office 365 costs $4 per user, per month and Endpoint costs $9.25 per user, per month. All prices have discounts that scale by volume and length of subscription.
Metallic is a division of Commvault, but will not share the Commvault brand.
"We don't call it Commvault Metallic, it is Metallic," said David Ngo, head of product engineering for new business incubation at Commvault.
Rob Kaloustian, senior vice president and general manager of Metallic, said the SaaS backup offerings are targeted mainly at companies ranging from 500 to 2,500 employees. These companies may be outgrowing their backup products and need something scalable. By purchasing backup through Metallic's subscription-based service model, businesses can avoid doing a proof of concept, upfront expenses and manually pushing out software updates. They also wouldn't have to provision on-premises hardware for their new backup software.

"There's a lot of interest in not having to worry about the day-to-day of infrastructure," Kaloustian said.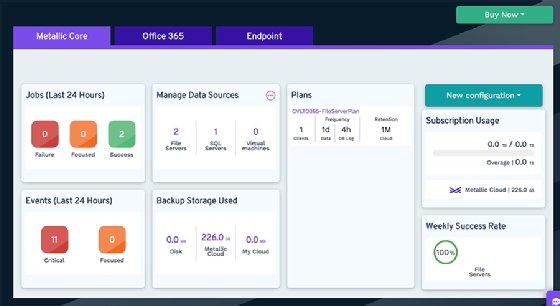 Metallic's products will be made available through Commvault's channel partners and are limited at the start to U.S. customers. Customers who are already on Commvault's as-a-service offerings, such as Commvault Endpoint Data Protection as a Service, will be migrated over to Metallic.
George Crump, president of IT storage analyst firm Storage Switzerland, said one of the hardest things organizations deal with is getting their backup server up and running, then maintaining and upgrading it. Taking that out of the hands of customers greatly simplifies their day-to-day process. He said Commvault basically took the core backup technology that they were already good at and "cloudified" it.

"It's a nice blend of everything; it simplifies one of the hardest parts of deploying enterprise backup," Crump said.

However, Crump said Commvault's not alone in trying to simplify management and billing for data protection. Several newer backup vendors competing with Commvault deliver cloud-based backup through a subscription model. Crump sees Metallic as Commvault making a move to defend itself against Cohesity and Rubrik. Druva and Clumio are also in this SaaS backup space.
As far as capabilities beyond backup go, Crump said there's little competitive difference between what Commvault/Metallic offers from its competitors. But from his experience, most customers' secondary data use cases still focus on backup. Although many backup vendors are folding data management, security and analytics capabilities into their portfolios, many customer pain points still come from deploying a backup and recovery system that works quickly and reliably.
"Most companies are just trying to get the data protection basics down," Crump said.

Metallic SaaS backup is the second significant change to Commvault's business strategy in the past two months. Commvault made its major acquisition in September, buying software-defined primary storage vendor Hedvig. None of Hedvig's technology nor staff are incorporated into Metallic.
Several Commvault partners at the show said Metallic felt to them like a counter-play against Rubrik and Cohesity. They were generally positive about the new subsidiary, although they did not think its SaaS backup fit all their needs. Asdrubal Vasquez, an engineer at managed service provider Storage Engine, which sells Commvault and Zerto, said he wished Metallic opened with both backup and disaster recovery offerings so he could fold the two into the same vendor.
An engineer at a large telecommunications company that had been using Commvault on-premises backup for years said Metallic's SaaS offerings weren't for him, but he could see how smaller businesses would benefit from them. He said it was definitely a move toward midmarket customers, which Commvault hadn't previously pursued.
"I can't imagine any established Commvault customers would be interested in Metallic, unless they were planning a major IT overhaul and outsourcing their IT," said the engineer, who was not authorized by his company to talk to media.