5 multi-cloud use cases for better storage
Use cases for multi-cloud storage proliferate as the technology becomes mainstream. Consider the technology for backup, resiliency, compliance, AI and software development.
Multi-cloud storage is gaining momentum, with a growing number of adopters coming to appreciate the technology's cost, flexibility, adaptability and security attributes.
The number of multi-cloud use cases aimed at storage is expanding rapidly. Take a look at the following five ways organizations can use a multi-cloud environment to enhance their storage infrastructures.
Data backup and archiving
Among the most common multi-cloud use cases is data backup and archiving. Multi-cloud storage makes backup and archiving cheaper, easier and more reliable. It enables the replication of data off site, reducing Capex and Opex related to tape storage, expanding retention periods and improving recovery point objectives, noted Robert Illing, enterprise architect for IT transformation at hardware and software reseller SHI International, based in Somerset, N.J.
"Thanks to user-friendly cloud interfaces, moving data across clouds and making multiple copies of data sets in one click results in the reduced investments in development resources," said Andrei Lipnitski, information and communications technology department manager at ScienceSoft, an IT consulting and software development company, based in McKinney, Texas.
Resiliency
Another multi-cloud use case for storage is risk mitigation.
"Having data in different locations, especially in terms of primary and secondary data, means that the customer doesn't have all his eggs in one basket," explained Charles Foley, senior vice president of Talon Storage, a firm specializing enterprise-class file sharing, based in Mount Laurel, N.J.
Resiliency is a natural benefit of multi-cloud storage, said Geoff Tudor, vice president and general manager of cloud data services at Panzura, a firm specializing in unstructured data management in the cloud, based in Campbell, Calif. Human error is at the heart of many cloud storage outages, he said.
"Spreading data across two cloud storage providers greatly reduces exposure from these types of outages," he added.
A multi-cloud storage strategy is essential to unify data storage for applications running in different clouds, whether they're public or private clouds.
"It allows data to be abstracted away from specific cloud applications and stored in a common shared pool," said Sazzala Reddy, CTO and co-founder of unified hybrid cloud computing and data management company Datrium, based in Sunnyvale, Calif.
A multi-cloud approach can also prevent data fragmentation, reduce data duplication per app and improve data governance, Reddy said. Such benefits can be handy when there's an application running across clouds that needs to access shared data, particularly when the data is sensitive and stored in a private cloud.
"This allows companies to get the best of both public and private cloud offerings, choosing what best fits their needs and being able to adjust as those needs and their data changes," Reddy explained.
Multi-cloud storage also keeps organizations from relying on a single cloud storage provider. Multi-cloud adopters can ensure data resiliency and eliminate application downtime from the failure of an object storage service by having consistent replicas of objects in another cloud or location, said Joel Horwitz, senior vice president of WANdisco, a software company focused on distributed computing, based in San Ramon, Calif.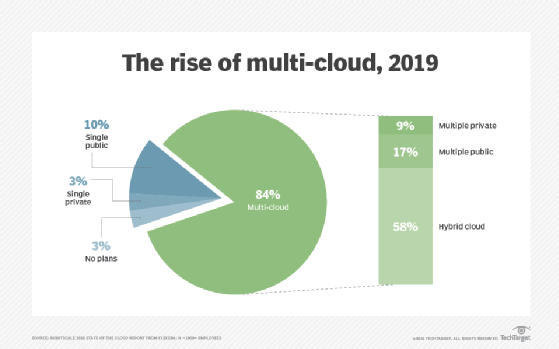 Compliance
Because each hyperscale cloud provider is developing its own analytical platform, AI and machine learning data must be easily transportable across clouds.
For many enterprises, compliance is becoming an effective multi-cloud use case. Increasingly, data must reside in specific geographic areas to meet data governance and compliance regulations. For some companies, a majority of data may reside with cloud A in one country, while a subset of data that is pertinent to a division or subsidiary in a GDPR-governed country may be stored with cloud B in another country, Talon Storage's Foley said.
For large or publicly traded companies, the requirement to use risk mitigation best practices will drive the need to take a multi-cloud storage approach.
"For global companies, the need to keep certain data assets in certain geographic domains will factor into the multi-cloud adoption equation," Foley noted.
AI and machine learning
Because each hyperscale cloud provider is developing its own analytical platform, AI and machine learning data must be easily transportable across clouds.
"By having your data portable across multiple clouds, you can take advantage of all of these new tools to extract value from your data," Panzura's Tudor said.
Software development
DevOps and continuous integration and continuous delivery are among the most powerful multi-cloud use cases for storage. This approach allows the most important components of an application -- the data it produces and consumes -- to travel between environments based on the needs of the developers and end users, said Irshad Raihan, a director of product marketing on Red Hat's storage team.
"When multi-cloud storage is driven by policies that assign data to specific locations, it enables more automation and scalability, ultimately enabling more efficient development," he said.