Actifio multi-cloud support extends DR to AWS, Azure
Actifio Multi-Cloud Mobility and Automation brings multi-cloud disaster recovery to Sky, along with flexible migration capabilities for companies that want to stay agile.
BOSTON -- Actifio Sky's new multi-cloud capability allows customers to use AWS, Azure, Google Cloud or IBM Cloud for disaster recovery.
Actifio Multi-Cloud Mobility and Automation launched today at Actifio Data Driven 2019. An added component to the vendor's Actifio Sky data virtualization platform, Actifio Multi-Cloud Mobility, lets users move workloads between on-premises environments and multiple public clouds. Use cases for this include disaster recovery (DR) and migration.
"We really saw multi-cloud become table stakes in the last 18 months," said Brian Reagan, chief marketing officer at Actifio, and a former CTO at IBM and technology strategist at EMC.
Many enterprises already have workloads in multiple public clouds. Increasingly, Actifio customers look to move workloads back and forth between clouds as compute needs, along with their associated costs, fluctuate. However, this isn't a simple forklift process, and conversion time and costs make movement a hassle.
"We want to facilitate seamless movement across these different points of presence, because that is increasingly the reality we live in," Reagan said. "I might move it somewhere today, but I'm not committed to keep it there forever."
ReluTech, a managed service provider based out of Norcross, Ga., uses Actifio to provide backup and DR to its clients. The company mostly serves small healthcare practices and SMBs. Brian San Nicolas, sales development representative at ReluTech, said Actifio Multi-Cloud Mobility would allow ReluTech to go after enterprise customers and land bigger deals.
"Multi-cloud would give us an edge when courting bigger customers," San Nicolas said. "Landing a deal like that would be life-changing."
The concept of cloud mobility first debuted on Actifio Sky with version 8.0, about 18 months ago. At that time, Reagan said, it was limited to AWS and virtual machines. Actifio's customers were interested in the feature, but also pushed for support for other public clouds, he said.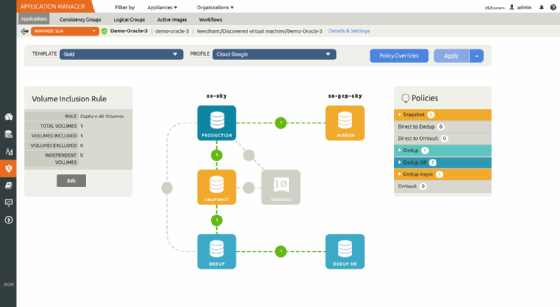 Although the most common use case of Actifio Multi-Cloud Mobility will still likely be DR, the simpler migration can help enterprises do more with their backup data. Christophe Bertrand, senior analyst at Enterprise Strategy Group, said he could see scenarios where subsets of data are moved between clouds for uses outside of DR.
"One benefit I see is the ability to run a copy of the data and combine it with a non-DR process for other business outcomes, like test/dev," Bertrand said. "I see the main uses as BC/DR and intelligent data reuse, where you move data and process it at a more favorable cost or different performance profile in another cloud."
This follows an industry trend of intelligent data management, where secondary copies of data are used for more than mere backup, Bertrand said. Part of this also means using some of the same powerful processes that create and quickly restore that data for purposes outside of their original intent, which is something other vendors are exploring.
This new Actifio Sky capability is claimed to have the lowest cost among cloud DR. Reagan explained that most disaster-recovery-as-a-service offerings use high-performance media to ensure immediate recovery. However, that speed comes at a premium. Actifio is different in that it can access data in an object platform, which is less costly than storing it in block. Reagan claimed Actifio's DR restore speeds from object are comparable to using block storage.
Actifio Multi-Cloud Mobility and Automation is an added capability of Actifio Sky and is wrapped into its software license. Current customers of Actifio Sky 9.0 can get it at no additional cost.
Although announced today, Actifio Multi-Cloud Mobility was made generally available in April 2019, with no public mention from the vendor. Reagan said the announcement was delayed to coincide with the Actifio Data Driven event.