rolffimages - Fotolia
Cloud migration to AWS keeps GSM afloat during Hurricane Harvey
Hurricane Harvey struck GS Marketing's office in 2017. Thanks to a migration to the AWS cloud, the company avoided going underwater, even if its data center was.
When Michael Webb, vice president of engineering, and Joel Swift, director of DevOps, joined Houston-based GS Marketing in 2016, they had already planned to migrate GSM's data to the AWS cloud. The automotive marketing company was growing beyond just cars, transforming into an omnichannel marketing provider.
The expanding GSM already hit a data cap, and Webb and Swift knew a cloud migration to AWS would be their best answer. "We're talking a lot of data, analytics. We knew we didn't want to build those capabilities ourselves by racking servers," Webb said.
GSM had adopted a traditional, on-premises approach to data storage and backup, with all of its data in a server room in its Houston facility. While that strategy sounded good on paper, it left a lot lacking from a disaster recovery (DR) standpoint.
"We [were] just going to build a really awesome facility," Webb said, describing the company's initial leanings. "But it was very clear during DR testing that there was no way the systems we had would survive a real disaster."
So, cloud migration to AWS seemed like the logical choice.
GSM was around 40% finished with its cloud migration to AWS when Hurricane Harvey struck in August 2017. Floodwater seeped into the GSM building, and the air conditioning failed during the storm. Luckily for GSM, mission-critical workloads such as Salesforce and communication channels such as Slack and Office 365 were already in the cloud and fully functional.
Back-office systems, including Oracle, accounting and phones, were on premises, and it took a week to bring them back online.
"Somebody had to go to Austin, requisition space from a colo provider. They brought people into this building -- in a boat -- unracked our on-prem servers and drove them up to Austin, [Texas]," Webb said.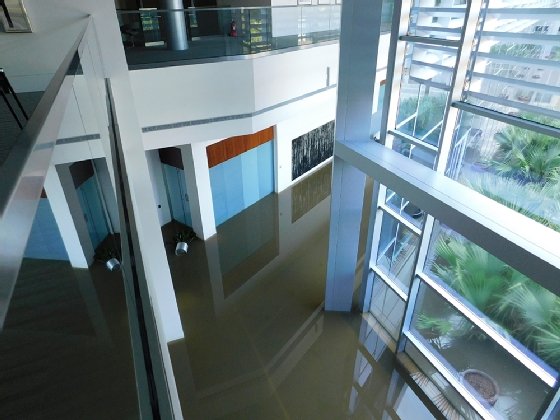 Despite being exposed to 120-degree temperatures, about 95% of GSM's servers came back online after being relocated. Thanks to the cloud migration to AWS, the company weathered the storm, and none of its tens of terabytes of data was permanently lost. The entire first floor of the facility was damaged by flooding, and employees could not return to that floor for close to a year.
GSM's well-implemented disaster recovery plan left it in better shape than many of its neighbors.
Somebody had to go to Austin, requisition space from a colo provider. They brought people into this building -- in a boat -- unracked our on-prem servers and drove them up to Austin.

Michael Webbvice president of engineering at GSM
"The key takeaway is that while other businesses in Houston were scrambling to get email restored and find lines of communication, because we had already taken those steps, the downtime we experienced was minimal," Swift said.
The move to the cloud was only part of the reason the DR plan worked. Another crucial step was a plan to make sure everyone could communicate without being in the office.
"When we get a big regional disaster, if you don't lose your office, then you at least lose the ability for most people to get to it," Webb said.
GSM's cloud migration to AWS continues. The goal is to eventually take everything off premises, which not every business can do for government compliance reasons. Before Harvey, GSM executives were wary of housing company data off site on physical servers they didn't own. But that changed after the storm.
Webb said there was only one thing he would've handled differently when it came to disaster recovery: "I would've gotten everything to the cloud faster if I could've," he said.
Dig Deeper on Disaster recovery facilities and operations