GP - Fotolia
Actifio 10c adds container support and DR orchestration
Actifio's 10c update added some significant new capabilities that further take advantage of the cloud. Backup, disaster recovery, migration all got a boost in this update.
Actifio customers who are heavily invested in public cloud got a hefty update this week with version 10c.
Actifio 10c added features aimed at universal portability between on-premises and cloud environments. It now supports seven major cloud providers: Google Cloud Platform (GCP), Alibaba Cloud, IBM Cloud, Oracle Cloud, VMware Cloud, AWS and Microsoft Azure. Customers can write backups to multiple targets, either to their data center or one or more public clouds, and can fail over to another cloud entirely if they want. The goal is to give customers full flexibility and interoperability regardless of where the data resides.
Another major feature added in 10c focused on containers. Actifio's backup cloning feature for spinning up copies of data in test environments now supports Kubernetes, allowing customers to quickly clone data directly into containers. Brian Reagan, chief marketing officer at Actifio, said he has noticed increased adoption and demand for container support among test/dev customers. He also sees the use of containers as something that will feed greater demand for universal portability.
Reagan claims 10c can deliver SSD-like storage speed from object store using clever caching. A layer of intelligence during the read/write process between on-premises SSD and S3-compatible object storage creates a cache of recoverable data in its original format, avoiding the need to rehydrate. S3 and other forms of object store tend to be cheaper than other storage options, but the cost comes in the form of lower recall speed.
Reagan said Actifio 10c added more than 20 features or functionality upgrades. Other noteworthy features include one-click disaster recovery (DR) orchestration and wizards to simplify backing up databases including SAP HANA, ASE and MaxDB as well as Oracle, MySQL and Db2. Actifio 10c also added an agentless VM snapshot management feature for AWS and Azure.

Actifio 10c is in early access and is expected to become generally available in early 2020.
Targeting test/dev
Actifio competes with established backup vendors such as Veritas, Dell EMC, Veeam and Commvault along with relative newcomers such as Cohesity, Rubrik and Druva. Although Actifio's replication technology is ideal for backup and initially targeted the backup market, the company has made a concerted effort in the last few years to pivot toward the test/dev market. Reagan said a majority of new Actifio customers now start with test/dev purposes in mind rather than backup.

He said enterprises today gain market advantage by developing faster than their competitors. Many of these customers are looking to improve on that front rather than invest in backup. Actifio is pushing the development use case to capture these customers, but can use its technology to provide for the backup use case as well.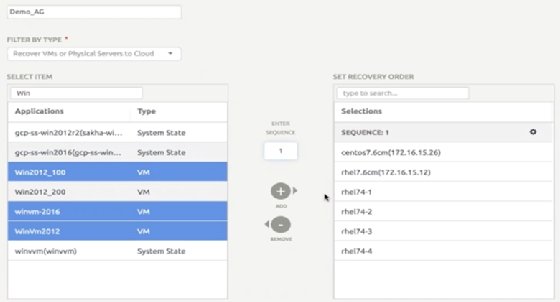 Storage and data protection industry analysts say backup as we know it is on the way out, and that backup vendors should be looking to support secondary data use cases that go beyond simple backup and recovery. Reusing copies of data to serve business ends such as test/dev and analytics is one such area of potential expansion.
However, George Crump, president of storage analyst firm Storage Switzerland and an IT consultant himself, said most people still struggle with basic backup and recovery. A combination of data growth, shrinking IT staff and expertise and stricter service-level agreements (SLAs) makes it harder for organizations to reliably create recoverable backups and restore from them when something goes wrong. Backup itself is not always a specialty anymore, and instead has often become the responsibility of a staff member or team with other IT duties.

"Generally, nowadays, you don't have a backup specialist on staff," Crump said.
Crump also added that from his experience with his own clients, most of them use Actifio for backup and DR rather than any of its test/dev-focused use cases.
Crump said vendors can combat this is by simplifying backup as much as possible. He sees 10c's DR orchestration and backup setup wizards as serving that need, and it's as important a feature as container support and object store performance enhancement. He pointed out that Veeam, Commvault, Cohesity and other vendors have made moves toward automated DR. Despite these new tools, Crump recommends that organizations still struggling with backup reevaluate their staffing around how they handle their IT infrastructure.